Enterprise Marine Services LLC (EMS), part of Enterprise Products Partners L.P.'s transportation group, held a christening ceremony January 15 for the newly-built mv. Ray S at the company's Houma, La., base of operations, near where Bayou Dularge meets the Gulf Intracoastal Waterway.
EMS named the Conrad Shipyard-built vessel after Ray Sick, retired senior director of marine operations for Enterprise Products.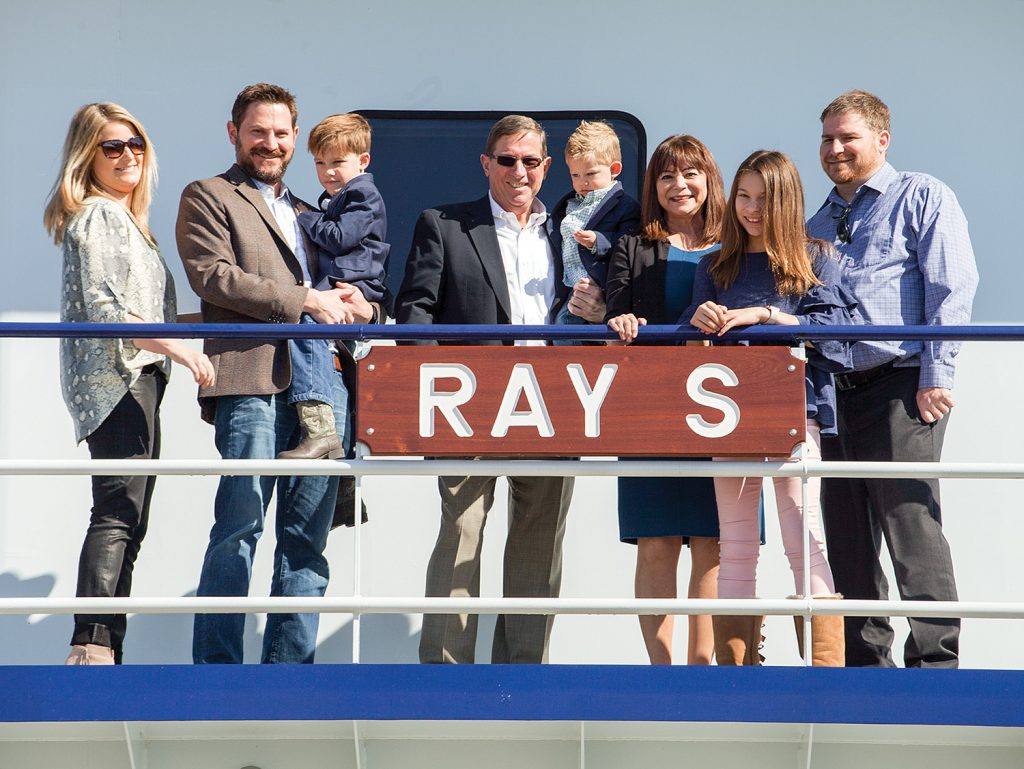 Born in Thibodeaux, La., Sick went on to graduate from Terrebonne High School. He later served in the U.S. Air Force and the Air Force Reserve. Sick parlayed his Air Force experience into flying seaplanes in South Louisiana.
"I was a seaplane pilot in the oil industry, and I was dispatching grain barges on the Mississippi River," Sick said. "I got hired by a towing company to fly and dispatch for them, so that's how I ended up on the liquid side of it."
Sign up for Waterway Journal's weekly newsletter.
Our weekly newsletter delivers the latest inland marine news straight to your inbox including breaking news, our exclusive columns and much more.
Sick went on to spend 30 years in the towboat and barge industry, starting out in January of 1986 with Cenac Towing and retiring from Enterprise in June 2016. Sick spent just over a year with TEPPCO, after that company took over Cenac's marine assets and contracts in 2008. Enterprise then purchased TEPPCO in 2009. Sick is one of many former Cenac employees who stayed on with Enterprise and have made a lasting impact.
Sick and his wife, Sarah, have two sons and three grandchildren. Since his retirement, Sick and his wife have made their home in the Texas hill country, enjoying time with family, the natural beauty of that part of the country, and traveling both in the United States and abroad.
The members of the Enterprise crew gathered for the christening last month all heaped praise on Sick for his dedication and integrity that spanned those three decades in the maritime industry.
"Many of you recall that Ray was a contributor in the early transition and cultural development of the Enterprise facility and the shoreside and marine employees who support it," said Theresa Roy, senior director of marine marketing for EMS. "His expertise in the inland tank barge industry was widely respected, as evidenced by the industry committees he served on—AWO and GICA to name a few.
"His legacy of honesty and integrity has been an inspiration for so many who had the good fortune to work with him," Roy continued, "and he will be an example for future generations to follow."
Jacob Brown, director of marine maintenance for EMS, praised Sick for his efforts to successfully launch Enterprise's marine division.
"His knowledge of the business is not only a foundation for EMS but a pillar in the industry," Brown said. "Enterprise can only aspire for the Ray S to sail with the honor, wisdom and confidence of her namesake."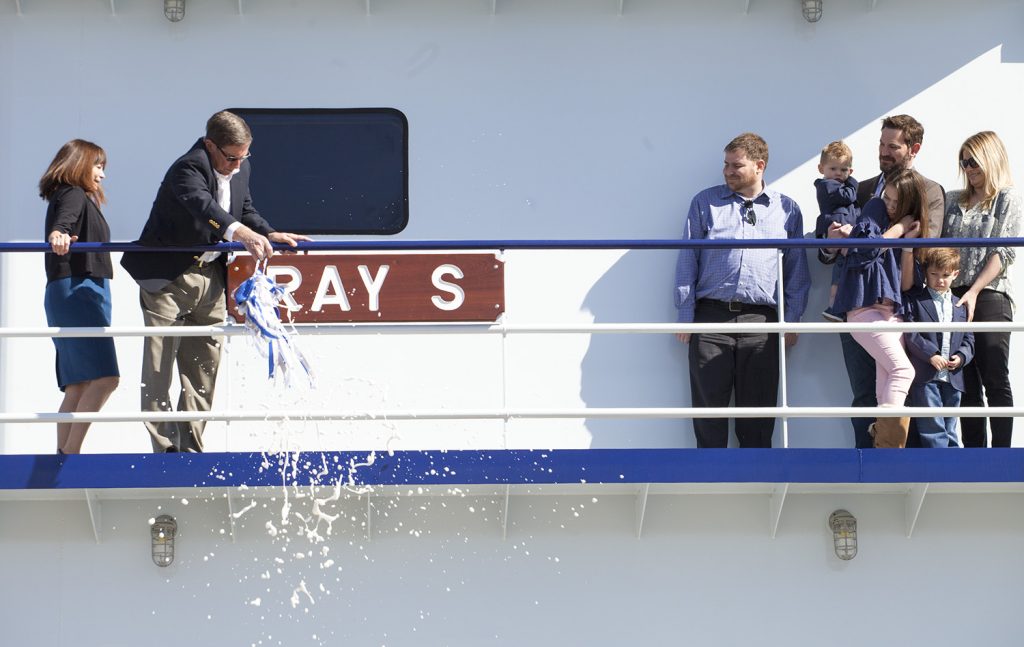 Eric Ricker, who, as director of marine operations for EMS, holds the position Sick retired from, said he often approaches challenges and everyday situations with the question, "What would Mr. Ray do?"
"I remember so many times where Mr. Ray was the first one here and the last one to leave," Ricker said. "I could go on and on sharing examples of Mr. Ray's work ethic. He operated with the utmost integrity and honesty here."
Ricker went on to recount how excited Capt. Terry "Lil T" Lirette was when he was told he would be captain aboard a vessel named for Sick.
"He walked out of the office and said, 'You know, what impacts me the most and how I'm honored is that I'm actually operating a vessel named after Mr. Ray,'" Ricker said. "It wasn't that he was getting a new vessel. It was the namesake given to that vessel."
Joining Lirette aboard the mv. Ray S are relief Capt. Gervais "Cookie" LaGrange; pilot Buddy Griffin; tankermen David Callahan, Justin Roy and Dylan Van Matre; and deckhand Ethan Arceneaux.
For his part, Sick reflected all the praise back onto his former EMS colleagues.
"All the team here—from the shipyard to the electricians and mechanics, the ops group and the personnel group—it was always a team effort," Sick said. "Nobody seemed to be jockeying for first position. It was always 'How can we make it work?' That's what was really good about my 30 years in the marine industry and my [years] at Enterprise. It was always a teamwork effort."
Sick also singled out Lirette, expressing thanks to have him captain aboard the Ray S.
"I'm real proud to have Capt. Terry and his team," Sick said. "I couldn't have asked for a better captain. I know it will be maintained properly and run properly. Terry's always been that type of captain."
The Seamen's Church Institute's Chaplain Michael Nation presented the ship's Bible to Lirette and the flag of the U.S. Merchant Marine to the crew of the mv. Ray S. He also offered a prayer of blessing over the vessel and crew.
Sick and his family then boarded the vessel for its official christening, with Sick breaking the traditional bottle of champagne over its railing.
The Mv. Ray S
The Ray S measures 102 feet long and 36 feet wide, with a depth of 11 feet and an operational draft of 9 feet. The vessel's twin Caterpillar 3512 C Tier III main engines produce 3,000 hp. The main engines are mated to Twin Disc MGX 5600 reduction gears (6:1 ratio) and HS Marine four-blade propellers that measure 88 by 64 inches. The Ray S has a pair of Kohler/John Deere generators from Devall Diesel.
The Ray S has a fuel capacity of 56,000 gallons, 700 gallons each of lube oil and dirty oil, and 350 gallons each of gear oil and hydraulic oil. The vessel also has a capacity for 18,000 gallons of potable water.
The Ray S features a steering system from RIO Marine, alarms by Unlimited Control, Duramax engine coolers from Donovan Marine, Furuno navigation and communication equipment from Star Tech Marine, 40-ton Nabrico deck winches from Johnny's Propeller and a Schoellhorn-Albrecht capstan.
With accommodations for up to eight crew members, the Ray S will operate along the Gulf Coast and up and down the Mississippi River.
Conrad designed and built the Ray S at its shipyard in Amelia, La., with Enterprise purchasing the completed towboat to join its transportation division fleet. While the keel was laid under the Tier III regime, the Ray S is fully Subchapter M compliant.
EMS President Tim Moss said he was thankful the company was in the position to buy the Ray S from Conrad, given state of the maritime industry in general.
"Each christening is extra special to us, especially in times like today where the marine business has been somewhat challenged," Moss said. "We feel especially thankful we've had the good fortune of having some great customers that keep us working, and we've had the opportunity to keep our utilization up. We're continuing to grow Enterprise Marine, and we're thankful for that."
Crew Considerations
Moss added that, while putting the boat to work is certainly indispensable, how the boat serves its crew is an equally essential consideration.
"Boats come and go, but our people are what we think are most important at Enterprise Marine," Moss said. "It's important to me that, when we get the opportunity to acquire a boat, we acquire a boat we can be proud, because our folks—our greatest assets—live on these boats."
Moss praised the Conrad Shipyard team for building that kind of vessel.
"When I first got on the boat, I knew then 'We've got to get this boat,'" Moss said. "A lot of people have worked hard today to make that a reality. It's the best of the best, and we're excited to have it."