Captain Profile: Capt. Ty Wilkerson, Yazoo River Towing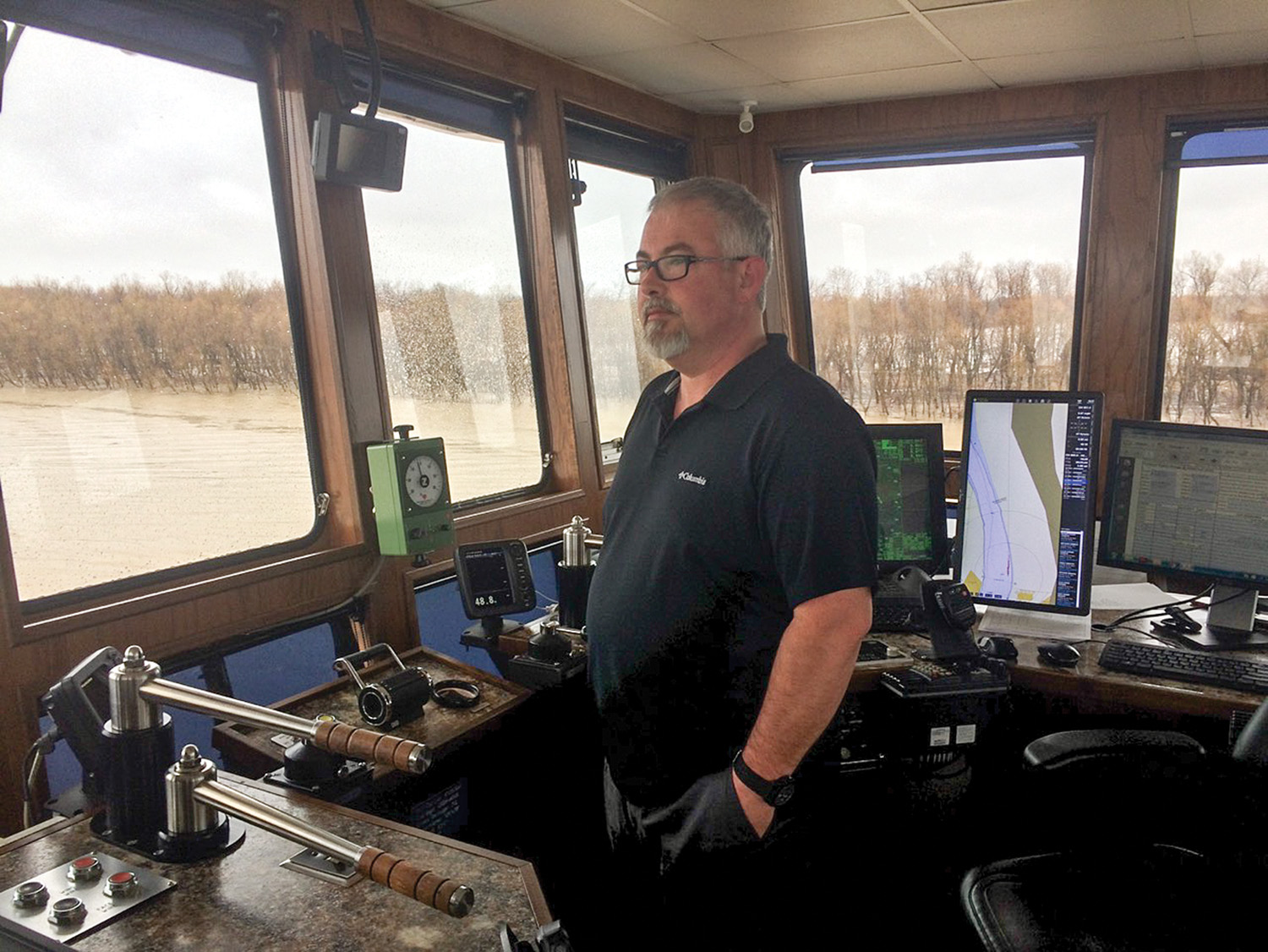 Growing up fishing along the banks of the Arkansas and Mississippi rivers, Ty Wilkerson was always intrigued by passing towboats. That interest eventually led him to apply to a job with Jantran in Rosedale, Miss., which hired him as a deckhand right out of high school. He decked from 1990 until 1993, when he earned his pilot's license.
"I am a first-generation riverboat captain," he told The Waterways Journal. Evidently, he spread the love: his younger brother followed him into the river business, working for Jeffrey Sand Company, and his oldest son works for American Commercial Barge Line.
Wilkerson later worked for Kirby, Marquette and Inland Marine, and has done trip work for MEMCO Barge Line and AEP. After Hurricane Katrina, when he was with AEP, he delivered food and supplies to New Orleans and helped pull stranded barges off riverbanks over a three-month period.
For the past six months, Wilkerson has been happily employed at Yazoo River Towing, where he spends most of his time as captain of the mv. Big J.O., a 4,300 hp., twin-screw boat built in 2014 by NewSouth Marine Construction. The barges he pushes contain mostly dry cargoes and liquid fertilizer.
Sign up for Waterway Journal's weekly newsletter.
Our weekly newsletter delivers the latest inland marine news straight to your inbox including breaking news, our exclusive columns and much more.
"After pushing heavy tows for many years on the Lower Mississippi River, I was interested in navigating tributary rivers," he said. "I spoke with [Yazoo CEO] Patrick Smith and decided to come to work for Yazoo River Towing."
Yazoo River Towing, headquartered in Vicksburg, Miss., is a smaller operator established in 1979. Besides the Lower Mississippi River, it operates on the Warrior-Tombigbee, the Tenn-Tom system, and the Gulf Intracoastal Waterway. "Multiple rivers and different size tows keeps the job interesting," said Wilkerson.
The biggest change on the rivers he has seen during his career, said Wilkerson, has been the introduction of electronic charting. He notes, "Yazoo River Towing utilizes state-of-the-art technology to increase productivity and efficiency," and he gives the company high marks for how it looks after its crews with crew comforts and safety awareness.
Wilkerson doesn't single out any one mentor or influence on his career, giving credit instead to everyone he has worked with: "I've had the privilege of working with many colleagues who contributed to my success," he said.  For his part, mentoring crewmembers provides one of his greatest job satisfactions.
The mentorship is appreciated by Smith, who told The Waterways Journal, "Capt. Wilkerson exhibits the qualities we value in our employees.  While being a talented pilot and strong leader, he is also patient, thoughtful, direct and generally cares for his crew, our company and our customers' well-being. His disposition and work ethic can inspire our next generation of pilots and crew members to become the best they can be."
What is the most important thing Wilkerson tells his crews? "Safety first! Don't be complacent. In addition, maintain high expectations for yourself. Set goals! You will be surprised what you can accomplish with a strong work ethic and self-discipline."