Terral RiverService Inc., the Lake Providence, La.-based towing company, terminal operator and aggregate supplier, held a christening ceremony May 11 at the Lake Providence Port terminal for its 26th towboat, the mv. Mary Elizabeth Gattle.
The vessel is named for the granddaughter of Tom Gattle, Terral RiverService's president and CEO.
"We're very proud of this boat—a beautiful boat," Tom Gattle said to start the ceremony. "Of the boats that NewSouth Marine and Tim Hovas have built, I think it's probably the very best we've come up with. It's quiet. It's very crew-friendly. It's strong. It's very powerful. It's smooth. It's a great boat."
The mv. Mary Elizabeth Gattle, officially completed on May 9, was designed by Hovas and built at New-South's Greenville, Miss., shipyard. The vessel measures a sprawling 140 feet by 38 feet, with a depth of 12 feet and a draft of 9 feet, 6 inches. Most notably, the Mary Elizabeth Gattle features a retractable wheelhouse, with a raised eye level of 29 feet.
Sign up for Waterway Journal's weekly newsletter.
Our weekly newsletter delivers the latest inland marine news straight to your inbox including breaking news, our exclusive columns and much more.
The Mary Elizabeth Gattle boasts a total of 4,260 hp. from its twin Caterpillar 3516 Tier 3 main engines from Thompson Power Corporation. The vessel features Reintjes 873 horizontal offset reduction gears from Karl Senner, with a 7:1 ratio. The Mary Elizabeth Gattle's four-blade stainless steel propellers stretch 102 inches in diameter.
The vessel also features Harrington kort nozzles, Johnson Cutlass bearings and seals from Wärtsilä. Engines Inc. supplied the vessel's John Deere 125 kw. generators, while M&I Electric supplied the ship service and engine alarms, along with the vessel's sound-dampening foam. The vessel also features an engine cooling system from Fernstrum, a Seahorse waste water treatment system, and a Skipper Hydraulic electric-over-hydraulic steering system.
The Mary Elizabeth Gattle has a fuel capacity of 79,000 gallons and can also carry 14,000 gallons of potable water, 8,000 gallons of slop and gray water and five ballast tanks. The vessel also has accommodations for 10 crew members across six staterooms.
Fendering is by Schuyler, fire safety equipment is by FPS New Orleans, and electronics and communications equipment is by Gemini Marine. There are four Wintech 65-ton deck winches aboard the Mary Elizabeth Gattle, along with a 10 hp. capstan by Schoellhorn-Albrecht.
The vessel also features a Bergan ship monitoring system, which records fuel, oil and water levels throughout the day and issues a report to shoreside support twice a day.
The Hovas-designed hull has a double bottom with nine vented voids and no bilges.
The mv. Mary Elizabeth Gattle is the largest boat built to date at NewSouth Marine Construction Inc. A sister vessel is currently under construction at NewSouth and is due out later this year.
"It's probably the finest boat that Hovas has put out, and it's our 10th boat for Tim Hovas and NewSouth Marine to build," Gattle said.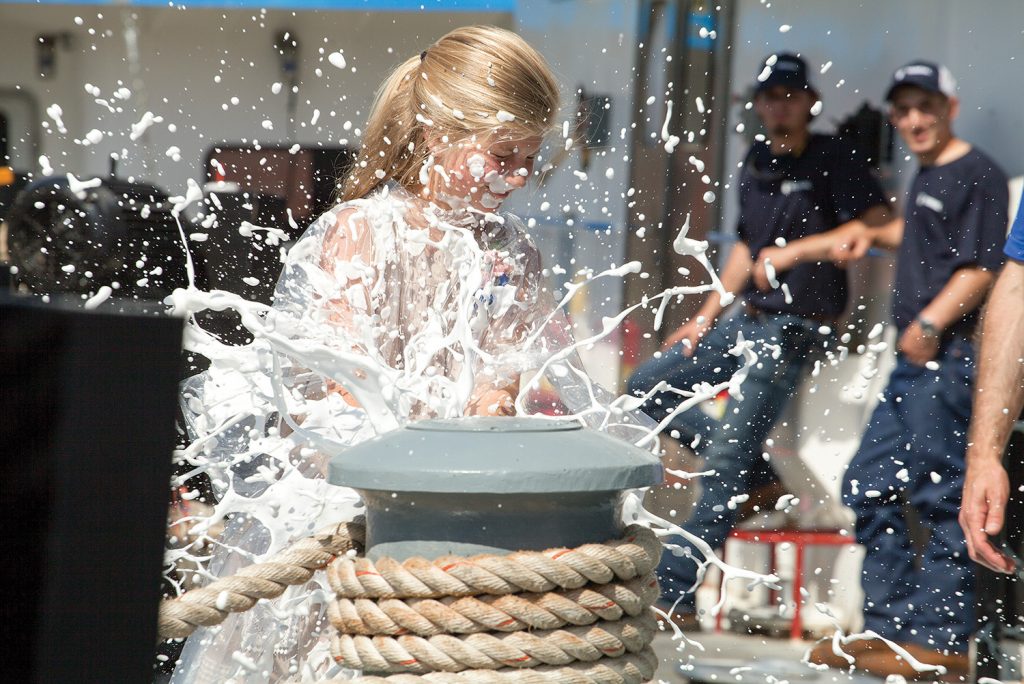 While addressing the crowd, Gattle also took the opportunity to recognize Terral RiverService's Capt. Donnie Stalling, captain aboard the mv. Gabe Gattle, who came to the aid of the mv. Leland Speaks February 21 after that vessel caught fire. Stalling launched the mv. Gabe Gattle's small boat and ferried the Leland Speaks crew to safety, while other vessels in the area caught the drifting vessel and tow and eventually put out the fire.
"I'm very proud of how our crew handled the situation," Gattle said.
Gattle presented Stalling with a commemorative plaque that bore a Waterways Journal article reporting the incident.
Following Gattle, Hovas also addressed the crowd gathered for the christening. Hovas struck a thankful tone, giving thanks first to God.
"When we built this, we lost a finger nail, we had a fake back injury, we had no stitches," Hovas said, indicating the injury-free construction of the vessel. "He had his hand on us, because we had this boat 50 feet in the air being held by cranes. We did things we never had done and really don't want to do again, so we owe everything to him."
Hovas also thanked his wife, Becky, for supporting him throughout his 34 years in business.
"Becky is the business—I'm a shipyard hand, that's all I've ever been," Hovas said. "Becky gave me this business. In 1984, I was so broke I couldn't pay attention. I had two small children, and I came home one day off the drydock and told her I was going to open a business. She backed me, and here we are. She's backed me ever since."
Becky Hovas, along with one of Hovas' sons-in-law and two of his grandsons, were in the audience for the christening.
Hovas also thanked his shipyard staff, particularly coordinator Marcus Redmon, who has been with NewSouth since 2005.
"I've got more guys like Marcus, but I don't have any who've really stood up and taken the reins like Marcus did," Hovas said. "And I just wanted to thank him for what he does for me and for my business and what he's done for me spiritually.
"He can turn the other cheek better than anyone I've ever known, especially me," Hovas added. "He is a good man, and he is destined for greatness in this world, and I want y'all to know who he is."
Finally, Hovas thanked the Terral RiverService team, including Gattle; Danny Terral, son of company founder John Terral; and chief operating officer Johnny Martin.
"The Terral crew, all you guys have always been great," he said. "You've always been as helpful as you can. I know you've enjoyed working for these people. I know y'all always stay a long time, and there's a reason for it. I know I've enjoyed my time. I look forward to more times."
Gabe Gattle, vice president-transportation for Terral RiverService, presented the ship's Bible to Capt. Don Delacerda, captain aboard the mv. Mary Elizabeth Gattle, while port captain Stanley Tabor gave Delacerda the ship's American flag.
Danny Terral then led the crowd in a prayer of blessing for both the vessel and the namesake, his niece.
Mary Elizabeth Gattle, along with her extended family, then boarded the towboat, and expertly shattered a bottle of champagne over the vessel's capstan on the first try. Her father, Tommy, and grandfather, Tom, were nearby to offer immediate congratulations.
After a brief vessel tour aboard the mv. Mary Elizabeth Gattle, which took the boat out to the Mississippi River and back, christening guests exited the terminal and gathered at Terral's shoreside headquarters, where they ate and danced to tunes by the Patrick Smith Band. The music carried across nearby farmland and out to the river levee, where a crew worked to load hay bales cut from the levee grass.
Below are more pictures from the Mary Elizabeth Gattle christening.
Capt. Don Delacerda, Capt. Dan Ulmer, Chief Engineer Jimmy Sellers, relief Chief Darren Black, deckhand James Yeager, deckhand Ryan Adams and deckhand Josh Smith. (Photo by Frank McCormack)