With oil prices down the past few years, many maritime companies have hit pause on their building programs. But now with an upward trend over the past year, some companies are already taking action to add to their towboat and barge fleets in order to move full steam ahead into the future.
One of those companies is Enterprise Marine Services, which is in the midst of a build program to add eight towboats and eight barges to its fleet.
Four of Enterprise's forthcoming towboats will come from Steiner Construction Company Inc. in Bayou la Batre, Ala., with one expected toward the end of this year and another the first quarter of 2019. The remaining will be delivered third quarter of 2019. Those boats will all come with 3,000 hp. Enterprise also plans to execute a contract with another shipyard for two retractable 3,600 hp. towboats, which will primarily push larger tows on the Mississippi.
Jacob Brown, director of maintenance, construction and shipyard operations for Enterprise Marine Services, said company leadership likes the versatility 3,000 hp. offers.
Sign up for Waterway Journal's weekly newsletter.
Our weekly newsletter delivers the latest inland marine news straight to your inbox including breaking news, our exclusive columns and much more.
"We feel that 3,000 hp. is important, because it gives us the ability to work in both the canal and the river," Brown said. "I also believe the extra horsepower allows us to pull the throttles back, adding life to the machinery, saving on fuel consumption, and allowing our mariners to operate a safer vessel."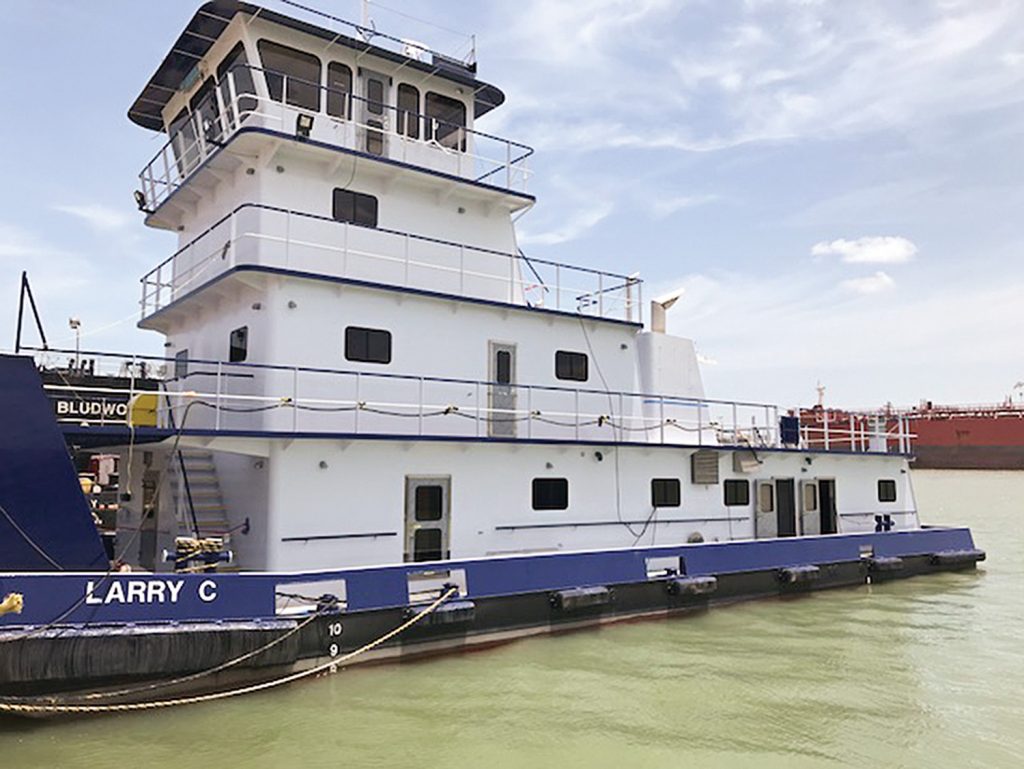 Before those forthcoming vessels come online, Enterprise will accept delivery of a 2,600 hp. conventional towboat from John Bludworth Shipyard in Corpus Christi, Texas. Bludworth was about halfway through building that vessel on speculation when Enterprise began negotiating to purchase it.
"They build a fine vessel at John Bludworth in Corpus Christi," Brown said. "Gasper [D'Anna, president of John Bludworth Shipyard] and his group are as professional as they come in the marine industry. It's always a pleasure doing business with his team."
The eighth boat Enterprise has in the works, Brown said, will be the most groundbreaking of all—a 4,200 hp. towboat with a retractible pilothouse and a load line certificate from the American Bureau of Shipping (ABS). Verret Shipyard in Plaquemine, La., is building that vessel, with an estimated delivery during the second quarter of 2019.
The retractable feature will allow the new vessel to navigate under the lower bridges in the upper end of the river system near Chicago. The ABS load line certificate will allow that same vessel to operate in the Great Lakes.
"That's going to open up the door for the ability to serve some of our customers that are in the Whiting, Ind., area," Brown said. "There aren't very many vessels that can operate the Great Lakes area in the inland marine world, because either they can't make the bridges or they are unable to operate in the Great Lakes."
At present, Enterprise owns 61 vessels, but only two of those feature retractable pilothouses. That means the two forthcoming 3,600 hp. vessels and the one from Verret will increase Enterprise's retractible fleet by 2-1/2 times.
"We're trying to offer a lot of versatility to our customers," Brown said.
Brown said Enterprise specifically identified Verret for the larger retractable with the load line, which Brown described as a "one-of-a-kind" towboat. This is the first time Verret and Enterprise have partnered on a vessel, although Brown said his company has long wanted to work with Ted Verret, second-generation owner of the shipyard.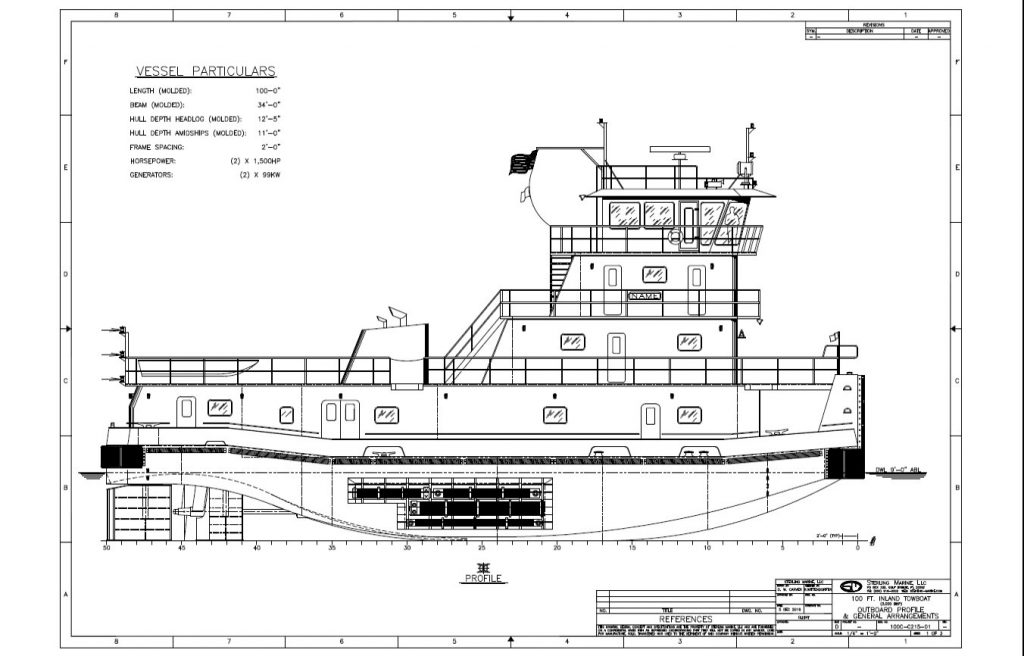 "Mr. Ted is an owner who will go out to the yard and operate the crane or the drydock," Brown said. "He'll weld if he needs to weld. And that's just the kind of individual we needed for this specific project. We're building a retractable vessel that has air-draft restrictions, a load line vessel that has freeboard requirements for ABS classifications, and we're putting 4,200 hp. in it. This was not a simple task to accomplish. It takes some experience to be able to do that, and you need someone with his expertise to build something of that magnitude."
Brown said Sterling Marine LLC designed the seven boats being built  for Enterprise. He also said each vessel will feature Caterpillar main engines from Louisiana and Thompson CAT, Reintjes gearboxes from Karl Senner or Twin Disc gears from Sewart Supply, and Cummins generators from Cummins Mid South.
On the barge side, Enterprise is adding a total of four new barges from Conrad. Two will be 8 million BTU heater barges with ABS load line certificates. The other two will be liquid petroleum gas barges. West Gulf Shipyard in Galveston, Texas, will also build four barges to carry crude or clean products, Brown said.
As for the timing of the build program, Brown said Enterprise is trying to take advantage of the current climate in order to be in a strong position for the foreseeable future.
"It's exciting times at Enterprise," Brown said. "We will continue growing our business by providing exceptional services to our customers. Our mariners are a big part of our success. This success will enable Enterprise to continue to add additional equipment to the fleet over the foreseeable future."