Kelly Phillips, the now-famous captain of the houseboat "Shameless" who began his Mississippi River odyssey in March 2017 in Prairie du Chien, Wis., after being given just three months to live, arrived in Venice, La., just before midnight January 22.
After more than 1,600 river miles and 22 months, Phillips and his pug terrier Sapphire had finally reached the end of their journey down the Mississippi.
Just four days later, on January 26, Phillips celebrated that feat at Cypress Cove Marina in true Louisiana fashion, with a party that included a mountain of seafood donated by the Louisiana Seafood Promotion and Marketing Board, music, drinks, stories from along the way, and even a lengthy prayer for Phillips' health and wellbeing offered by a local minister.
"I hope heaven is like this," said Phillips, choking back tears after the prayer.
Sign up for Waterway Journal's weekly newsletter.
Our weekly newsletter delivers the latest inland marine news straight to your inbox including breaking news, our exclusive columns and much more.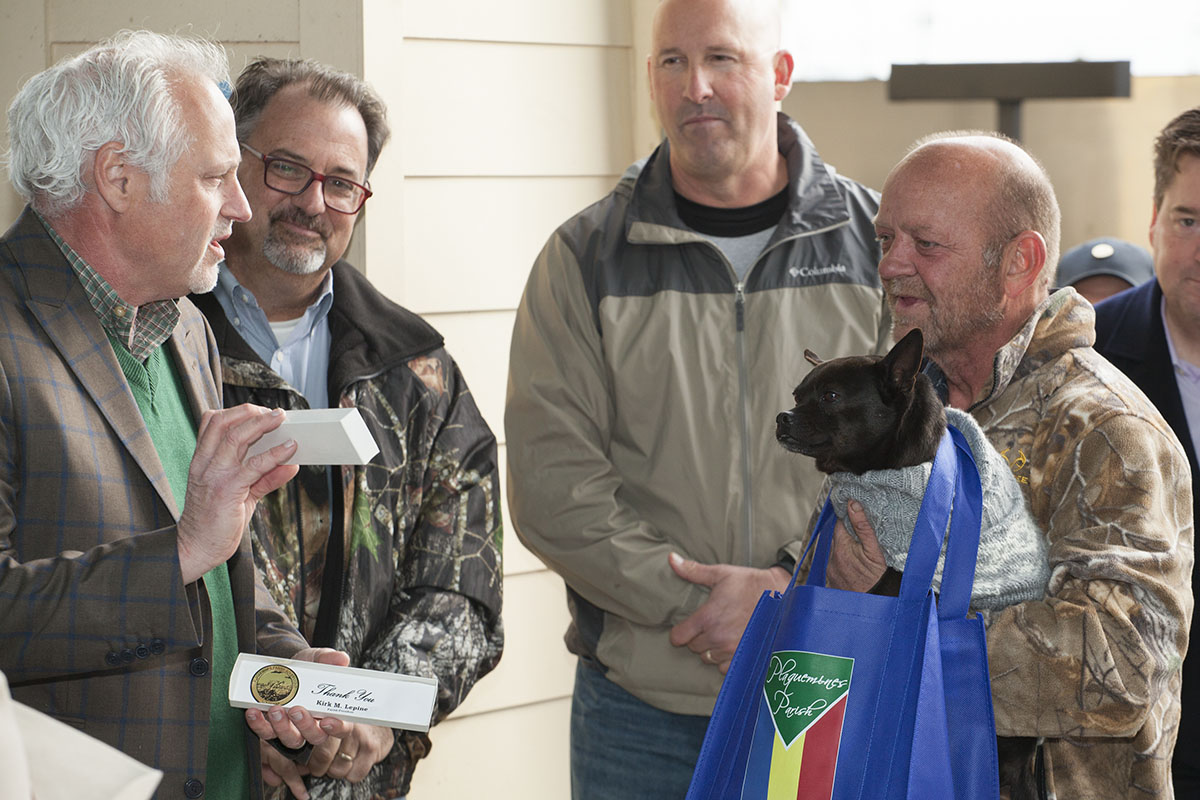 During the party, Phillips received the key to Plaquemines Parish from Parish President Kirk Lepine. He traded stories with Louisiana Lt. Gov. Billy Nungesser. He worked the crowd, at times meeting new friends from "down the road" in Plaquemines and, at others, catching up with old friends from upriver.
After receiving the key to the parish, Phillips shyly addressed the crowd, offering his heartfelt thanks for the people he'd met along the way.
"There's no words to explain how grateful I am," Phillips said. "I didn't think I was going to make it this far down the river. The only reason I have is because of the Mississippi River people, not just here but all the way. I want to give everybody credit.
"It's so heart-touching for me," he continued. "On the days I've been sick and down, the people of the Mississippi River brought me back up."
Sapphire made out OK at the party as well, feasting on scraps from generous kids in the crowd, occasionally drinking from Phillips' cup, and enjoying Cheetos that Terry Roncali from Hickman, Ky., brought her. Roncali, a captain with Wepfer Marine, met Phillips when he stopped off at Hickman with boat trouble in 2018.
"His little ol' boat was sinking," Roncali recalled. "He was in bad shape. It was high water and the river was real high."
Roncali said that during Phillips' six-week stop-off in Hickman, the two became fast friends.
"I got to where I looked forward to coming to work every day and taking him to breakfast," Roncali said.
Roncali, along with Wepfer Marine, helped repair Shameless as best they could, patching the houseboat's pontoons and filling some of the cavities with foam.
"We got him to where he could float to keep him from sinking," Roncali said.
During that time, Roncali also made a lifelong pal of Sapphire.
"I kept Cheetos for her in the office," Roncali said. "She'd get all over my desk."
Their bond is so strong that Phillips, who was diagnosed with cancer affecting his sinuses about three years ago, plans to give Sapphire to Roncali if it ever comes to that.
Roncali said, in his 42 years in the wheelhouse and 32 years with Wepfer, he's never seen someone on the river in as serious trouble as Phillips was. But out of that great need grew a great friendship.
"You meet people in life that are just different," he said. "I felt to help him. There was something there pulling on me to help Mr. Kelly."
Aid For The Last 85 Miles
Phillips is fast to heap praises on the people who've helped him along the way. Nowhere was that help more timely than during his last 85 miles between Algiers and Venice.
On January 18, Phillips attended a meeting of the Greater New Orleans Port Safety Council. During the luncheon, Phillips met several people from the Crescent River Port Pilots' Association (CRPPA), which oversees passage of ships between Head of Passes and New Orleans. The group was concerned for Phillips' safety, given the sheer number and size of ships below New Orleans and Shameless's minimal freeboard.
Nathan Ankersen, chief operating officer for the Crescent River Port Pilots' Association, asked Phillips about his AIS and communications system aboard Shameless.
"He said, 'What's AIS?'" Ankersen recalled.
Ankersen and CRPPA President Michael Bopp, along with Ryan Scully, a Crescent pilot who also operates a ship tracking and communications service called Mississippi River Traffic Information Service (MRTIS), knew they had to do something to outfit Phillips' boat with AIS.
"He had very, very little freeboard, maybe six inches, so a wave from a ski boat would almost flood his houseboat," Bopp said, "so pilots knowing his location was very beneficial to his safety."
A team from CRPPA along with Andrew Cooper from Crescent Towing boarded Shameless just a day later and installed an AIS unit. Scully opened MRTIS, usually a subscription-based service, to the public so that anyone could track Shameless en route to Venice. They also spread the word among river pilots to keep an eye out for Shameless.
"I know all of our pilots were watching out for him," Ankersen said. "I doubt it dawned on him how dangerous it was. Not only was it really rough the day he left out, but we were really congested at the time."
Scott Sylve, perhaps, played the biggest role in keeping Shameless afloat during the trip. Sylve, a captain with Bayou Marine, was piloting a guide boat for a documentary crew that was shadowing Phillips from Algiers to Venice.
Less than half an hour after leaving from Algiers January 22, Phillips' 85 hp. outboard motor coughed, sputtered and died. Phillips, along with Sapphire, his friend, Hank Drennon, and a couple of the documentary crew members, were adrift in the middle of the river just below Algiers Point.
"It was rough that day in the river, and the wind was blowing heavily from the south-southeast," Sylve said. "I pulled him the whole way from that point. I latched on to him and pulled him slowly all the way to Venice."
Sylve said, had he not been there, he has no doubt Shameless wouldn't have made it to Venice.
"He wasn't going to make it," Sylve said. "If I wouldn't have been there to intervene, they would've all gone down like rats. From that first spot when we left Algiers, they were in trouble."
Close to a month after arriving in Venice, Phillips and Sapphire are still there, living aboard Shameless and enjoying the community and culture of South Plaquemines. The duo will travel to New Orleans February 22 in order for Sapphire to ride as a duchess in the Krewe of Barkus, a Carnival parade made up entirely of dogs. Phillips said Sapphire is scheduled to have a spa day on February 23 ahead of the parade.
Phillips does not know what his next chapter has in store, but he remains thankful to the people of the Mississippi River.
And after nearly two years living on the river, he's become one himself.
Caption for top photo: Sean Duffy, Kelly Phillips and Billy Nungesser. (Photo by Frank McCormack)