NGL Marine, a segment of NGL Energy Partners LLC, Houston, Texas, has accepted delivery of a new towboat from Westport Orange Shipyard in Orange, Texas. It was christened the mv. H. Michael on August 7 in Houston.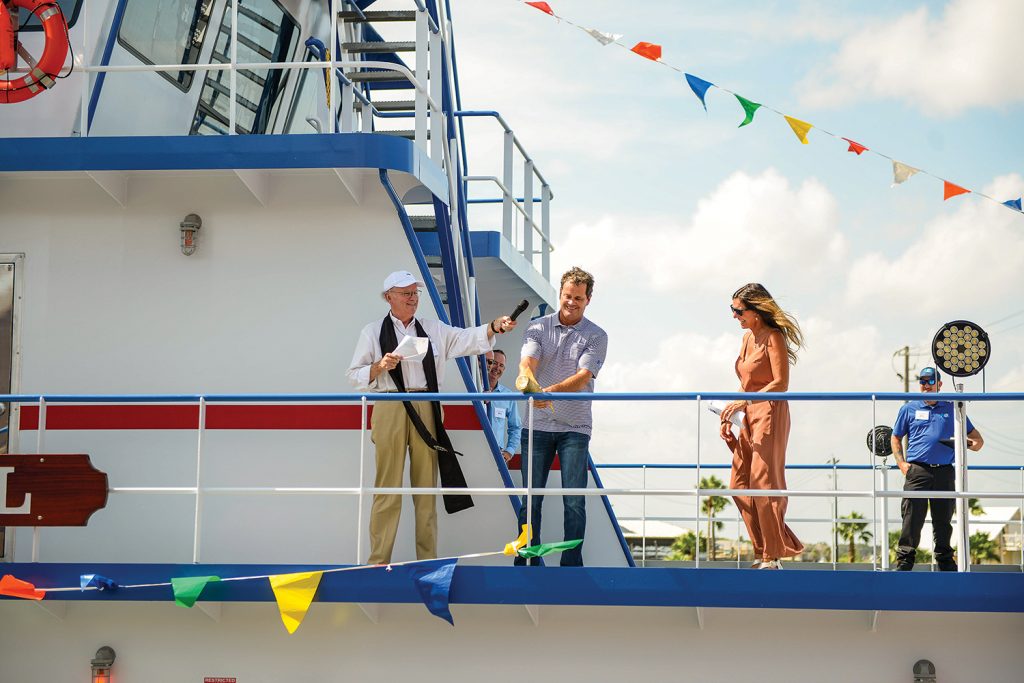 Built on the design of Sterling Marine, the open-wheel vessel measures 114 by 34 feet with a depth of 11-1/2 feet and a draft of 9 feet. It has a pilothouse eye level of 35 feet. Its 3,200 hp. is from twin Cat 3512 Tier 3 mains from Mustang Cat. The engines turn Sound propellers on shafts provided by R.C. Schmidt and Sons Machine Works. Twin Disc MGX 5600 reduction gears are from Sewart. Reduction is 6:1. The engines are keel cooled by an East Park Radiator system.
The new boat has a fuel capacity of 49,500 gallons and can carry 13,325 gallons of potable water, 600 gallons of lube oil and 300 gallons of gear and hydraulic oil. The steering system and engine alarms were provided by Rio Controls & Hydraulics.
The vessel has eight bunks and four complete bathrooms. There is 3-inch mineral wool insulation throughout the cabins, with additional sound barriers sandwiched between the mineral wool at each engineroom bulkhead to eliminate machinery noise. Two 99 kw. John Deere generators from MSI Houston provide auxiliary power.
The interior features wood paneling, ceramic tile and granite countertops. Deck equipment includes two Nabrico 60-ton winches from Johnny's Propeller Shop. The electronics package was provided by D&G Communications. The hull is protected by M&M Bumpers.
The H. Michael is named for Michael Krimbill, who, with over 20 years' experience in executive roles in the propane industry, is CEO of NGL Energy Partners, headquartered in Tulsa, Okla.
The H. Michael completes the newbuild program of NGL Marine, which now has a total of 10 boats. Other recent deliveries include the Makenzi Haidyn, Sophia Grace and Riley Dexter, all 90-foot, 2,600 hp. towboats built by Westport Orange Shipyard.