Associated Terminals, a leading stevedore and terminal operator on the Lower Mississippi River between Baton Rouge and New Orleans, is celebrating its 30th anniversary this month. And while much of its history is tied to the Mighty Mississippi, the first chapters of one of the company's founders, David Fennelly, are set far to the east.
Fennelly was born in Boston, Mass., to Irish immigrant parents. His childhood days in the United States were brief, though. His parents moved back to southern Ireland when he was just a year old.
Twenty years later, an adventurous David Fennelly returned to the States, this time to Lexington, Ky., where he worked as a hand at Spendthrift Farm, a renowned thoroughbred racehorse breeding farm. Fennelly's love for horses brought him back to the United States, and that passion also is what led him to south Louisiana and to the world of stevedoring on the Lower Mississippi River.
"Ken Melvin, one of our clients at the farm at the time, whose horses were in my care, was the owner and president of a coal company," Fennelly said.
Sign up for Waterway Journal's weekly newsletter.
Our weekly newsletter delivers the latest inland marine news straight to your inbox including breaking news, our exclusive columns and much more.
Melvin invited Fennelly to Nashville to learn the industry. Six months later, Fennelly visited south Louisiana to meet Dan Barker, a veteran of the barge industry.
"Dan offered me a job and an opportunity to start a new company, a stevedoring brokerage company," Fennelly said. "So with a liking for Louisiana and New Orleans, I took advantage of that opportunity."
The year was 1990, and Fennelly and Barker named the new company Associated Terminals. Starting out, the company operated as a brokerage firm connecting shippers to terminals and stevedores, hence the name Associated Terminals.
Buying Cranes
By the mid-1990s, Fennelly led Associated Terminals to move into owning and operating its own cranes, rather than just brokering stevedoring services. The first equipment in Associated Terminals' fleet was a leased crane named the Gonzo and a half interest in another small crane called the Popeye. In 1997, Fennelly turned to his banker and friend, Gary Poirrier, to help put together a finance package for Associated Terminals' first major acquisition, two large Manitowoc 4600 cranes.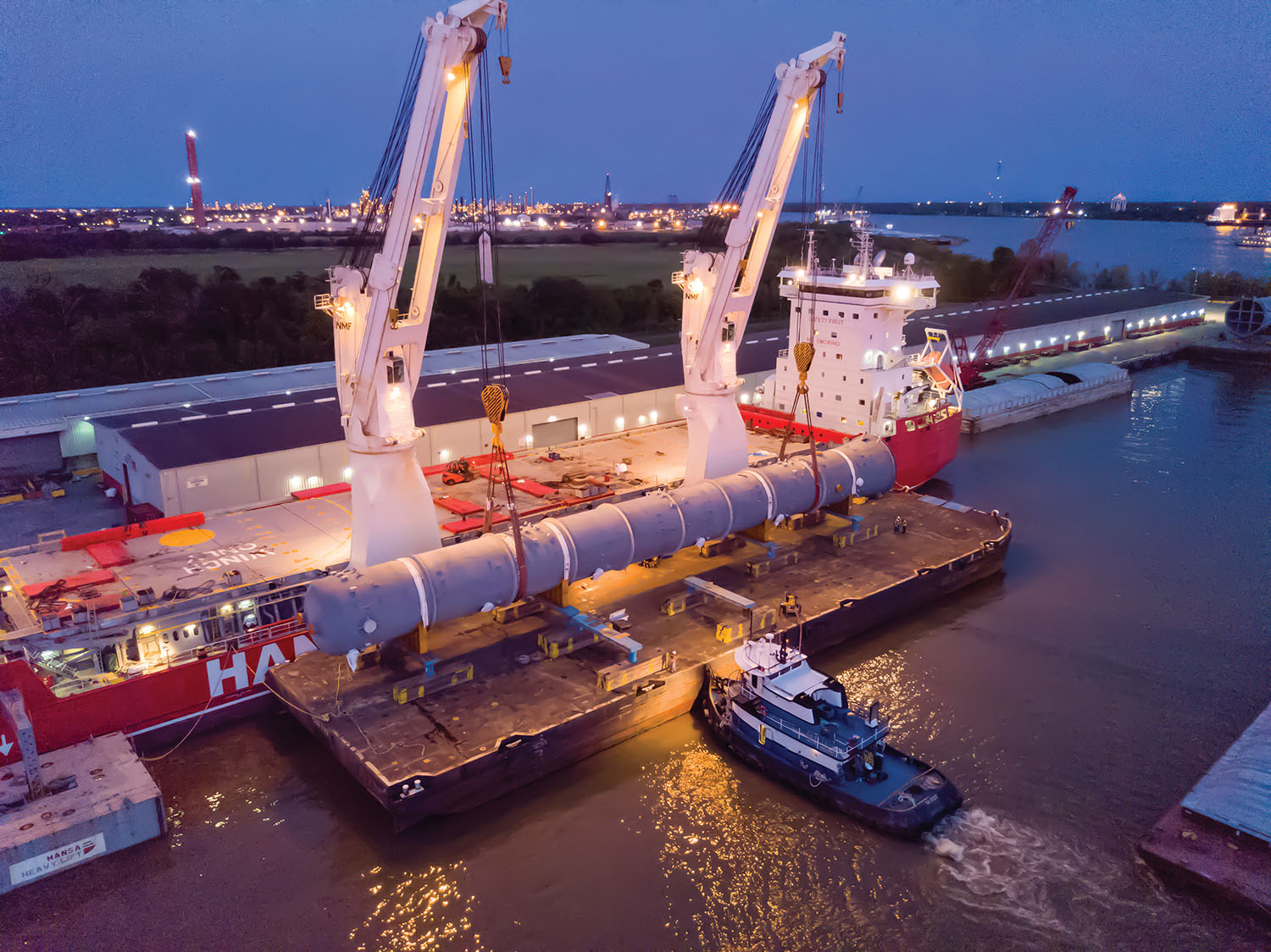 "I was actually David's commercial lender at the time and the one who helped facilitate, on the banking side, the ability for David, as a fairly young businessman, to acquire those cranes and truly become a major stevedore on the Lower Mississippi River," Poirrier said.
About a year later, Poirrier, a Baton Rouge, La., native and 1991 graduate of Louisiana State University, was looking to move on from the world of banking.
"One Friday, when I shared that news with David, he sort of stumbled on the phone a bit and said, 'Gary, I really need some help here. I'd love to chat with you before you make any other decisions,'" Poirrier recalled.
Fennelly and Poirrier met over the course of that weekend and hammered out a plan for Poirrier to join Associated Terminals as chief financial officer. Poirrier now serves alongside Fennelly as owner and co-chair of Associated Terminals.
The team soon set about growing Associated Terminals' fleet of barge-mounted cranes and the company's area of operation on the Lower Mississippi River. Poirrier said they knew their competitive advantage would have to come through more efficient operations.
"That $2 a ton you get for transferring cargo wasn't going to get any better unless you were able to do it more efficiently," Poirrier said. "From there, we began a process of either building or acquiring larger, more productive, more efficient cranes."
That process began with acquiring American-style cranes and, through a partnership, a Clyde crane. Then, in January 2007, Associated Terminals made what would become its most significant equipment acquisition to date, a new high-capacity, floating Gottwald crane.
"That was the first of what is now 14 Gottwald cranes, and it's now the only crane power we have in our fleet," Poirrier said. "It's the most modern fleet of crane power in the industry."
Included among those 14 cranes is the fleet of six Gottwald cranes from St. James Stevedoring, the Convent, La.-based stevedore that Associated Terminals acquired in March 2015.
As Associated Terminals was growing its fleet of barge-mounted Gottwald cranes, the company was also expanding its footprint on the Mississippi River. In 2000, Associated Terminals partnered with Stevedoring Services of America to provide crane power at the Port of South Louisiana's Globalplex Intermodal Terminal. Five years later, Associated Terminals became the exclusive terminal operator at Globalplex.
"That relationship has been going on for 20 years now," Poirrier said. "We've helped grow that facility from the general and bulk stevedoring standpoint to the success it is today."
Associated Terminals also now operates the cement dock and facility at Globalplex for an existing customer. The company has also partnered with the Port of South Louisiana to expand bulk and general cargo warehouses, make dock improvements and extensions at Globalplex, construct new bridgeways to facilitate movement of project cargoes and heavy cargoes and solicit permanent customers and tenants.
In 2002, the company began operating within the Port of St. Bernard following the acquisition of Gulf Coast Dockside Inc. and Bulk Material Transfer Inc., two companies with close ties to New Orleans maritime industry legend Billy Bergeron. The acquisition included Bulk Material Transfer's operation within the Chalmette Slip in Arabi, La. The inlet off the Mississippi River is the only slack water slip on the lower river, making it ideal for the transfer of project cargoes.
"The Port of St. Bernard is another area of great success," Poirrier said. "It was a small port facility at the time, probably moving 700,000 tons of cargo through their jurisdiction, and we've probably grown that close to 10 million tons of cargo today."
Associated Terminals now operates three midstream buoy systems within the Port of St. Bernard, the Violet Docks and the entire operation on the Chalmette Slip.
In 2004, the company acquired Turn Services, a New Orleans-based fleeting and diversified towing company that also serves as the primary fleeting and shifting provider for Associated Terminals. In October 2005, the company closed on the acquisition of K2, a midstream grain elevator from Cargill. Now known as Myrtle Grove Midstream Terminal, or MGMT, the elevator handles up to 2 million tons of grains for export per year. The acquisition came just days after Hurricane Katrina devastated the entire area.
"Once it got started, we've been running ever since for 15 years," Poirrier said. "It's been a great asset and an additional offering in our repertoire."
Other areas of operation today for Associated Terminals include a barge terminal at Port Allen, the midstream buoys at Convent and the recently acquired New Orleans Bulk Terminal, just off the Gulf Intracoastal Waterway east of New Orleans. The company also offers its own mooring operation under the name Associated Mooring.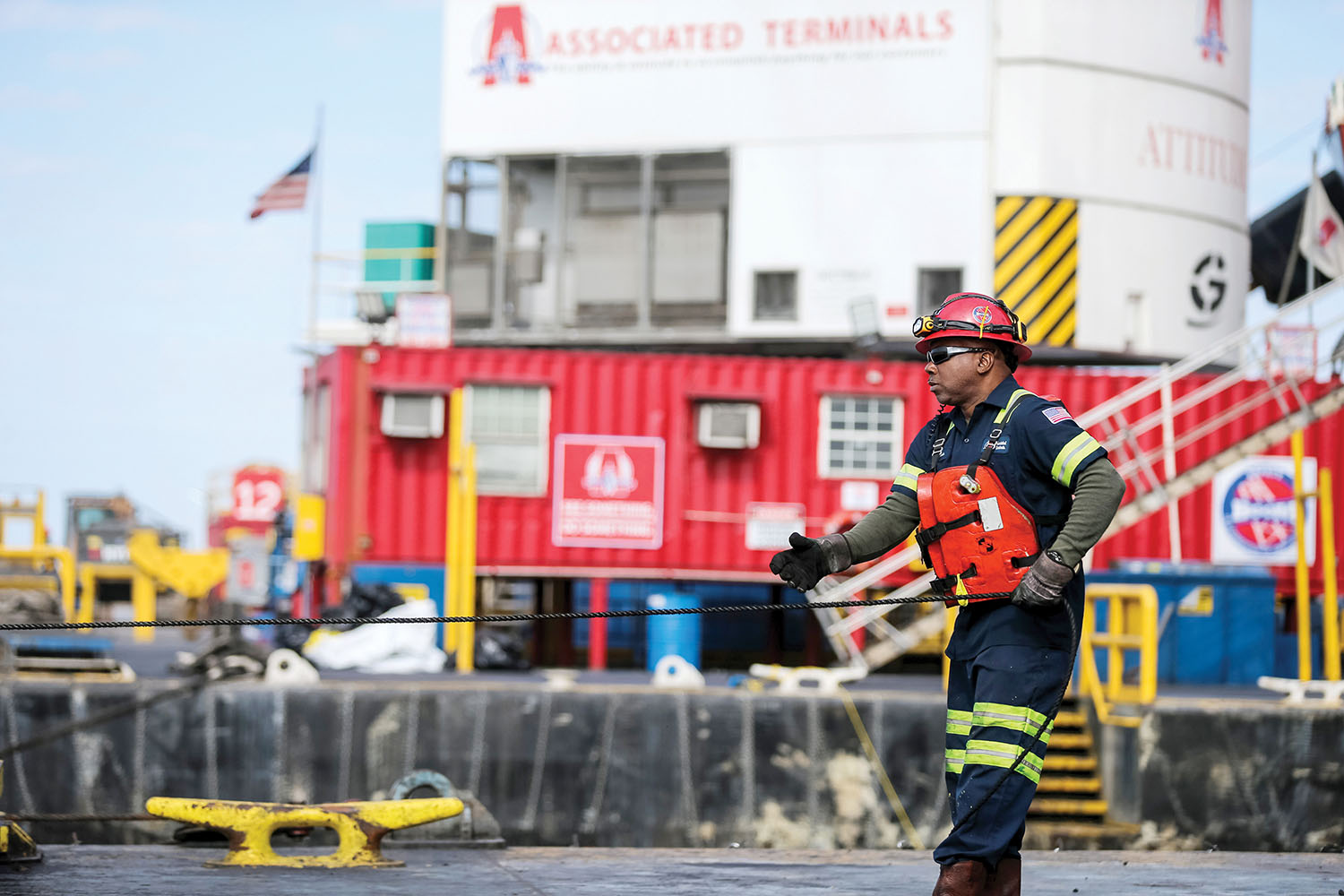 As its fleet of cranes and areas of operation have grown, Associated Terminals has maintained a commitment to innovation, particularly through technology. Aboard the company's Gottwald cranes, Associated Terminals uses technology built into the cranes themselves to collect data on cycle times and tons per bucket by cargo. The company also has modernized its core systems for future growth by pushing its accounting, purchasing and human resources operating systems to the cloud.
That transition to the cloud had an unforeseen benefit, with COVID-19 forcing much of its shoreside team to work from home for most of the spring.
"I was never expecting to have to utilize it in this way, but it was something that allowed us to continue to function without a hiccup from an administrative standpoint," said Kevin Tarleton, Associated Terminal's chief financial officer.
Tarleton, who joined Associated Terminals in 2008, said collecting data and remote monitoring has revolutionized how the company improves and enhances its operations.
"For our business, with all these types of systems, whether it's the Gottwald cranes specifically or any of the other electronic tools we've put in place, we have the ability to measure and monitor things in a way that we previously didn't have," Tarleton said. "With that, anything that can be measured can be improved."
Associated Terminals also has applied technology to enhance crew safety. One key area is with its remote loader operation. To fully transfer cargo either from barges or the hold of a ship, crews use small payloaders or track hoes to move cargo, but that carries the risk of additional boots on the barge as crew members operate the machinery. Using remote control technology, though, Associated Terminals is able to electronically operate that equipment from its headquarters in Convent, La.
"That has taken many of the risks of our individuals having to traverse barges or traverse ladders to get in and out of holds, which has significant safety risks, and brought it into the office setting," said Todd Fuller, president of Associated Terminals. "It also has brought in the ability to source new workforce areas, including people who have disabilities. People who might not be able to traverse a barge now don't have that challenge."
Fuller said the company is also prototyping cover-handling technology to further reduce the amount of foot traffic on barges.
"We're always looking for opportunities to take risk out of the equation, create more safe environments for our people and improve efficiencies," Fuller said. "We have a good team here that, all day every day, is looking at ways to take things that have been done the same way for decades and improve it."
All those factors have allowed Associated Terminals to grow into the company it is today, handling 25 million to 30 million tons of cargoes per year.
"And we're going to continue to grow, whether through facilities, locations or services we offer," Fuller said.
Associated Terminals' motto ever since its early growth in the late 1990s has been "the ability and attitude to accomplish anything." And that conviction extends beyond the riverside fleets and terminals to also include the communities where the company operates and where its team members live. Through scholarships, direct community service, literacy and therapy initiatives and partnerships with organizations like United Way and Volunteers of America, Associated Terminals has made community involvement a first principle.
"These things are a corporate responsibility," Fuller said. "To be able to participate fully in your community, you have to give back."
Reflecting on Associated Terminals' first 30 years, Fennelly said he sees family.
"Extended family is an easy term to use, because that's what we really are; we just happen to be in the maritime business," he said. "I'm just flattered and honored to have been chosen to be on this team. I thank God and so many others every day for the opportunity to be on this team."
Caption for top photo: A pair of Associated Terminal's floating Gottwald cranes transfer cargo between barge and ship near Violet, La., on the Mississippi River within the Port of St. Bernard. (Photo courtesy of Associated Terminals)