Although many of those who work on the river are considered essential workers, and shoreside businesses have begun to slowly reopen under various state guidelines, river museums are still seeing a big impact from the coronavirus pandemic.
Most river museums, both big and small, closed for months. When they reopened, they did so after spending money on sneeze guards, social distancing decals, hand sanitizer stations, cleaning supplies and more. Not all of their visitors returned. Meanwhile, they have dealt with an inability to hold some of their major fundraising events and increased competition for grant funding, and their usual sponsors haven't always been able to fill in the gaps as they have dealt with their own decrease in revenue flow.
Here is how some of the river-related museums around the country, big and small, have dealt with the COVID-19 pandemic.
National Mississippi River Museum And Aquarium
The National Mississippi River Museum and Aquarium in Dubuque, Iowa, anticipates a roughly $2 million gap between what the museum would typically see in revenue and what it is forecasting through the end of December, said Wendy Scardino, director of marketing and communications. That represents a 30 percent decrease in overall revenue.
Sign up for Waterway Journal's weekly newsletter.
Our weekly newsletter delivers the latest inland marine news straight to your inbox including breaking news, our exclusive columns and much more.
The museum shut down on March 17 for 10 weeks. It used the federal Paycheck Protection Program to keep full-time staff employed and received an Economic Injury Disaster Loan through the Small Business Administration.
Because it is an aquarium as well as a museum, it faced some unique challenges.
"When we close our doors, a lot of our expenses don't go away," Scardino said. "We still have to pay for the upkeep of the facilities, the utilities, the food for the animals, the care for the animals."
That includes caring for some animals that are endangered, she said.
The facility relies heavily on admission tickets as a source of revenue. When it first reopened, it was seeing about 35 percent of its usual crowd. That has increased to about half the normal flow of visitors and seems to be remaining steady, Scardino said.
However, she cautioned, "Just because we're reopened doesn't mean everything's a rosy picture. We still have several more months in front of us where we recognize if counts in our area continue to climb, we are not likely to forecast above 50 percent for the rest of the year."
The pandemic caused the museum to immediately shift gears to maintain its educational mission. Although it canceled some public events, it has begun offering some virtual programming online, with another round scheduled for September. The programs are free and offered over the videoconferencing software Zoom, with donations accepted.
"That will be a way to bring the museum to people where they are," Scardino said.
Before Dubuque implemented a citywide mask mandate, the museum planned to offer Mask Mondays, a special day designated for those who preferred to visit the museum and aquarium when staff and visitors were required to wear masks. The mandate went into place before it could be implemented, however. The museum has also encouraged social distancing, something made a bit easier with its large, 14-acre campus. Other COVID-related measures have included adding directional signage to help guide visitors' movements and offering online ticket purchases, allowing touchless entry. Entry is also not limited to a specific time or date, so visitors are allowed to use their museum tickets any time within the next year.
One unique adaptation has been for the museum's traveling exhibit, Robot Zoo, which is being offered through September 27. As the exhibit is one of the most high-traffic, high-touch areas, staff are offering visitors gloves to interact with it.
"Instead of eliminating the exhibit, we really wanted to offer it in a way people could still experience it safely," Scardino said.
The museum offers rental of its facility for special events, including weddings. To encourage some couples not to cancel their weddings, it has offered a "mini-matrimony" package with a limited number of guests, an officiant, photographer, cake and a champagne toast and a discount on a larger reception to be held later. Instead of some businesses hosting a picnic or family day, the museum has worked with businesses to offer them a package of tickets they can purchase to give to families for whatever day suits them.
For now, Scardino said, the museum is trying to keep members engaged while still cutting expenses to "bare bones" through the end of the year. It is also encouraging funding relief through Congress via its participation in the Association of Zoos and Aquariums.
"We've worked very hard on all levels to adjust our programming, adjust our visitor experience and adjust where we're putting our limited resources so we can come through this on the other side knowing that what we're experiencing probably won't go away January 1," Scardino said. "We anticipate the first quarter of 2021 to be a challenging time."
Ohio River Museum
Attendance at the Ohio River Museum in Marietta, Ohio, is down by at least half, said Christina Tilton, director of marketing.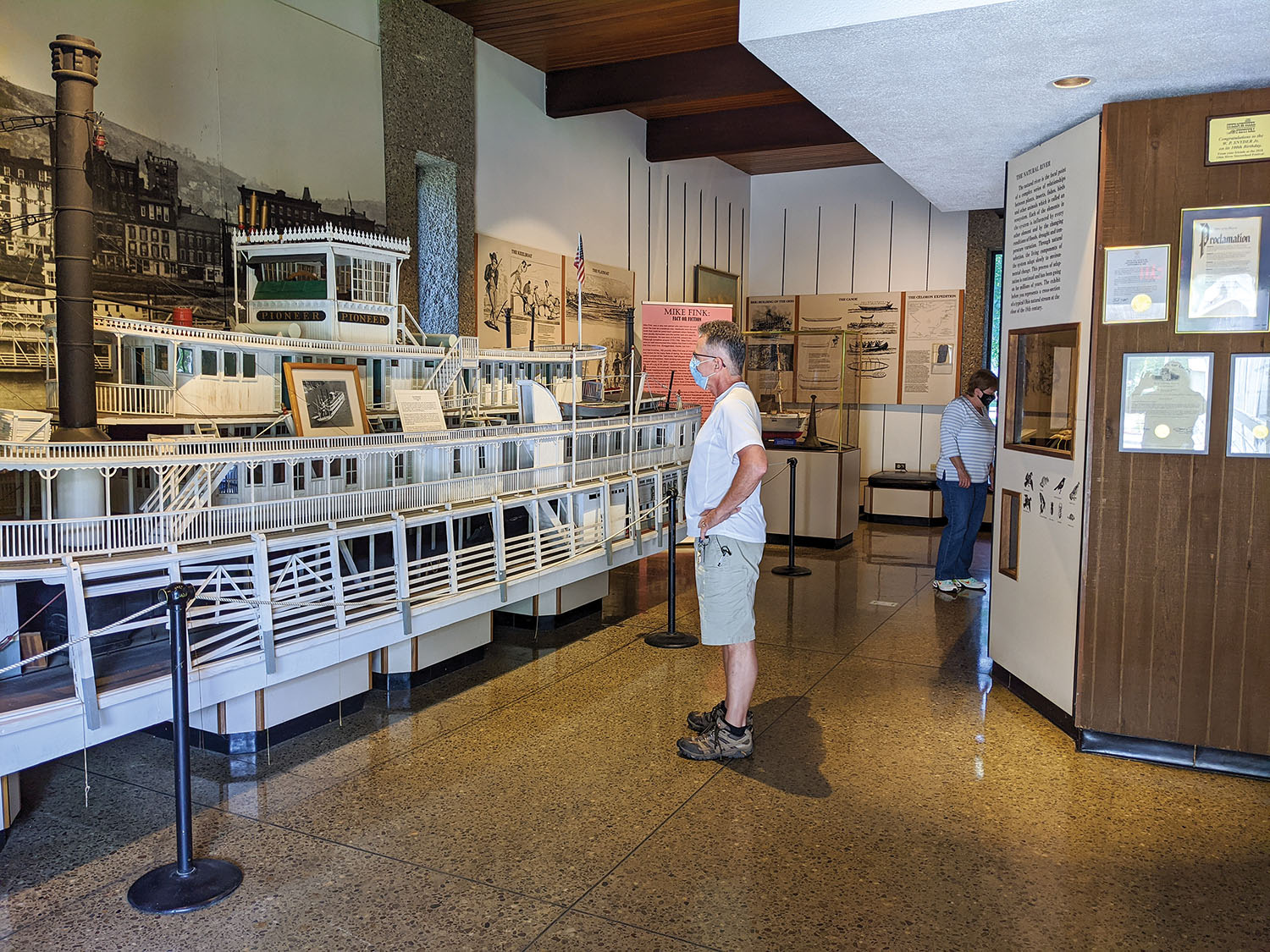 "We were closed for three months, and those were typically our busiest months," she said. "We have a lot of school groups that would come in. Of course, we didn't get any of that. Every single group we had scheduled has canceled."
The museum has tried to reschedule some programming, but that has been difficult with so much unknown about the novel coronavirus and regulations, guidelines and recommendations to limit its spread changing often. Administrators also worry about whether a rise in the testing positivity rate will bring new challenges.
"We don't know how long we'll be able to stay open," Tilton said. "Our concern is in a couple of months we might have to close down again."
The museum has found itself trying to adapt and take advantage of what time it can.
"We know people want to get out and enjoy themselves, and we're trying to give the public what they're wanting while still maintaining safety," Tilton said.
One of the ways the museum has been hit the hardest is through its volunteer-driven tour guide program. "We lost half of our volunteer staff because they're in the at-risk population, and they just don't feel safe coming back," Tilton said.
The museum has needed to increase staff hours to cover for the loss of unpaid volunteers. "That hurts our bottom line as well," Tilton said. It has also set a maximum of 10 people on tours, when routinely they drew 20 or more, and tour groups now meet up with their guides outside.
Still, the museum has tried to stay positive. It has gotten great feedback from visitors, she said. "They're happy that we're open." And not only has its not reduced its hours, but the museum has begun opening an hour early each Friday morning to offer a time to visit especially for any at-risk visitors.
All visitors and staff wear masks or face shields and sometimes both. Masks are offered for those who don't have them. Decals on the floor and walls, as well as outside, show capacity limits and remind visitors to socially distance. A plexiglass barrier has been added at the gift shop's cash register. "And, of course, the cleaning has been ramped up," Tilton said. "If someone sits in a chair, we instantly clean the chair. We're constantly cleaning high-touch areas."
The museum has had to cancel its Evening at the Museum cocktail party, its largest fundraiser of the year, which usually brings in $15,000 between sponsors and attendees. It also had to cancel its annual Pioneers and Paddlewheels Festival, which brings in an average of 3,000 to 4,000 people the first weekend in August. "We're still planning on it for next year, just not this year," Tilton said.
Howard Steamboat Museum
The smaller size of Howard Steamboat Museum in Jeffersonville, Ind., has had an unexpected benefit during the pandemic. Some visitors have told the museum's staff they are choosing to visit there instead of a larger venue.
"It is much different than normal," curator/director Travis C. Vasconcelos said. "However, I am very pleased to report we are getting very good attendance. People are more than willing to socially distance, wear masks, use hand sanitizer. I would say we're doing probably doing 75 percent of our normal attendance with one major exception: no bus tours and no group tours. That's a major part of our business."
The majority of visitors have been from out of state, and not just across the Ohio River in Kentucky.
"What we're finding is a lot of times people are coming to visit and check up on family members, and they are looking for something to do," Vasconcelos said.
The museum's car show fundraiser, concert series and lecture series have been postponed. Its event rental space, The Carriage House, has turned out to be a consistent revenue stream, however, able to open two months after the pandemic began while the museum itself had to remain closed another month. The museum was also able to keep its entire staff on payroll throughout the closures because of the Paycheck Protection Program. That's important, Vasconcelos said, as finding people who are able to interpret the museum's exhibits as tour guides takes a special skill set. The museum is non-profit and gets no funding from local, state or federal sources.
The Howard Steamboat Museum has taken advantage of a state program called the Hoosier Hospitality Promise. The initiative shows guests in the state what actions the museum is taking to mitigate COVID-19 before they ever travel to Jeffersonville.
"I think that's something that opens up doors to people who are concerned," Vasconcelos said.
One challenge has been finding enough cleaning supplies, so Vasconcelos has spread the word for all staff members to be on the lookout for sanitizing wipes, Lysol spray and masks to offer visitors. Also, although the museum received a grant that will allow it to renovate one of its rooms, finding a contractor interested in doing the work during the pandemic hasn't been easy.
Planning for the future is also a bit daunting. With such a small staff, the museum has drawn up contingencies on what to do if one of them tests positive for COVID-19. They also take temperatures and log them daily.
"We have made policies and plans for 'what if' as best as we can, but the thing is you don't know what 'what if' is," Vasconcelos said. "I think we're going to just have to keep our minds open to what comes next because we don't know."
Agnes Zaiontz Tennessee-Tombigbee Waterway Transportation Museum
Unlike many of the other river museums, the Agnes Zaiontz Tennessee-Tombigbee Waterway Transportation Museum in Columbus, Miss., does not rely on admissions for revenue. The museum is located in the same building as the Tennessee-Tombigbee Waterway Development Authority and open Monday through Friday and on weekends by appointment only.
Still, COVID-19 has had a significant impact, executive director Hope Oakes said.
Normally, the museum hosts numerous children and school groups who visit the interactive exhibits, playing in a mockup of a riverboat cabin and blowing its horn. Instead, during what is normally the busiest time for school field trips, the museum closed to the public for about two months.
When it reopened, it did so with increased attention to hygiene and cleaning.
"We've got hand sanitizer everywhere," Oakes said. "We also keep everything wiped down with sanitizing cleaners, as well."
Even before Mississippi mandated mask-wearing, the museum required that masks be worn within the building.
To save money, the museum halted advertising. It is hoping to get some funding from the proceeds of a golf tournament and a silent auction during the Tennessee-Tombigbee Waterways Development Conference, which is still taking place the last week in August.
Otherwise, "Like everyone else, the funding has kind of dried up," Oakes said.
The funding is especially necessary because the museum partners with the state of Mississippi to provide continuing education for educators. It is also involved with scanning historical documents and photos related to the waterway to a server and then uploading those to the Mississippi Historical Archives.
Plans to expand the museum are also on hold for now. Oakes had hoped to add both a water play area for children to splash in and enjoy and an expanded gift shop where purchases could help support the museum's costs.
River Discovery Center
The River Discovery Center in Paducah, Ky., stayed closed 3-1/2 months, from March 10 to July 1, making it one of the longest river museum closures.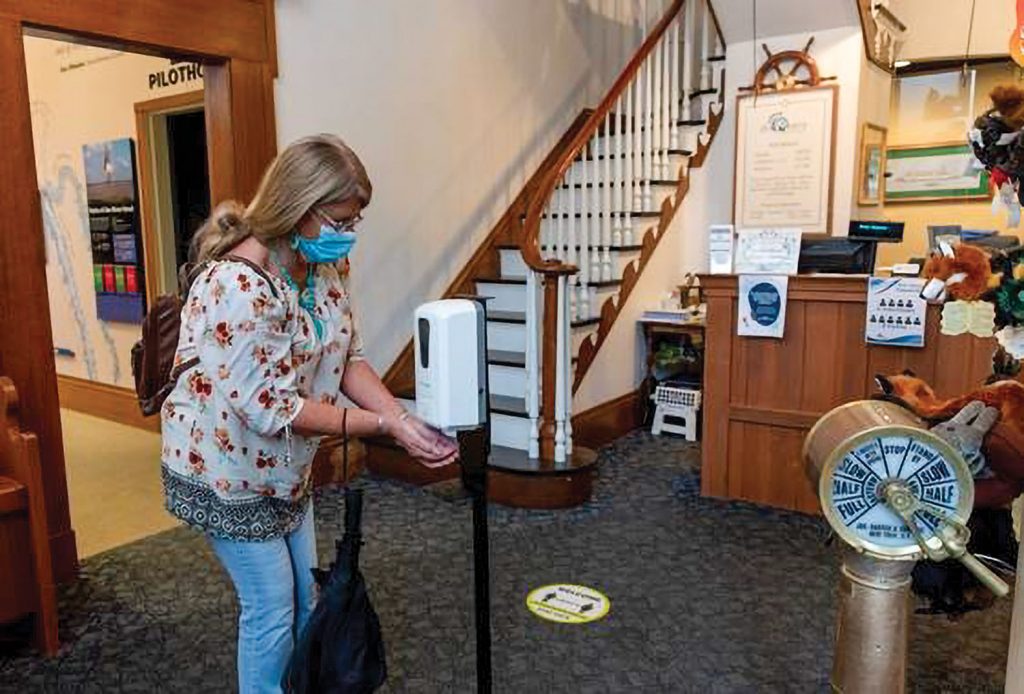 "Our budget is one-third of what it was last year, which is quite significant," executive director Julie Harris said. "However, we're very optimistic about next year, and we will get through this."
Normally, Harris said, the museum enjoys a busy spring and summer that includes children on school field trips and tourists on paddlewheel excursion boats. Neither of those happened this year. The museum furloughed part-time staff while closed and kept full-time staff with the help of the Payroll Protection Program. It was also able to obtain some small grants and host three small summer camps, limited to 10 children or fewer each, designed for kids at three different grade levels. During the last two weeks of camps, a statewide mandate meant children had to wear masks while inside the building and bring their own lunches, snacks and refillable water bottles.
"We were pleasantly surprised how cooperative the kids were with that, not knowing what to expect," Harris said.
She added that the museum tried to incorporate as many outdoor activities as possible to lessen the chance of exposure to the virus.
The River Discovery Center had to close its extremely popular children's play area as a result of the virus. It also had to cancel its largest annual fundraiser, a September dragonboat festival, although it plans on bringing the event back next year.
The loss of individual and corporate donations has been a particular challenge.
"We do depend a lot on that support since our programming costs are low and our admission prices are low," Harris said. "It has a great deal of impact when we lose those donations."
In addition, she said, the museum faced increased costs, including purchasing touchless hand-sanitizing stations and locating them at five different points in the center, along with social distancing decals for the floor, sneeze guards for the admission guests and capacity limits for each exhibit area as well as the bathrooms. The museum purchased styluses for visitors to use on the interactive exhibits, and sanitizes them when visitors return them before exiting the museum.
In an attempt to draw in more foot traffic, the museum has added a new program to its popular simulator, which allows visitors to mimic driving a towboat, speedboat or Coast Guard vessel in various scenarios. The new scenario is based in San Francisco, and visitors enjoy piloting around Alcatraz Island and under the Golden Gate Bridge, Harris said.
"That has had lots of appeal and has helped build some visitation that we might not have had otherwise," she said.
Harris said the museum is doing its best to plan for the future, although that remains difficult to foresee. It is budgeting quarterly in addition to its annual budget process to allow adjustments to the constantly changing pandemic environment. Additionally, the museum plans to take part in a communitywide fundraising challenge that matches dollars raised by various non-profits up to a set amount. The museum is also innovating, Harris said, working on a plan where museum staff may be able to visit schools and offer in-classroom programming since field trips may not be possible.
Caption for top photo: Directional arrows guide the footsteps of a visitor at the National Mississippi River Museum and Aquarium in Dubuque, Iowa. (Photo courtesy of National Mississippi River Museum and Aquarium)