The final wish of U.S. Navy veteran Ralph Guy Andrew "Bud" Castillo Sr. was that he be cremated and his ashes buried at sea.
During the coronavirus pandemic, that could be a daunting task. But the pieces fell into place with help from the U.S. Coast Guard, the Houston/Galveston Pilots Association and a third-party navigational assessment checkout ride on a Buffalo Marine towboat.
Bud's son, Capt. Ralph Castillo Jr., 59, is a 20-year veteran captain with Buffalo Marine. As part of its safety program, outside auditors routinely ride Buffalo Marine vessels to assess crew performance.  Chance would have it that Tom McWhorter of Maritime Services Group of Louisiana was the auditor who rode the mv. Nancy Marion captained by Ralph Jr.
During the assessment, the conversation eventually turned to family, and McWhorter learned of the senior Castillo's recent death and final wishes. Even before he was diagnosed with cancer three years ago, Castillo had begun filling out paperwork to arrange for his cremation with his ashes to be spread at sea.
Sign up for Waterway Journal's weekly newsletter.
Our weekly newsletter delivers the latest inland marine news straight to your inbox including breaking news, our exclusive columns and much more.
The junior Castillo felt there was not much of a chance to have the ceremony performed during the pandemic. But he was to learn that the maritime industry and military work together to honor its veterans.
"It was absolutely awesome," Ralph Jr. said of the ceremony. "People did a fantastic job putting it together. It was truly impressive."
At the end of the three-day assessment ride, Castillo asked McWhorter if he knew anyone with the Coast Guard who could help to carry out his father's last wishes.  McWhorter has been active working with the Coast Guard as a past chairman of TSAC (Towing Safety Advisory Committee) and is currently serving as an appointed member of MERPAC (Merchant Mariners Personnel Advisory Committee).
McWhorter contacted Rear Adm. John Nadeau, commander of the Eighth Coast Guard District. He soon received a follow up call from ME2 Joshua Ledoux and worked with BM2 Ryan Constable, who would drive the 45-foot Coast Guard vessel to the offshore burial location.
As August 15 approached, arrangements for a vessel to transport the family alongside the Coast Guard vessel fell through. Tom Marion, Buffalo Marine's in-house legal counsel, called the Houston/Galveston Pilots Association, which quickly agreed to make the pilot boat Bayou City available for the 20 family members and friends for the trip offshore.
"It was a professional courtesy," Capt. Daniel Reyna said of making the Bayou City available. "Actually, we were greatly honored to help with the final wishes of a veteran and provide proper closure for Mr. Castillo's loved ones."
Ralph Jr. said Capt. Reyna and his pilot boat crew "made us feel like family. We truly appreciated what they did for us."
Bud Castillo
Born in Fenton, Mich., on New Year's Day in 1937, Bud Castillo 's family moved to Brownsville, Texas, when he was 11. After graduating from high school, he joined the Navy at age 17.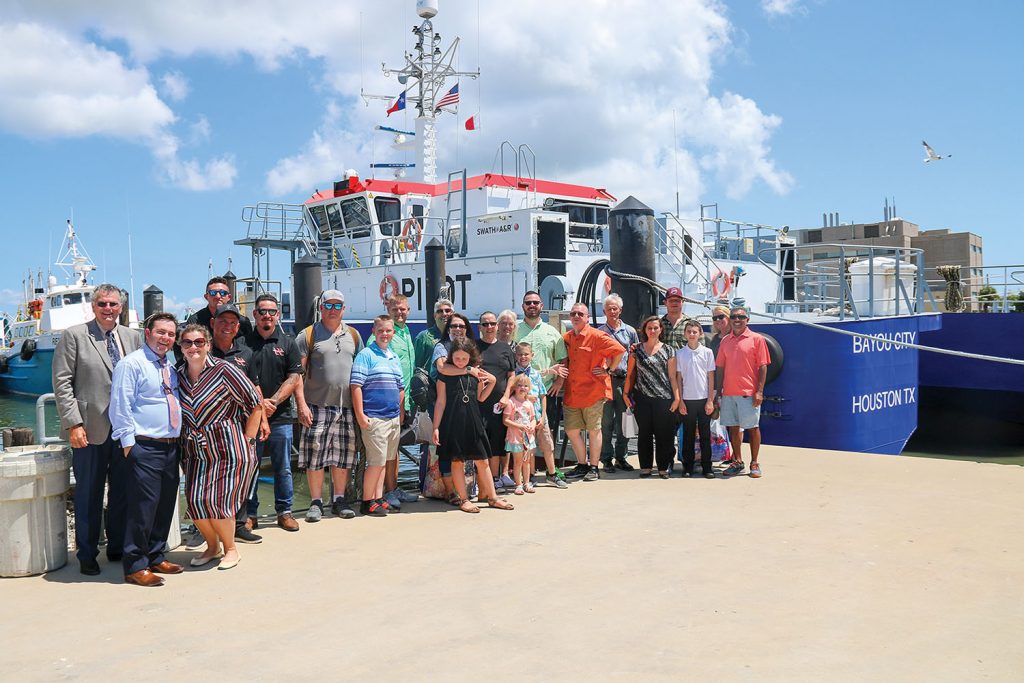 In 1955, Castillo was a crewman aboard the USS McKean, DDR-784, which participated in Operation Wigwam, a test of vessel survivability of an atomic bomb blast. The USS McKean was stationed five miles from the center of the nuclear blast.
He was onboard when the ship spent a week in Melbourne, Australia, during the 1956 Olympics. After the Cuban Missile Crisis in 1962, Castillo was honorably discharged.
Castillo attended Texas Southmost College and then worked at Union Carbide in Brownsville in new construction, operations and maintenance. He later was transferred to Gulf Alliance Refinery in Myrtle Grove, La.
He would spend 38 years working for Brown & Root Inc. as a supervisor in planning, scheduling and project estimations, traveling from Alaska to Venezuela, but mostly in the continental United States. Eventually Castillo retired from Brown & Root in 2005. He was 68 years old.
At age 70, he took up scuba diving, totaling more than 200 dives, and would travel to Cozumel, Mexico, twice a year for dives with friends. He was an avid fisherman, paddling his kayak in Galveston Bay. He was also a photographer.
With the pandemic shutting down much activity, Ralph Jr. told his sister there was little chance of the burial at sea ceremony.
"But God looked down on it and made it happen, thanks to help from some wonderful people," Ralph Jr. said.