Steve Golding, chairman and CEO of Golding Barge Line, a transporter of liquid commodities with roots dating back to 1960, is someone who has always been mindful of tradition. That is, until he recently named a new towboat the mv. Rusty Moore. The boat, built by Master Boat Builders on a triple-screw design from Sterling Marine, was delivered in August.
Of the company's 26 boats, 25 are named after Golding relatives, once going as far out into the family tree as a distant relative in Kent, England, named Andrew Golding, who flew with his wife to Golding Barge Line's headquarters in Vicksburg to christen a newly delivered towboat that Steve had named for him.
And it was not as if Steve Golding simply ran out of relatives and had no alternative but to name a boat after someone outside of the family. He has a grandson, Whit, who has yet to be honored with a vessel in his name.
"We broke tradition with the Rusty, our 26th boat, because of Rusty Moore's dedication to me, my family and to our company," Golding said.
Rusty Moore has been with Golding, in one way or another, for 42 years, the last 20 of which he has worked directly with Steve as vice president of operations. When he was 19, he started out on the river as a deckhand on the original Angie Golding, which was owned by the Golding family under the auspices of Ole Man River Towing (OMR). He earned his tankerman's license while on the Angie, and in 1985 he left the vessel for a shore-based position with OMR, maintaining the company's tank barge fleet. When Kirby bought OMR in 1992, Moore became an operations manager for them, continuing to maintain the same OMR fleet only under the new ownership. While there, he worked on several barge construction projects with Steve.
"In 1995," Moore said, "Steve had a calling to get back into the river business and started up a firm named Golding Barge Company that leased tank barges to other operators. Then as tank barge building wound down near the beginning of 2000, he shifted his focus back to the operations end of the business and recruited me to help him build a new towing company, Golding Barge Line."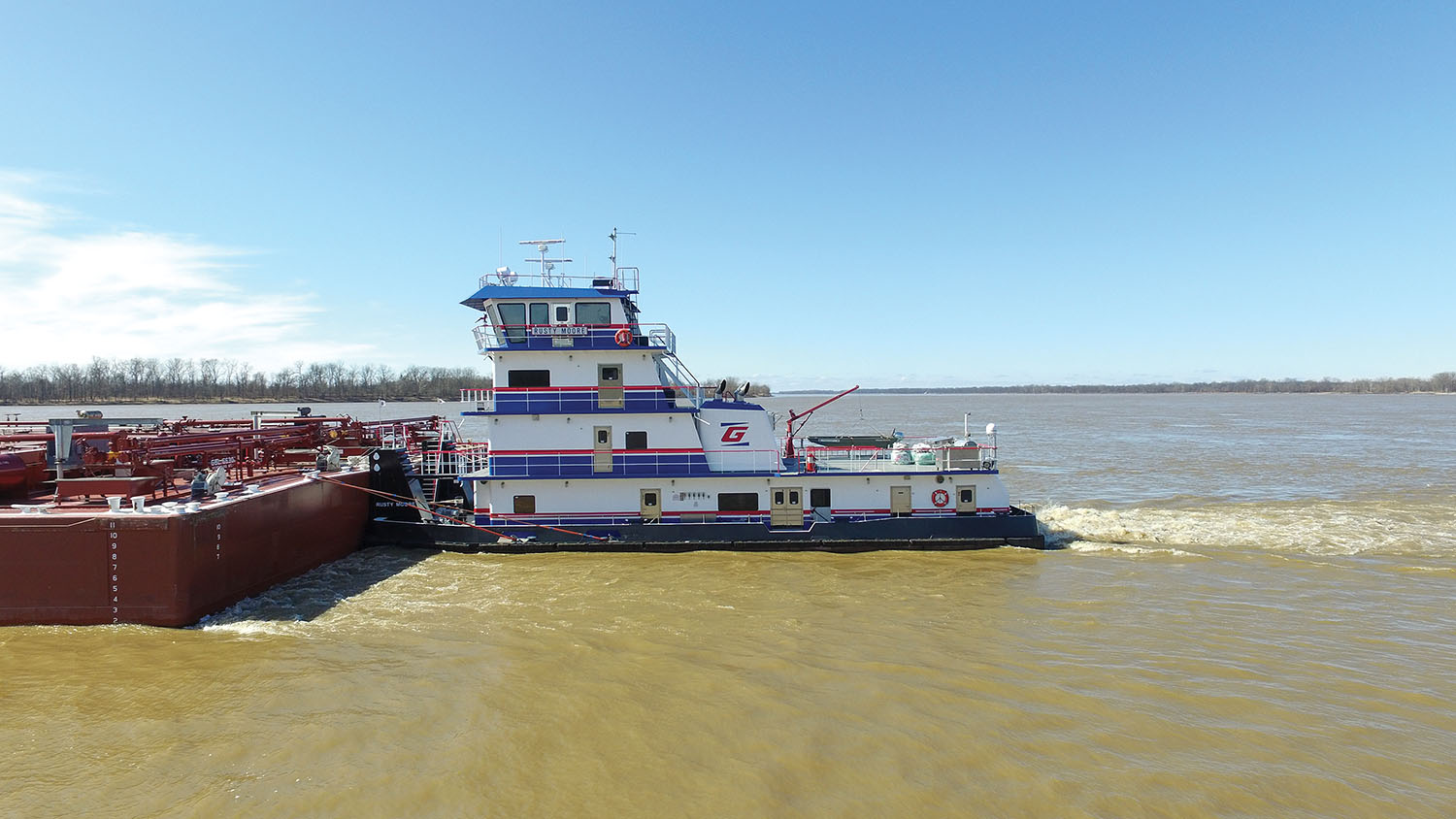 To start with, Golding Barge Line ordered four barges, Moore said, "and Steve and I went out and knocked on doors to keep them busy. As the barge line grew, we spent a lot of time on the road chasing boats and barges and working with tankermen and crews and building a customer base in line with our 'GBL Culture of Service.'"
20th Anniversary
Golding Barge Line will celebrate its 20th anniversary this year, now a company consisting of 26 boats and 66 barges that Steve Golding and his team, both shoreside and afloat, assembled. "Over the many years of working with Steve, I've been heavily influenced by his honesty and integrity in doing business and have been able to apply his life principles to my own," Moore said.
Returning the compliment about his father, Austin Golding, president of Golding Barge Line, said, "Rusty Moore has meant so much to our family and company that we felt it was fitting to have his name on our newest vessel in honor of his years of hard work and dedication.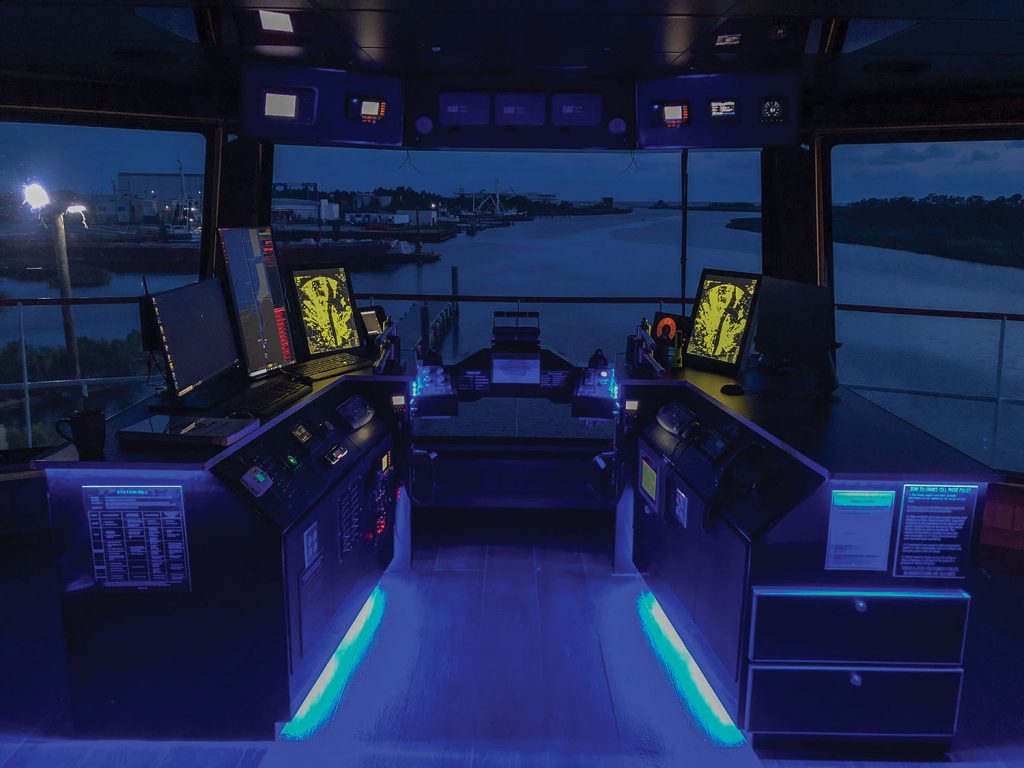 "The bar we set and maintain was established and is supported by Rusty Moore in ways that constantly go above and beyond the call of duty. He is a tireless worker, an innovative marine thinker and is always working on how to improve the mariner's life as well as safety on the boats and barges. 
"This industry is better because Rusty Moore decided to dedicate his life to it. We are lucky to have crossed paths and to have been able to collaborate all of these years." 
Shipyard And Boat Specs
Master Boat Builders may not be a household name in the shallow-draft marine industry, having built only three towboats including the Rusty Moore in its 42-year history, but it is well-established in the offshore supply boat business, with a customer list including such blue bloods as Seacor Marine, Kirby Offshore Marine and Crowley Maritime. One of the three towboats it has built is the mv. Jason Golding, a twin to and delivered just prior to the mv. Rusty Moore, and the other was built so long ago no one in the company can remember its name.
The shipyard is a family-run firm that was founded in 1979 by James Rice and his son, Michael. Michael's son, Garrett, now serves as president. Located on Bayou Coden in Coden, Ala., the shipyard sits on roughly 20 acres on the west side of the bayou. Equipped with two side launch ways, numerous crawler cranes and a new fabrication facility, the shipyard has the capacity to build eight 200-foot vessels at one time.
"We have built close to 450 vessels over the life of our company, the majority of which were oilfield supply vessels, utility vessels and offshore supply vessels," Garrett Rice said. "The Golding boats were a great project for us, and working with the Golding team was a pleasure."
Moore said the contract with Master Boat resulted from a cold call the shipyard had made just about the time Golding was looking to build the new boats. The order for a triple-screw vessel was the shipyard's first. It was also the first for Golding Barge Line, along with its sister vessel, the mv. Jason Golding.
The mv. Rusty Moore is a 2,400 hp., open-wheel, triple-screw towboat that measures 94 by 34 by 10.75 feet. "The hull models our 2,800 hp. class boats and uses the same rudders and tail shafts, reducing the need for spares," said Moore, emphasizing that the interchangeability of parts throughout the entire Golding fleet, 26 boats and 66 barges, is one of the company's primary concerns. "Allowing our crews to be familiar with all of our equipment is key to us. The last barge is just like the first barge," he said.
The Rusty Moore has six flanking rudders, instead of the customary four, and three steering rudders. "Having six flanking rudders improves the boat's handling when in close quarters," Moore said, "and with three steering rudders, the steering response is as good or better than any of our 3,000 hp. class vessels."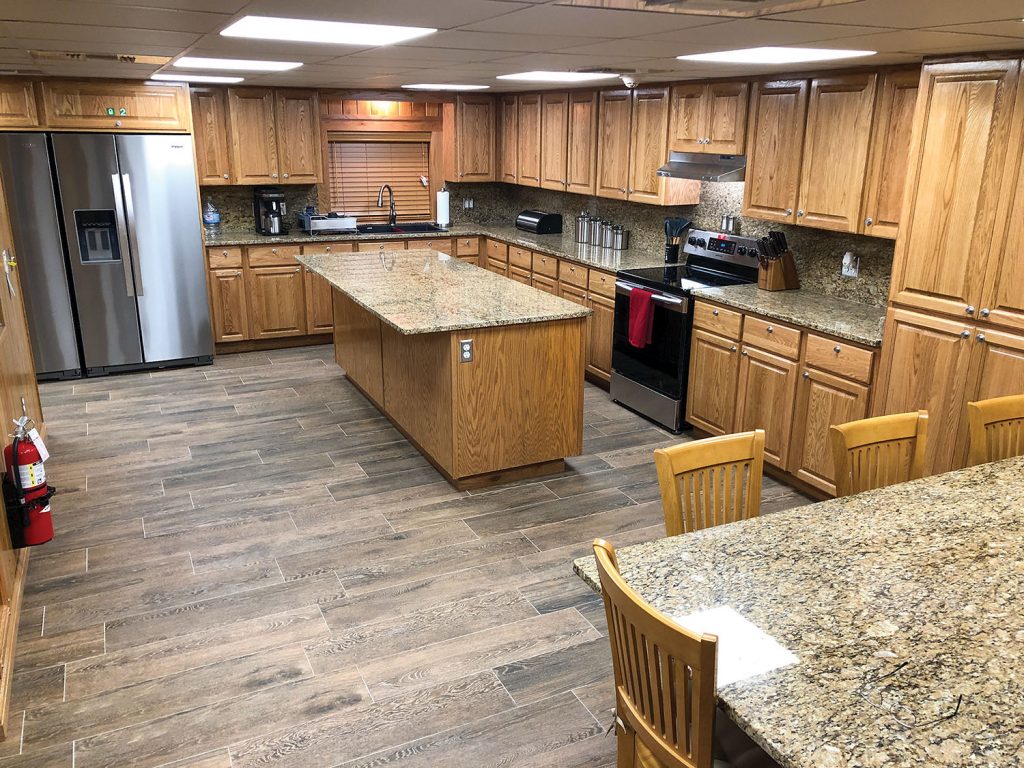 The main engines are three Cat C-32 Tier 3 units, each 800 hp., from Puckett Machinery Company. "Having three engines seems to be producing more thrust per gallon of fuel consumed," said Moore, "as the engines can be run at a lower rpm., burning less fuel but making the same speed as the twin-screw vessels."
The engines turn Sound Propellers on 8-inch shafts with Duramax seals and bearings, through Reintjes WAF 573 gears from Karl Senner Inc. The engines are cooled by an East Park Radiator system. The electric-over-hydraulic steering system and engine alarms are by Gulf Coast Air & Hydraulics.
The Rusty Moore has tankage within the hull for 32,800 gallons of fuel, 4,800 gallons of potable water, 11,800 gallons of wash water and 600 gallons each of lube and gear oil.
Its wheelhouse affords the pilot an eyelevel of 33.5 feet and is stocked with communication and navigation equipment from New World Electronics. The equipment includes two radars and a swing meter from Alphatron; four Standard Horizon VHF radios; a JRC satellite compass; two depth finders, a windmeter and a loud hailer from Furuno; an Intellian satellite TV; a Jotron AIS; an eight-channel CCTV; and a Ritchie lighted compass.
"The boat is extremely quiet and comfortable," said Moore, thanks to Mascoat sound deadening on all critical bulkheads, 100 percent mineral wool insulation on interior and exterior surfaces and isolators on all piping pump connections. Acoustical ceiling tiles were installed throughout to go with wood grain ceramic plank flooring and tongue-and-groove cypress paneling in the galley and pilothouse.
The second deck contains rooms with four double-bunk berths and an adjoining bathroom between each pair. There is a full bathroom in the large lounge and exercise area on the third deck, allowing the space to be used when the port captain or port engineer need to stay overnight. There is also a toilet in the pilothouse.
In the galley is an electric range, three refrigerator/freezers, a microwave and an entertainment center with TV/PC interface for safety meetings and TSMS reviews.
Two BV semi-portable, dry chem fire extinguishers and an abundance of 10-pound dry chem handhelds provide fire safety along with an Edwards fire detection system.
On deck are two 60-ton Patterson winches and a Schoellhorn-Albrecht capstan. The hull is protected by Schuyler fendering. Paint is PPG.
Family And A Souped Up Truck
When asked how much longer he was going to work, Moore said, "I turned 60 last November. I've got a few years left in me, but spending more time with my wife of 30 years, along with my four daughters and four grandchildren has a strong draw on what I want to do in the future. Boats and barges are my life, but I couldn't have done it all these years without my wife making sure that everything at home was in order.
 As for hobbies, "I've got an old '68 Dodge truck that we hopped up pretty good," Moore said. "The grandkids and I take it to the local car show every chance we get." The truck has a Ford Crown Vic front end and a 505-cubic-inch Mopar big block engine that he put in. Last year, it won the best-in-show award at a regional event called Warbirds, Wings & Wheels in Vicksburg. 
"I tell my grandson it's his truck," Moore said, adding, with a bit of grandparental wisdom, "it keeps him outside and off the video games."
For more pictures, please click on the slideshow below:
Jimmy Stray, tankerman trainee; Justin Kilpatrick, deckhand; Nick Martin, captain; Randy Moore, port captain; and Joseph Nalley, relief mate/tankerman.