A recent study has concluded that cities in middle and eastern Tennessee with access to barged petroleum products suffered less during the May shutdown of the Colonial Pipeline.
Vanderbilt University conducted the research in as part of a case study on resilience strategies for navigable portions and associated infrastructure of the Cumberland/Tennessee river couplet system.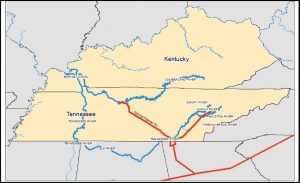 Janey Camp and Craig Philip, both research associate professors of civil and environmental engineering and associate director and director of the Vanderbilt Center for Transportational and Operational Resiliency, respectively, are leading the ongoing research. The data collection and analysis on fuel shortages specifically due to the Colonial Pipeline disruption was conducted by a civil engineering doctoral student, Miguel Moravec. The study results were published on Vanderibilt's research news portion of its website.
The Colonial Pipeline transports gasoline, diesel and jet fuel from Houston, Texas, to New Jersey, with branches going to major cities throughout the Southeast. It was shut down from May 6-12 due after a hacking group calling itself DarkSide initiated a ransomware attack, causing company officials to suspend operations. The company's CEO later agreed to pay the hackers $4.4 million, although the Department of Justice later recovered about half of the sum.
Sign up for Waterway Journal's weekly newsletter.
Our weekly newsletter delivers the latest inland marine news straight to your inbox including breaking news, our exclusive columns and much more.
The Colonial Pipeline is the only pipeline serving the southeastern United States. It provides at least 70 percent of fuel to the region, according to the Vanderbilt researchers. Middle Tennessee is especially reliant on it, with 80 percent of the gas in middle Tennessee supplied by Colonial in 2019. Researchers noted that previous events, including disruptions caused by an explosion in 2016 and Hurricane Harvey in 2017 made studying the pipeline in the context of port resilience a good choice.
Researchers used data provided by the U.S. Army Corps of Engineers along with Gas Buddy, a technology company providing real-time fuel prices, to study in six cities: Nashville, Chattanooga and Knoxville in Tennessee, and Raleigh, Charlotte and Asheville in North Carolina. While the Tennessee cities all had some level of waterborne access to fuel, the three in North Carolina relied on fuel delivered by pipeline.
Data collected included the percentage of gas station outages on days 7 and 12 of the pipeline shutdown along with a comparison of barge deliveries of petroleum annually and per capita, and concluded that the fuel supply shortfalls in the Tennessee cities, and especially in Nashville, were lower than in the other markets.
"Our preliminary findings suggest that there is a statistically significant relationship between a city's annual waterborne petroleum volumes (adjusted per capita) and the proportion of gas station outages during this year's disruption of the Colonial Pipeline, especially as the closure stretched on to its second week," Moravec said.
Nashville, which has the largest waterborne fuel volumes per capita of the cities studied, reported 18.9 percent of stations out of fuel by the 12th day of the disruption. Knoxville, which receives less waterborne fuel, reported a 31.6 percent outage on the same day. Cities in North Carolina with no waterborne access reported outages as high as 40 to 60 percent the same day.
"We cannot underestimate the need for multiple transport delivery options that allow essential goods and products to travel across the country," Camp said. "This analysis demonstrates that ports, especially inland terminals, continue to be a critical factor in the nation's supply chain. American cities and states will need to keep this in mind as they plan for long-term, resilient infrastructure investments over time."
Philip is familiar with the importance of supply chain resilience strategies, given his 35-year career in intermodal logistics and membership on the Transportation Research Board's executive committee and marine board.
"Looking at examples of logistics resiliency or the impact of disruption events puts the need for infrastructure reinvestment into context," he said. "Our goal with this work is to contribute to a national Port Resilience Guide to be published by the U.S. Department of Homeland Security and U.S. Army Corps of Engineers so that regions with maritime options aren't caught flat-footed at those times when they need to be most prepared."
Cheatham Lock
The Nashville Engineer District worked closely with industry partners to lessen the impact of the pipeline closure, opening up Cheatham Lock despite restrictions during scheduled maintenance so barges destined to fuel middle Tennessee could navigate up the Cumberland River to Nashville terminals.
Officials with the Nashville District and Regional Rivers Repair Fleet, which is performing maintenance at Cheatham Lock at Cumberland River Mile 148.6, coordinated with Marathon Petroleum Corporation on site May 12 to gain an understanding of the industry's critical need to move fuel via barges through the lock to lessen the impact of the gas shortage. Additional communication took place with Exxon Mobile the same day to discuss their requirements.
Megan Simpson, the Nashville District's Technical Support Branch maintenance section chief, said the Corps ultimately allowed 12 fuel barges carrying 1.5 million gallons of fuel to pass through Cheatham Lock May 13-17. Barges had to be split and guided by a helper boat because of a dewatering box that is anchored to the lock wall that makes it possible for the maintenance crew to work in dry conditions.
"The next week, the pipeline went back into operation, but additional barge deliveries would still be required to help make up for the shortage," Simpson said.
Cheatham Lock opened again May 21-23, and about 17 barges either passed upriver with fuel to Nashville or down river empty headed back to refineries in Texas. Another opening was scheduled to move gas barges through the lock June 4-6.
Jake E. Menefee, Marathon Petroleum Corporation's vice president of government affairs, sent a letter May 19 to Lt. Col. Sonny B. Avichal, Nashville District commander, noting how the decision to alter the Cheatham Lock maintenance schedule made it possible for Marathon and the broader gas industry to supply the market and avoid shortages.
"This experience is one of many where USACE lived its mission of delivering vital engineering solutions in collaboration with partners to secure our nation, energize our economy and reduce risk," Menefee wrote. "Thank you for your consideration and continued support of our efforts to keep Tennessee fueled."
Each barge holds around 28,000 barrels of fuel, so the team at Cheatham Lock is aware of how their efforts helped alleviate potential shortages at local gas pumps.
Lock Operator Michael J. Christianson said he assisted with 14 lockages during a recent 12-hour shift in support of the fuel deliveries.
"We've been terribly busy during the shortage," Christianson said at the time. "It's definitely an excellent experience for me to be part of the transport of goods and especially fuel right now to Nashville."
In a virtual roundtable meeting with stakeholders on the research project, including Ben Bolton, energy programs administrator for the Tennessee Department of Environment & Conservation, and Megan Simpson, Chief, Navigation Section, Technical Support Branch of the U.S. Army Corps of Engineers–Nashville Branch, participants agreed on the importance of rapid response and clear communication as critical lessons learned from the shutdown. This, according to the group, will be the single most important factor in mitigating future potential crises.
Lee Roberts, public affairs specialist for the Nashville Engineer District, contributed to this report.
Caption for photo: The mv. Tampa out of Ashland, Ky, and mv. Jess A. Mollineaux out of Nashville, Tenn., guide Marathon Petroleum Company fuel barges May 21 out of Cheatham Lock in Ashland City, headed to terminals in Nashville. The Nashville Engineer District worked with the fuel industry and Regional Rivers Repair Fleet, which is performing maintenance at the lock, to schedule openings to accommodate deliveries of fuel to middle Tennessee. Each barge carries around 28,000 barrels of fuel. (Photo by Lee Roberts, courtesy of Nashville Engineer District)