Obituary: Capt. William "Bill" Streckfus
Capt. William "Bill" Streckfus, born and raised in New Orleans, the son of Capt. and Mrs. Roy Michael Streckfus and grandson of "The Commodore," Capt. John Streckfus, who founded the Streckfus Steamboat line in 1884, died July 14. He was 88.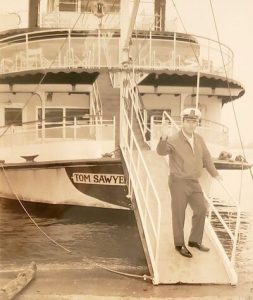 Young Bill began working on the family's excursion boats at the age of 5, after the death of his mother, and continued serving the family business in a variety of positions as he worked through his elementary and secondary education.
He was a veteran of the Korean War and a graduate of Southeastern Louisiana University with a Bachelor of Arts in business administration. Upon graduating from college, he began working as full-time master aboard the steamer President, operating daytime and evening excursions through the New Orleans harbor area.
In 1960, Capt. Streckfus was transferred to St. Louis, where he served as master of the steamer Admiral, the world's largest excursion vessel and the company's flagship. Like the steamer President in New Orleans, the Admiral was one of St. Louis' major attractions, offering both day trips and moonlight excursions with headline entertainers.
Capt. Streckfus' management role continued to increase in the St. Louis headquarters, leading to positions as vice president and ultimately president of Streckfus Steamers Corp. Under his leadership and supervision, Streckfus Steamers constructed several new T-Class excursion vessels: the mvs. Mark Twain, Huck Finn, Tom Sawyer and Samuel Clemens.
By the time he left the company in 1979, the Streckfus fleet had grown to seven vessels operating in the three distinct markets of New Orleans, St. Louis and Tampa Bay/St. Petersburg, Fla. He spent the next 13 years of his career overseeing the complete multi-million-dollar renovation and successful operation of the National Museum of Transportation, located in St. Louis County.
The rise of riverboat gaming offered Capt. Bill an opportunity to return to the Mississippi River and passenger vessel operations aboard the Casino Queen in East St. Louis, Ill. In 1992, he supervised the final stages of construction, sea trials, Coast Guard inspections and delivery of this unique tug/passenger barge unit. He served as director of marine operations for the gaming company until his retirement in 2001.
Tom Dunn, who worked with Capt. Bill at Streckfus Steamers for many years and who recently authored a book about the Admiral, remembers him as "an easy captain to work with. All you had to do was follow his orders. It was just that simple. Sadly, his passing is a reminder of an era long gone."