Maritime Partners, a Metairie, La.-based owner of more than 550 boats and barges on long-term charter, held a christening for the mv. Kyle Smith August 19 on the east bank of the Harvey Canal in metro New Orleans.
The vessel, the second of two 2,000 hp. towboats Eymard Marine Construction built for Maritime Partners, is named for longtime New Orleans marine surveyor Kyle Smith. It's the sister ship to the mv. Chris Miller, christened in late February.
As with the Chris Miller, Entech designed the mv. Kyle Smith, which is powered by a pair of Caterpillar C32 main engines from Louisiana CAT. Karl Senner supplied the Reintjes WAF 572L reduction gears, which have a 7.091:1 ratio. Hung Shen supplied the Sound Denominator-style propellers, while Dale's Welding provided the Wärtsilä PSE shaft seals. The mv. Kyle Smith features Duramax Durablue bearings and DuraCooler keel coolers from Donovan Marine. Donovan also supplied the vessel's Seahorse wastewater treatment system, 40-ton Patterson deck winches, capstans and kevels.
Blair Plaisance and Kirk Foret supplied the engine alarms, and Hydra Force provided the steering system. 
Inside the mv. Kyle Smith, the vessel has accommodations for seven crew members in five staterooms and four bathrooms. The vessel's electronics package is by Wheelhouse Electronics. American Fire Safety & Supply provided the mv. Kyle Smith's galley fire suppression system, with Donovan Marine supplying the other firefighting equipment on board. Dale's Welding supplied the aluminum doors.
The mv. Kyle Smith measures 78 feet by 34 feet by 10 feet, with a design draft of 7 feet 9 inches. The pilothouse eye level is 33.5 feet. The Kyle Smith has tankage for 24,760 gallons of fuel, 426 gallons of lube oil and 6,610 gallons of potable water.
Honoring Kyle Smith
Capt. Joy Manthey led the jovial crowd, gathered under a tent for shelter against a south Louisiana popup summer storm, in a prayer for the mv. Kyle Smith, the vessel's namesake, its crew and the broader Maritime Partners team and maritime community.
"May the currents and winds of all our lives be always fair and favorable," Manthey said. "This we ask in the name of Jesus, our brother mariner, who calmed the waters and quieted the storms."
Fittingly, the rain slackened as Manthey prayed, then increased again as she said "amen."
"Joy says a prayer and the rain stops," Smith said to laughter. "I'm getting ready to go, and here it comes. I'm bad luck."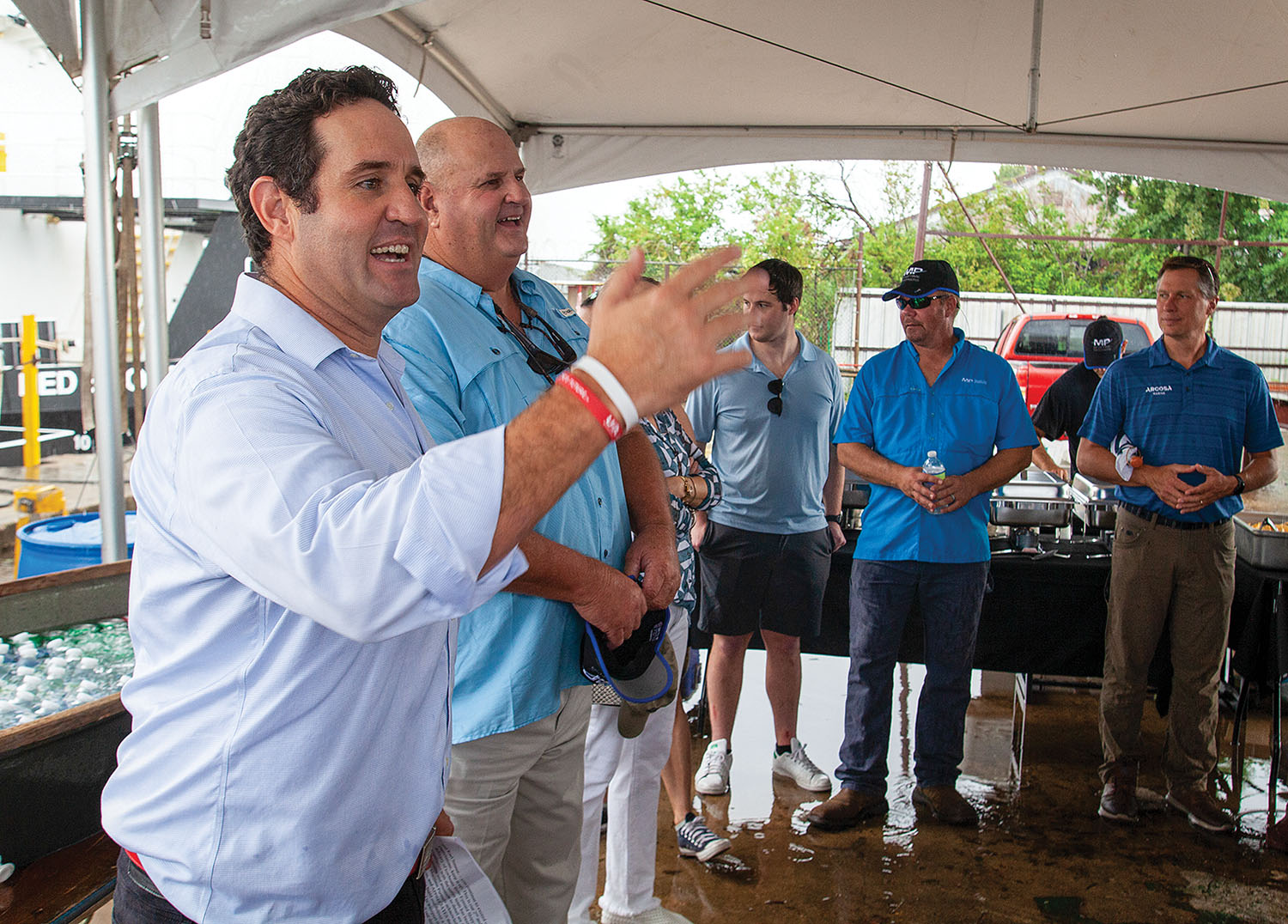 Addressing the crowd, Maritime Partners co-founder and Chief Operating Officer Austin Sperry first thanked the Eymard family for successfully delivering another fine vessel.
"Mr. Gary, his son, Gary, and his daughter, Lisa, have been great to work with," Sperry said. "This is the second boat they've delivered for us, and it's been a pleasure."
Sperry thanked vendors in the audience, including the teams from Karl Senner and Louisiana CAT. He also thanked the shipyard team that expertly built the mv. Kyle Smith. Sperry then acknowledged Smith's partner, Carrie Booker; siblings Billy Smith and Penny LeBlanc; and cousins Ronnie and Debbie Landry; along with friends and colleagues in the audience, as well as the extended Maritime Partners team.
"Do you want to read my speech?" Sperry asked Smith, who was looking over his shoulder.
"I wrote it for you," Smith replied, again to laughter.
Such was the levity of the christening ceremony for the mv. Kyle Smith.
Sperry said his relationship with Smith goes way back.
"They call him 'Uncle Kyle' at my  house," Sperry said.
While Smith has provided surveying services for Maritime Partners since the company's founding in 2015, he and Sperry also share a passion for sailing. While Sperry competed in the 2008 Olympic Games, Smith competed in three America's Cups, in 1980, 1983 and 1987.
After the 1987 America's Cup, Smith returned to New Orleans and began his career in marine surveying with Breit Marine Surveying. Then, about 10 years later, he started his own surveying company.
Sperry recognized both Karl Gonzales and Capt. Norm Antrainer, two longtime leaders within the New Orleans maritime community who were instrumental in Smith's career.
"You guys were very instrumental in getting Kyle where he is today, and I want to thank you for coming," Sperry said. "It's a big honor to have you here today."
Taking the microphone from Sperry, Smith simply expressed his thanks and gratitude, first to the Maritime Partners team and then to Breit Marine Surveying.
"I owe thanks to Hjalmar Breit," Smith said. "Hjalmar Breit brought me into marine surveying when I didn't know a box from a ship from nothing. Hjalmar Breit taught me, and I can't thank him enough. I am what I am because of Hjalmar Breit."
Smith then singled out Norm Antrainer, who recently retired from Florida Marine Transporters.
"Norman Antrainer has been my mentor," Smith said. "He's helped me out. He got me certified. He is the best."
Smith then thanked Gonzales, president of Plimsoll Marine in New Orleans, and Kevin O'Daniels, also in the audience. Smith recognized his brother and sister, two cousins, the Eymard family, and collectively the many other friends and colleagues gathered for the christening.
"What an honor, what an honor," Smith said. "It's been a great ride."
Following a corporate blessing for the vessel, led by Manthey, Smith broke a bottle of champagne over the gunwale of the mv. Kyle Smith, officially christening it into the Maritime Partners fleet.
Caption for top photo: Built by Eymard Marine Construction, the mv. Kyle Smith has 2,000 hp. from two Caterpiller C32 engines. (Photo courtesy of Eymard Marine Construction)
For more photos from the christening ceremony, click on the slideshow below:
Kyle Smith christens his namesake vessel while his partner, Carrie Booker, and siblings Billy Smith and Penny LeBlanc look on. (Photo by Frank McCormack)