Florida Marine Transporters recently put into service the second of six identical 2,000 hp. towboats from Steiner Shipyard. The Mandeville, La.-based barge line took delivery of the mv. Steven Sikes the first weekend of December. The other 2,000 hp. towboat is the mv. Eric Brumfield. A third is underway, due to be completed in mid-May. The mv. Steven Sikes is one of 11 that Steiner Shipyard is building for FMT.
Prior to this, the Mandeville, La.-based barge line received from Steiner Shipyard the mv. David Goin, a 100-foot, 3,200 hp. towboat and four 88-foot towboats: the Heath McWilliams and Capt. Keith Lofton at 2,400 hp., and the Chad Douglas and Mo Chiasson at 2,520 hp.
Like the others, the mv. Steven Sikes is named for an FMT employee who has distinguished himself in the eyes of owner and CEO Dennis Pasentine, and Sikes' path to prominence—that being having a towboat named for him—was no less compelling than those before him.
Born and raised in Jonesville, La., near the confluence of the Ouachita, Tensas and Little rivers (which form the Black River there), he acquired his ability to fix things from his father, who was a mechanic and taught him all there is to know about motors, according to his wife of 27 years, Bobbie. 
"He has always loved tinkering with old trucks, motorcycles, four-wheelers or just about anything that had a motor," she said. "I have always looked at it as a challenge for him. He will pick up random items people throw out just to see if he can fix them and, funny enough, most of the time he can."
Sikes hired on with FMT as an engineer in 2001. Before that, he had met Pasentine at Gulf Intracoastal Marine, where they both worked until its acquisition, after which he found employment on an offshore drilling rig. When the drilling business tanked, he put in a call to FMT.
"They put me straight to work on the boats," Sikes said. Four years later, a combination of events led to his coming shoreside as a port engineer. One, the Sikes' only daughter, Emma, now 16, was born prematurely. Steven and Bobbie watched over her for months, during which time Pasentine arranged for Steven to help clear the ravaged countryside at his residence, left in the wake of the second event, hurricanes Katrina and Rita. This enabled Steven to be with his wife and daughter, who was in a neonatal intensive care unit, instead of away on the boats, and in 2005 he went ashore permanently as a port engineer.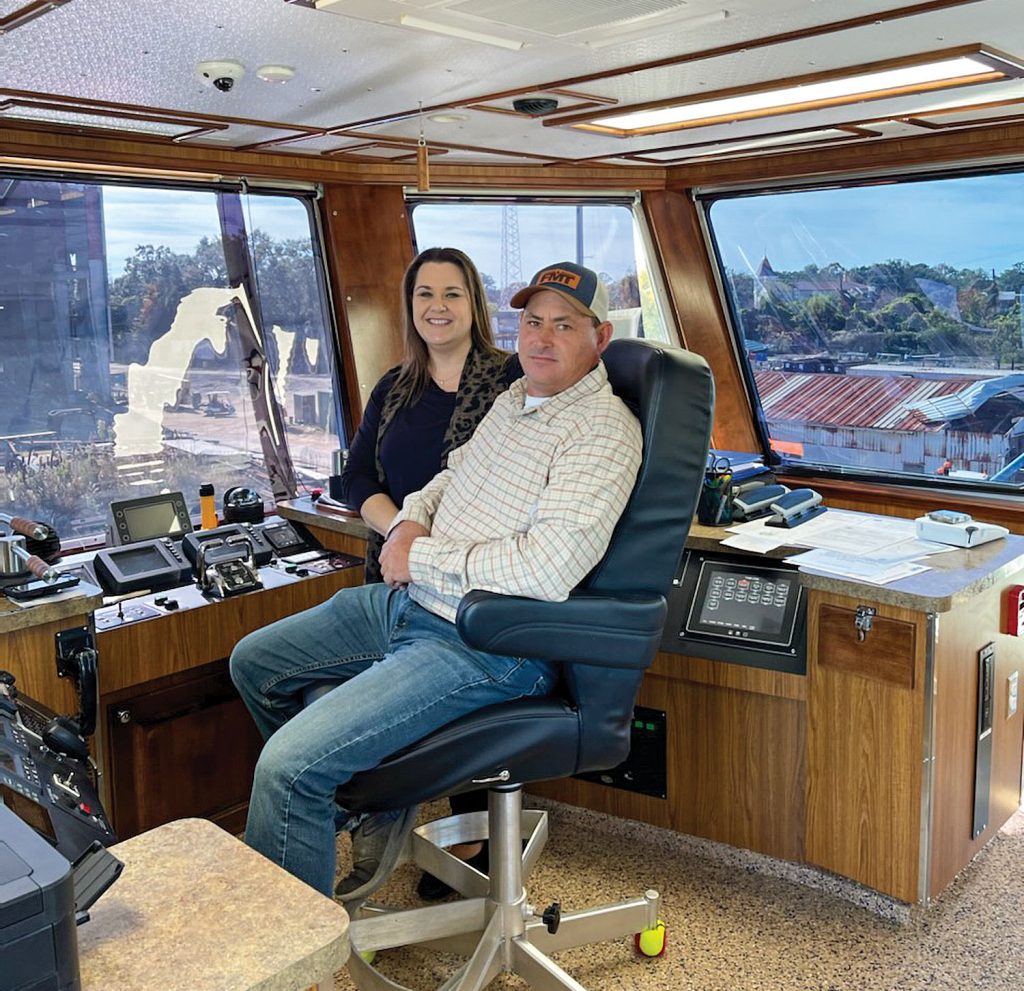 "Steven helped Dennis with the cleanup by keeping all the equipment running: chainsaws, tractors, skid steers, dump trucks, backhoes and even a lumber mill they had at the time," said Bobbie, who also works at FMT, at the Training Center. 
Grateful beyond words for the honor of being chosen as the namesake of an FMT vessel, Sikes said, "Big D (Dennis Pasentine) has been so good to us. He has helped us in times of need and has always treated us like family. (His) putting my name on a boat is such a huge honor, I don't even think I have words to describe how much it means."
Sikes, obviously, is not the only employee to be an FMT vessel's namesake. Naming the boats so is Pasentine's longtime practice. "All of our boats are named after family members and key employees. FMT is not just me, it's a team of people that I've known for a lifetime," he said.
Vessel Specs
Designed by Sterling Marine and built by Steiner Shipyard at its facility in Bayou La Batre, Ala., the 2,000 hp. mv. Steven Sikes is a conventional twin-screw towboat that measures 76 by 35 by 11 feet. 
The main engines are Caterpillar C32 Tier 3 units provided by Louisiana Cat. Coupled to Twin Disc 540 reduction gears with a 7:1 ratio from Sewart Supply, the engines turn Sound 76- by 68-inch propellers on 7-inch shafts with Simplan tailshaft seals and Duramax Cutlass bearings. The engines are cooled by Fernstrum keel coolers and monitored by an alarm system from EMI, which also provided the electric-over-hydraulic steering system. When fully loaded with fuel and water (30,000 gallons and 10,000 gallons, respectively), the boat draws 8 feet.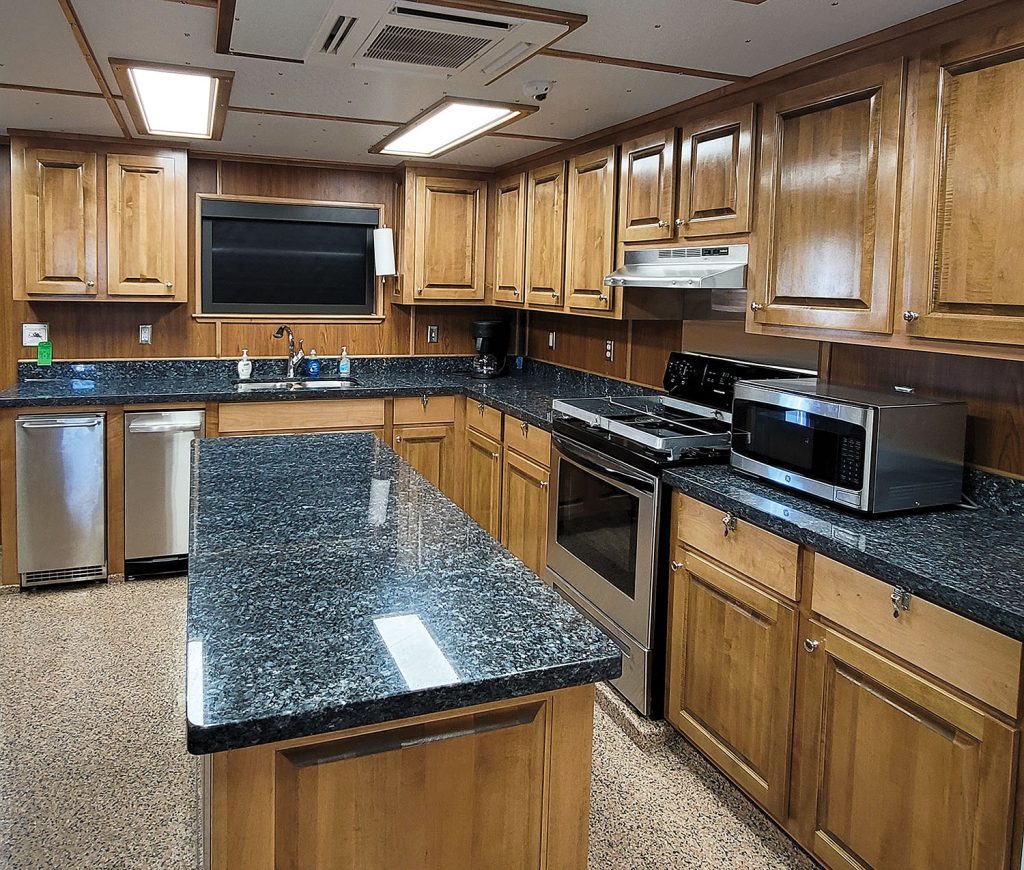 The pilothouse eye level is 34 feet, 6 inches. Auxiliary power for the new boat is produced by a pair of John Deere 99 kw. generators furnished by Kennedy Engine Company. 
Quarters for seven are composed of three double and one single bunkroom, plus two full and two half bathrooms. An exercise room, fully furnished lounge and all-stainless-steel galley provide additional comfort for the crew. The deckhouse interior, manufactured and installed by Kern Martin, is insulated throughout with mineral wool and Mascoat sound-damping material in strategic locations. Air conditioning and heating is provided by a Mitsubishi split ductless system, fire safety is achieved through a Novec system from Hiller Systems, and fendering is Schuyler. 
The Steven Sikes has two Patterson 40-ton electric winches. Its electronics suite was supplied and installed by FMT's in-house IT/electronics department.
Caption for top photo: The 2,000 hp. mv. Steven Sikes is powered by Caterpiller C32 Tier 3 diesels. (Photo courtesy of Steiner Shipyard)