Two veteran Wood Towing captains will always remember the 21st day of September, after the company held a christening ceremony on that day last month to celebrate their leadership and to name a pair of towboats after them. In christening the mv. Mike Mitchell and the mv. Kenny Billiot Jr., Wood Resources, which operates towing, construction aggregate sales, dredging and land divisions, carried on a longstanding tradition of naming towboats after its captains.
Speaking at the christening, Sarah Louise Wood Ham, granddaughter of Wood Resources founder William B. Wood, said she and her brothers, Pearce and Donald Jr., wanted to acknowledge and honor the company's employees who couldn't attend the christening celebration.
"We have about 120 people, and at any one given time, 80 of them are working," Ham said. "As much as we would like to have a big gathering of everyone, it can never happen because our industry is 24/7. It's not just today that they are out working and can't be with us. It could be Christmas morning or Mardi Gras day or Super Bowl Sunday or those couple of days when hurricanes are heading our way."
Ham said that, while most Gulf Coast residents are readying their homes and families ahead of a hurricane, "our crews are tying up our customers' barges." That's one reason Wood Towing has a longstanding tradition of naming boats after its captains, she said. And it's also why the company puts an emphasis on training up its young mariners.
"Tomorrow's captain with a Wood boat named after him could be today's 18-year-old green deckhand," Ham said. "Our company has a bright future. We're really positioned to get to the next level, and we're really excited."
Wood Resources CEO John Herren echoed Ham's recognition that the team drives the company's success.
"We rely on our people, everybody in the company, for everything from their ingenuity to their leadership to their safety commitment," Herren said. "And that's the only way we can really find success. It's the people that surround us and what we do."
The two captains honored at the christening, Mike Mitchell and Kenny Billiot Jr., perfectly embody those core values, Herren said.
"Kenny and Mike, thank you so much for bringing what you bring to this organization," he said. "The pride, the loyalty, the safety and the leadership. Thank you for your outstanding service. Thank you for your commitment to excellence, and congratulations."
Mitchell joined the company 10 years ago and has been serving as a lead captain since 2000. He's known both as a talented towboat pilot and as an eager teacher.
"Mike has not only taught all of our up-and-coming captains so much, but he's taught me so much," said Patrick McNeill, former general manager of Wood Towing. "He's as cool, calm and collected as they come. He's a master of his craft."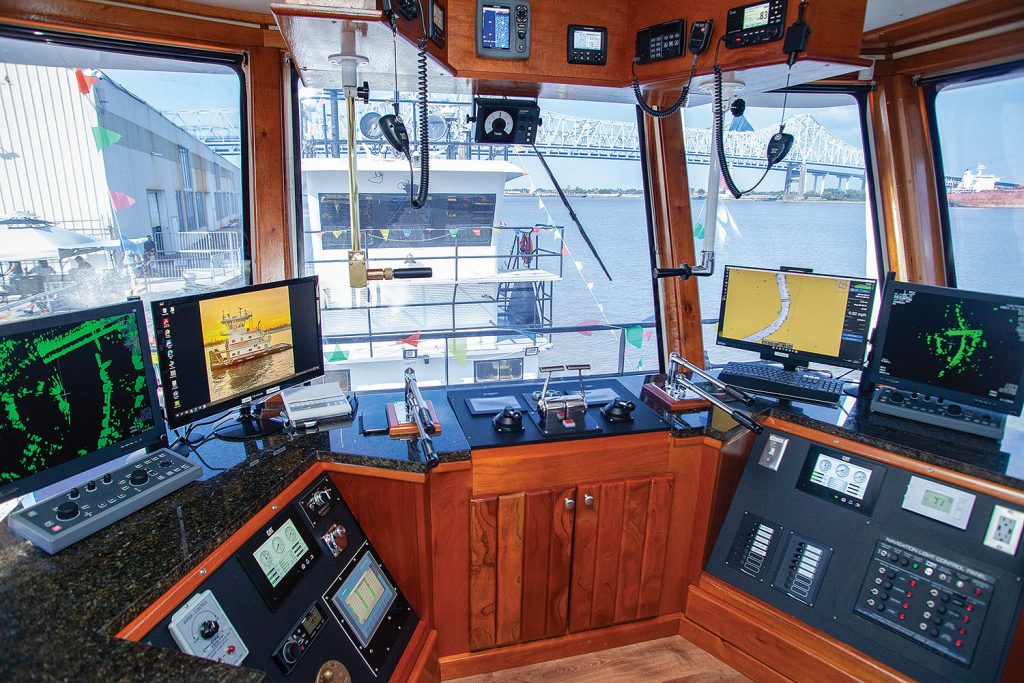 Wood Towing actually put the mv. Mike Mitchell into service in 2020, during the initial months of the COVID-19 pandemic. That May 12, 2020, christening, though, was a small affair, with only Mitchell and his wife, Natasha; Mitchell's brother, Joaquim; and Ham, McNeill and a handful of other Wood Towing employees in attendance. Speaking after the christening last month, McNeill said the Wood Resources team wanted to christen the Mike Mitchell alongside the Kenny Billiot Jr. in order to give Mitchell the recognition he deserves. 
Addressing the crowd gathered for the christening, Mitchell's brother, Joaquim, also a Wood Towing captain, recalled a time early in their career when Mike "stood up for us 20 years ago as deckhands," which eventually led to Mike and Joaquim attending a local maritime academy together.
"Mike, I want to thank you because there's no telling where I'd have been if it weren't for you dragging me to school," Joaquim Mitchell said. "I appreciate that. I love you."
"First of all, I'd like to thank God for putting me in this position," Mike Mitchell said. "I'd like to thank the Wood family, because it's a great honor. I appreciate everything you've done for me. I want to thank my family for being there for me, for my support."
Mitchell also recognized the deckhands he's worked with and trained who have gone on to sit in the captain's chair. He also thanked the people who have mentored and encouraged him over the years.
"I appreciate y'all nourishing me, putting a little water on me and letting me grow," Mitchell said.
And while Mitchell represents Wood Towing's "finest mentoring teacher," McNeill said, Billiot Jr. is "the first of our next generation."
"His maturity, composure and attitude from day one show what it means to really be born to do this," McNeill said.
Billiot Jr.'s father, Kenny Billiot Sr., is an accomplished towboat captain with a Wood Towing vessel named for him as well. Billiot Jr. decked with his father for three years, and when he became a captain, his father trained him then, as well.
"Not many fathers have a chance to work with their sons on a daily basis," Billiot Sr. said at the christening. "I really do appreciate that opportunity."
And while Billiot Jr. is nearing two full decades with Wood Towing, his life could have unfolded differently had it not been for his father's intervention.
"He's been the biggest influence on my career—still is," Billiot Jr. said of his Dad. "When I was about 18 years old and had just quit my job at the restaurant I was working at, I came home one day, and he said, 'I don't know what you're doing, son, but you're damn sure not going to sit around this house all day.' He said, 'I'll make a call and get you a job on the boat.'
"And 17 years later, I'm up here talking to you guys," he added. "Who knows where I'd be without that day."
The Rev. Sherman Washington of Austerlitz Street Baptist Church in New Orleans offered a prayer of blessing for the mvs. Mike Mitchell and Kenny Billiot Jr. and the crews that will work on them. After that, members of the Mitchell and Billiot families climbed aboard their vessels to officially christen them into the Wood Towing fleet. Mitchell's wife, Natasha, christened his namesake vessel, just as she did in 2020. Billiot's mother, Cheri Guillory, christened the mv. Kenny Billiot Jr.
The Mv. Kenny Billiot Jr.
The mv. Kenny Billiot Jr. was built on speculation by Eymard Marine Construction & Repair Inc. and bought several months prior to completion by Wood Resources. Eymard delivered the vessel on May 31.
The twin-screw towboat measures 67.5 by 28 by 9.5 feet, with a draft of 7 feet 9 inches. The vessel has tankage for 18,400 gallons of fuel and 4,361 gallons of water. The Entech & Associates-designed towboat has a pilothouse eye level of 29 feet 10 inches.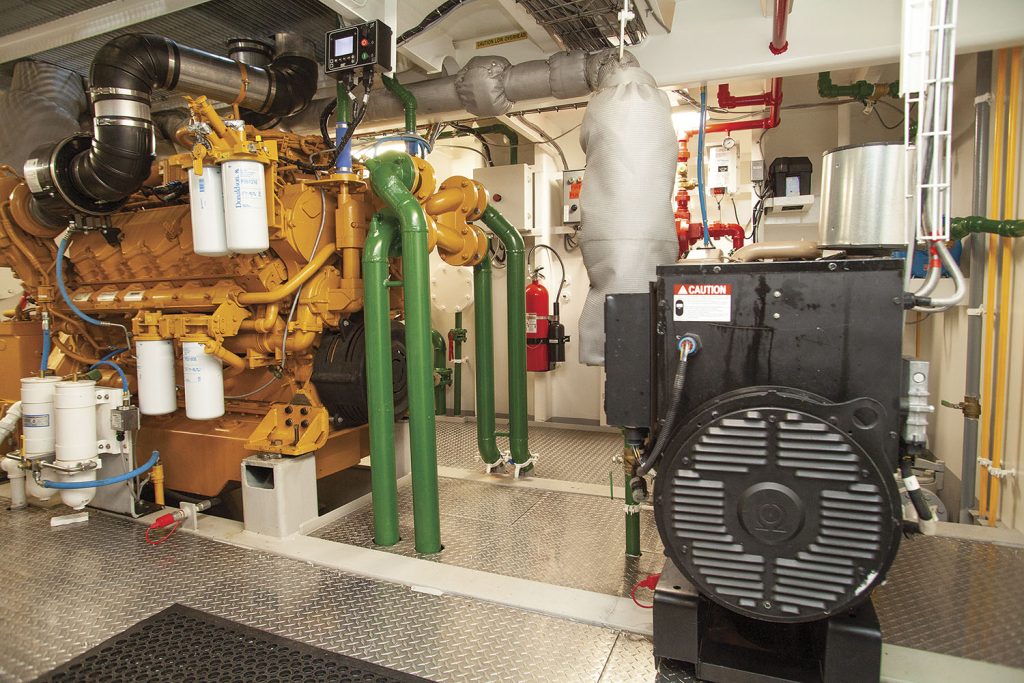 The Kenny Billiot Jr.'s 1,600 hp. come courtesy of two Caterpillar C32 Tier III main engines that turn two 74- by 48-inch, four-blade Kahlenberg propellers from Donovan Marine on 7-inch, cold-rolled shafts. The vessel is equipped with Twin Disc 5321 gears from Sewart, with a reduction ratio of 6.1:1.
Donovan Marine also supplied the vessel's DryMax stern tube seals; flanged rubber Cutlass bearings; Duracooler circuit grid coolers; 12-man Seahorse marine sanitation system; deck equipment, which includes two 40-ton Patterson winches, kevels and roller buttons; and safety equipment.
Ship service power comes from two 65 kw. John Deere generators. The Kenny Billiot Jr. features four bunk rooms with double bunks and two heads. Flexcore vinyl flooring and Spanish cedar woodwork is present throughout the vessel. Air conditioning and heating is by Blair Plaisance.
Hydra Force supplied the Kenny Billiot Jr.'s electric-over-hydraulic, full follow-up steering system, which features both steering and flanking rudders. Unlimited Control & Supply provided the vessel's alarm systems. Wheelhouse Electronics supplied the vessel's Furuno navigation and communication equipment, and fendering is by Schuyler.
Caption for top photo: The mv. Kenny Billiot Jr. was built by Eymard Marine Construction & Repair.
(Note: For photos from the christening, click on the slideshow below.)
Todd Badeaux (left) and Eugene Rivarde, captains on the mv. Mike Mitchell. (Photo by Frank McCormack)