Light-loading, reduced drafts, dredging and multiple reported groundings continued this week, even with some reported rainfall in the Mississippi and Ohio valleys.
Overall, the system remained stable, but industry continued to keep a close watch on conditions, said Randy Chamness, co-chairman of the Lower Mississippi River Committee (LOMRC).
Problem Areas
Roughly 10 locations were "touch-and-go," with a few considered critical, Chamness said. Among those were Mile 790-792 (Ashport to Golddust), Mile 859 (Meriwether Bend), Mile 888 (New Madrid Island) and Mile 696 (Commerce).
"So far we feel like we've got a good game plan, and it's working in our favor," he said.
Sign up for Waterway Journal's weekly newsletter.
Our weekly newsletter delivers the latest inland marine news straight to your inbox including breaking news, our exclusive columns and much more.
Earlier in the week, Redman Bar (Mile 740) and Battle Axe (Mile 680), had been closed to traffic multiple days while the Hurley dredged at Redman Bar and the Jadwin at Battle Axe.
Between the two locations, up to 150 tows with 2,219 barges were queuing at one time, said Marty Hettel, vice president of government affairs for American Commercial Barge Line.
Chamness said that resulted in delays of five and six days for many tows.
Traffic at Battle Axe was able to resume in the afternoon of October 24.
"We're getting boats flushed through there," Chamness said. "It is reducing, but the congestion due to the size of the queue is going to take several days to clear out."
Upon wrapping up its work at Battle Axe, the Jadwin was heading to Cumbyville at Mile 590, Chamness said. It was expected to start dredging on the afternoon of October 27 with an expected 24- to 36-hour closure. The Corps was working with industry to allow enough time to clear southbound tows from Battle Axe south before moving downriver.
The Hurley was working outside the buoy line at Redman Bend as industry continued to work with the Corps of Engineers to determine where to send it next.
Southbound tows also reported issues at Mile 620.8 (Ludlow/Wood Cottage). Current is slower than normal, meaning tows are having difficulty flanking through the reach. At times it is taking 45 minutes to an hour, according to information provided by Waterways Council Inc., which continued to monitor problem areas.
Chamness noted that the system is becoming more congested as companies run more boats to make up for lesser tow size.
While much conversation has focused on dredging, Chamness also spoke about the importance of working with the Coast Guard on deploying buoys to mark the channel. The Coast Guard has relocated two buoy tenders from other districts to the Lower Mississippi, he said.
"That is a critical aspect of safe navigation for us," Chamness said of the buoys.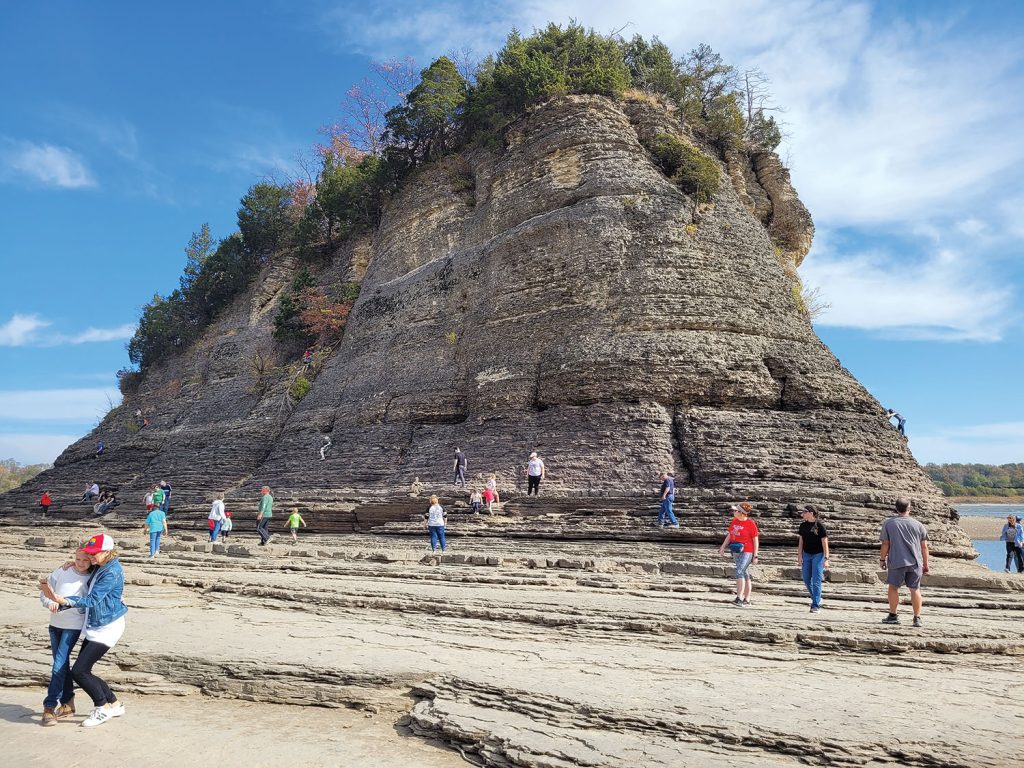 Effect Of Rain
The National Weather Service's Lower Mississippi Forecast Center recorded 1 to 2 inches of rain across much of Arkansas, Missouri and Illinois on October 25 and said that could lead to rises of 1 to 2 feet over the next week.
"Currently river levels have improved from Cairo, Ill., to Memphis, Tenn., and stages are near 2012 levels," improved from the record lows that in some areas surpassed the 1988 season, according to a written update from the center.
Mary Lamm, hydrologist at the National Weather Service forecast office in Paducah, Ky., which serves portions of Kentucky, Tennessee, Illinois, Missouri and Indiana, said the rain helps insofar as the top layer of soil did get wet, which helps relieve immediate wildfire concerns. Several large field fires have been reported in the region.
"Our other aspects of drought are agricultural and hydrological," Lamm said. "Agriculturally, this wets hayfields and may help with any fall crops being planted.  It may have put water in some stock ponds, but it's going to take a few more events to help here."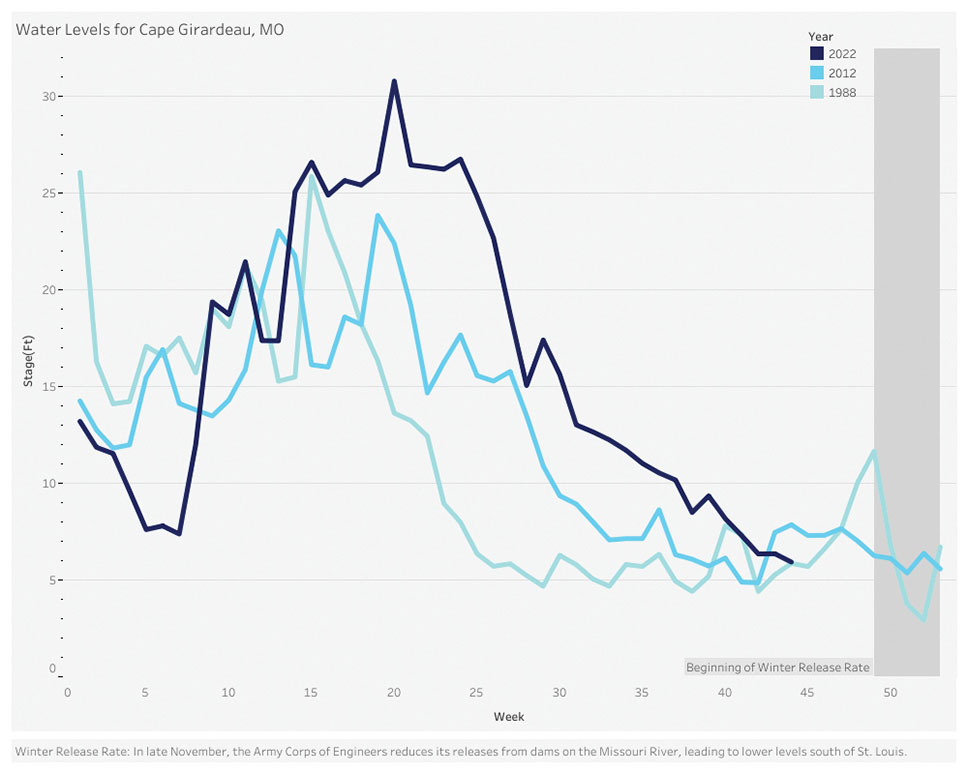 Hydrologically, however, the rain did little.
"This helps, but we are still much behind in what would be considered normal," she said. "Looking at our creeks and smaller rivers, you can barely see a bump in the hydrograph from the rainfall. This means most of the rain that fell was absorbed, and there was very little runoff for the larger rivers."
Chamness also cautioned that it was important not to become overly optimistic about the rainfall.
"If we could get some kind of system every seven to 10 days, that would be ideal," he said. "One system alone might flush out a few heavy barges in the system."
Chamness said many barges continue to sit because they were loaded in accordance with previous draft restrictions, which had only tightened over time, "and we can't move them."
Lamm offered some limited hope for more precipitation, but it could be weeks away.
"We have been in a very dry weather pattern, and until it changes, we're not going to see much in the way of significant relief," she said. "The meteorological models keep trying to show a change in the weather pattern, so there is hope that in the next few weeks we will start to see more chances of rain."
Port Of Memphis
Randy Richardson, executive director of the Memphis & Shelby County Port Commission, was blunt about the effect of the low-water conditions in Memphis.
"Everybody is impacted that has a dock at this point," he said.
Richardson said the low-water conditions highlight the importance of continued funding for dredging.
"We're again finding out that dredging is king in the Lower Mississippi River since we don't have locks and dams," he said.
Corps-required setbacks from the harbor channel line are having an impact, especially on bulk terminals, he said. Some terminals have now been shut down for months, he said. Those that are still operational are light-loading.
"The ones that are liquid-based facilities have the easiest ability to continue to operate because they can add hoses and add in spacer barges," he said.
Still, he said, that comes with added cost.
"The farther out you go, the more structure you have to build, and the more expensive it gets," Richardson said.
The port is home to major construction and agribusiness companies, all of which are being affected to different extents, he said.
"We've got a ton of barges in the harbor right now," Richardson said, adding that empty barges can't get into facilities to load, and others are waiting on blockages on the main stem to abate.
Caption for top photo: Mooring cells at the Port of Memphis completely exposed by record-low Mississippi River levels. (Photo courtesy of Memphis & Shelby County Port Commission)