Scheduled maintenance and repair work at Lock 24, at Mississippi River Mile 273.4, near Clarksville, Mo., has been underway since the lock dewatering was completed January 23. Upper bulkheads were set January 14-15; lower bulkheads were set January 16-17; pumps were set January 20, and dewatering began January 21.   
Crane work and dewatering of the chamber was performed under contract by Massman Constructors. Repairs to miter gates as well as smaller repairs to bubbler piping, debris shields and floating mooring bitts as well as inspections were performed by Corps skilled labor crews and engineers.
Lock 24 represented state-of-the-art construction when it was installed in 1940. It was the first lock and dam using "tainter gates [which were so] innovative that they rendered roller gate technology, the principal engineering feature in dam construction at the time, obsolete," according to the Corps' website.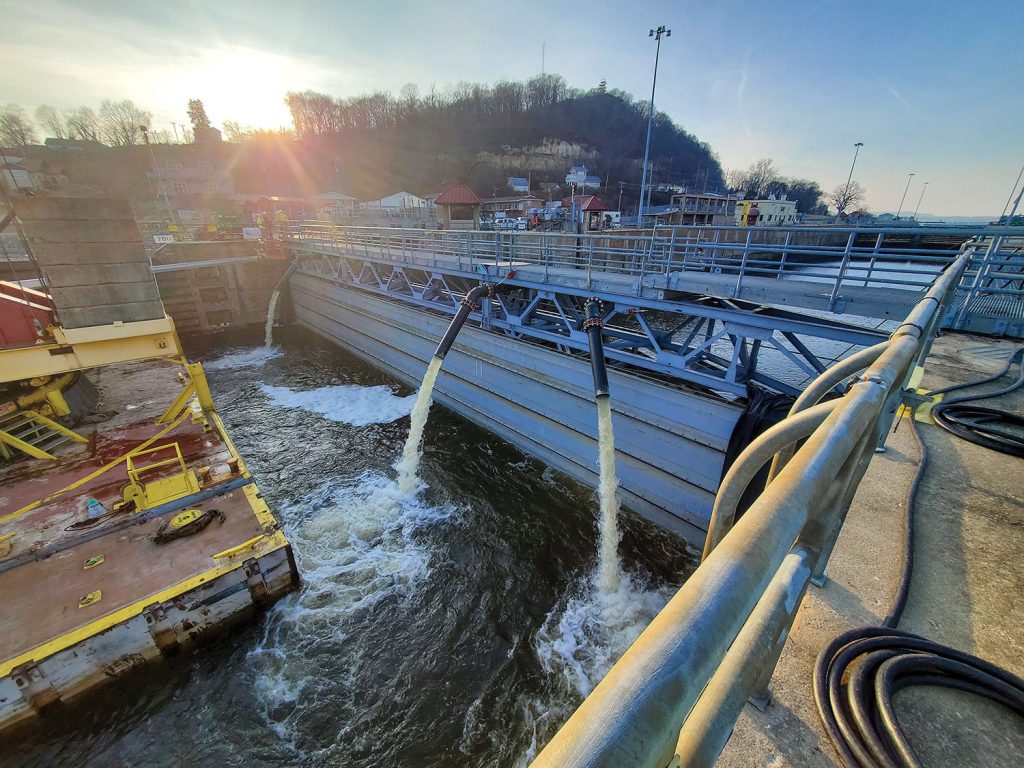 A typical dewatering of a lock chamber takes 30 days, but this work, which includes the miter gate repairs, is scheduled to last from January 9 through February 26, said Andy Schimpf, St. Louis Engineer District Rivers Project operations manager.
Massman will have to remove and place the miter gate leaves, each weighing 187,000 pounds, laying them down on a barge so Corps crews can inspect them and use welding and heat straightening to repair structural members of the gate that were damaged last year when the gates were struck by a tow.
Lock and Dam 24 was last dewatered three years in a row—1999, 2000 and 2001—for major rehab work costing about $68 million at the time. "That's why it looks newer than the others and is in pretty good shape," Schimpf said.
Funding for the Lock and Dam 24 work was part of President Biden's budget for 2022, rather than from the Investment Infrastructure and Jobs Act, also known as the Bipartisan Infrastructure Law.
Currently the St. Louis District has closures at Lock 25 for guidewall repairs (funded by normal operating and maintenance appropriations); Mel Price Lock and Dam for replacement of the liftgate (IIJA funded), and Locks 27 for replacement of the miter gate anchorages (IIJA funded).
IIJA released a flood of funding for all kinds of infrastructure projects, many administered by the Corps. While welcome, that wave of funding creates some issues of its own, according to Schimpf. "There's general inflation, of course, and also the increasing cost to our contractors of various materials, related to supply chain issues," he said.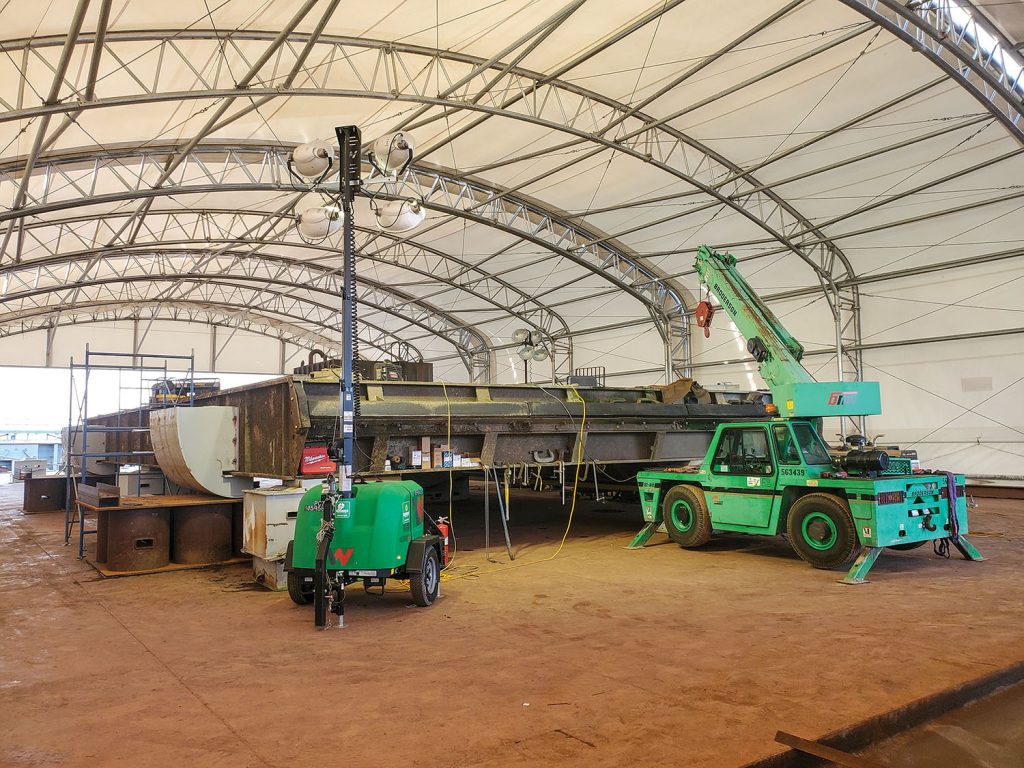 In addition to that, the very abundance of infrastructure work is creating labor issues as contactors compete against each other for an already inadequate labor pool. "We are not seeing the number of bidders for projects that we would normally see," Schimpf said.  "The market is saturated with work."
Some contractors are already stretched to their limit. Those working on Corps projects have to compete not only with other Corps contractors for labor, but also with contractors working on highway and other non-Corps projects.
"I can't speak for our contractors, but I'm sure they are asking themselves, 'How long is this going to last?'"  Schimpf said.
"We welcome the funding, of course, but for our purposes it would be good for us and for our contractors to see a steady increase in baseline funding for backlogged repairs so we could make our plans years ahead."