While many of those with careers on the river follow the path of a father or grandfather, Larry Walker's source of inspiration for years has been two women: his mother and his wife.
Walker's mother, Carolyn Walker, was a towboat cook with what was then Southern Towing Company. In October 2022, Devall Towing and Southern Towing announced that they will fully integrate operations and management of the two companies by late 2023 to form a new inland operator, Southern Devall.
Walker's first job on the river came at her suggestion that he take a position as a deckhand for the summer of 1990 before starting community college on a basketball scholarship in the fall. She thought he could save up money for a car. He ended up making a career on the river instead.
Now as the urea ammonium nitrate (UAN) cargo superintendent for Southern Devall, Walker, 55, of Ripley, Miss., draws inspiration from his wife, Brenda. Brenda is fighting a type of breast cancer that is incurable, but currently not growing. She's had more than 100 radiation treatments and countless chemotherapy treatments and blood transfusions. The couple goes on the road together, wherever Southern Devall needs him. It allows him to spend time with her and to support her for her treatments while also representing the company at docks around the country.
"We have been to every dock known to man, from St. Paul to New Orleans to Brownsville, Texas, to Tulsa, Okla.," he said. "Anywhere they load and unload fertilizer, we've been to."
Walker said when he thinks about any particular job, he knows he can do it because Brenda is showing such strength, and he knows she'll be waiting when he gets back from working at whatever dock he is visiting.
"I've always looked at things as a challenge," Walker said of learning how to best solve a problem or carry out a job responsibility. "I looked at my wife and thought, well, there's nothing they could put on me that would be harder than what she's facing."
Walker's hard work and dedication in his various positions at Southern Devall over the past 33 years are what Kevin Conway, executive vice president and general manager of the company's river division, had in mind when he named Southern Devall's new 120-foot, 3,400-hp., Tier 4 towboat the mv. Larry Walker.
Recognizing The Honoree
Conway has known Walker during Walker's entire tenure at the company.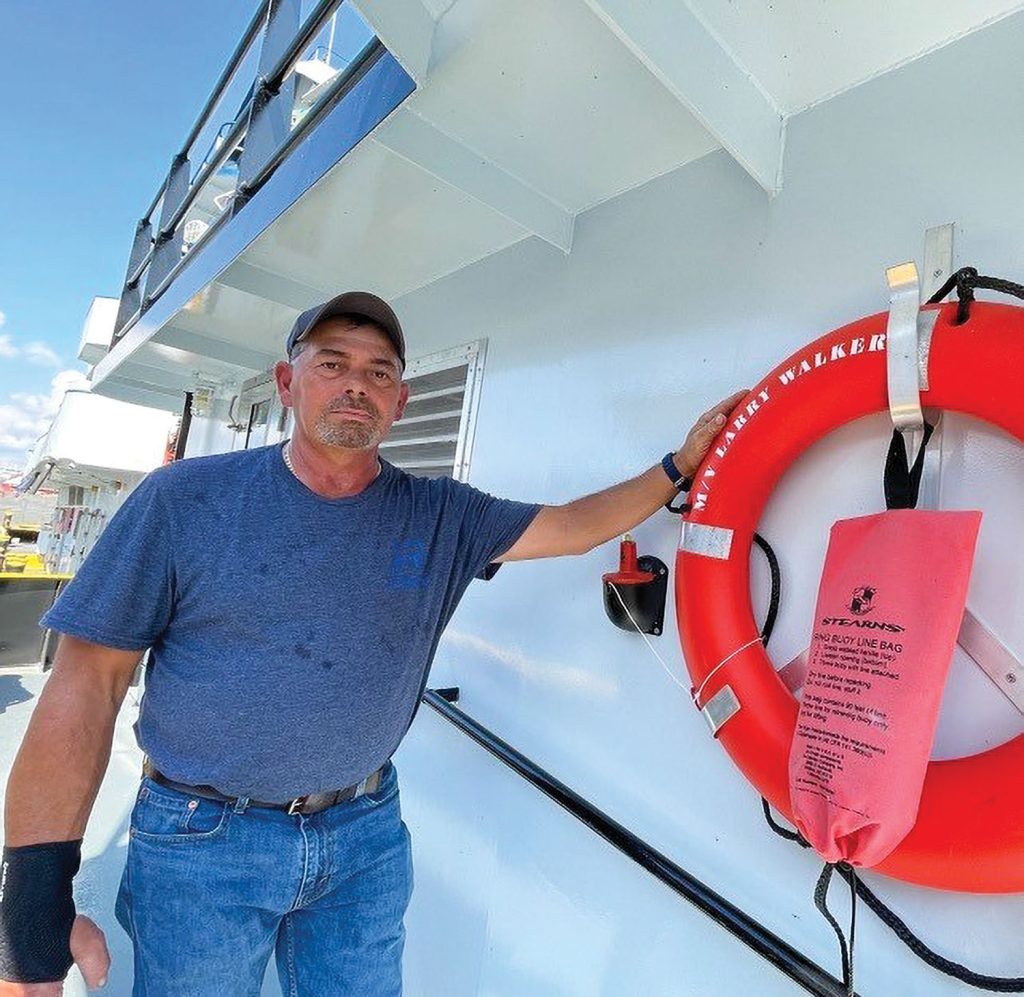 After serving as a deckhand from 1990 to 1993, Walker was promoted from third mate to first mate in one year, and he was on the first tow the company ever pushed of UAN as the company's first tankerman later that year.
In 2006, after nearly 17 years on the boats, Walker was asked to come shoreside, "running the roads from dock to dock," as he puts it. At the time the company had four UAN barges. Now it has over 60.
Walker has served as UAN cargo superintendent since 2016.
"He's a great, dedicated, hard-working man, willing, if he's needed, to go over a weekend or at night to someplace to help us through," Conway said of Walker. "Because of that, it makes him an excellent mentor as we're trying to train younger people. He's on site, and he's been in a variety of scenarios he's had to work through. Hands-on is really a key word to put on him, hands-on and dedicated and very concerned always about our presentation of the company's image."
He added, "The guy puts a lot of miles on his truck, but he likes to be there. He goes above and beyond."
Walker said there's no better way to do the job. He's on his fourth company truck, he said. Every one of them has had close to 300,000 miles on it before the company traded it in.
"I've never believed in supervising from a desk," he said, and then gave an example. "There's a ship coming in on the 5th. I will be on that ship, and I will help my guys load those barges. And I will be the dirtiest, nastiest person when we're finished. Whatever I ask my men to do, I'll be right there with them, doing it."
He added, "I've been to our front office maybe three times this year. Other than that, I'm on the jobsite."
Walker said that's where he needs to be to get to know those he is working with, whether that's colleagues at Southern Devall or the company's customers.
"You have to know the people you're working with," he said. "I try to know something about their personal lives. I've always felt like if you care about what you're doing, you'll be there when it's done."
That care about his fellow man has turned into Walker's personal philosophy.
"I've always had a belief," he said. "I've always stood on this. "You are your brother's keeper. At anything you do, you are your brother's keeper. If you're not, if you don't have that mentality, you don't need to be in a leadership role at anything. You're either not doing the job well, or the customer is not happy."
Walker is proud that some of the young men he has mentored through the years have gone on from being a tankerman to the wheelhouse. He said he is privileged to work alongside these young colleagues, teaching them the skills they will need to succeed and then standing back to watch them do the job and do it well.
"You get young men that they don't even know how to make coffee, and the next thing you know they're loading 3,000 tons of liquid fertilizer on a barge," he said.
To put it concisely, Walker has been invaluable to the company, Conway said.
He added that it was only fitting that the company name its new boat after Walker.
"He's so humble that it probably caught him off guard a little bit, but he also, I think, was very pleased that he received recognition for his years and years of hard work," Conway said.
Walker said he was speechless at the announcement because he had to pause a moment as he was unexpectedly caught by tears, not for himself but just thinking back at how far he had come.
He remembered a conversation with his mother on his first hitch, back when he was making $42 a day pushing grain from St. Louis, Mo., to St. Paul, Minn. The mv. Larry Tilley, the boat on which he was a deckhand, happened to pull up alongside her boat as they stopped by the upper bridge to take on water in St. Paul.
His mother made him breakfast and asked how the job was going.
She asked me, 'Are you sure that you can do it?' I told her, 'I know I can do it, Mama.'"
Three years later, in 1993, Carolyn Walker was diagnosed with liver cancer and had to put aside her work at Southern Devall. She passed away in 1995 at age 53.
In that moment when he learned of the boat being named for him, Larry said he was speechless because he was overcome by tears, thinking of what his Mama would think about him having a company boat named after him.
"We've come a long way from 'Do you think you can do it?' " he said. "I wish I could have showed her that I had done it. I did it. I made it."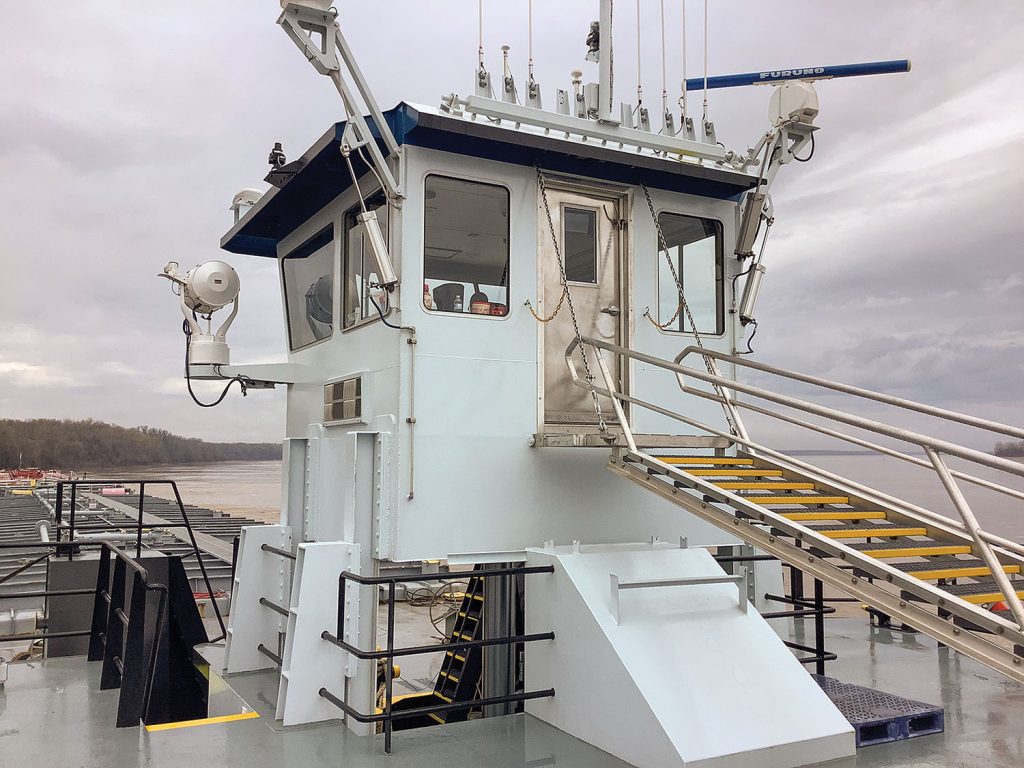 The Mv. Larry Walker
Southern Devall purchased the 3,400-hp. twin-screw towboat now named the mv. Larry Walker on September 9 from Nichols Boat Company of Greenville, Miss., and immediately went to work with it, pushing four 30,000-barrel tank barges of UAN.
Speaking from newly remodeled offices in Memphis, Tenn., Conway said the company's search for a new boat to bolster its towing of UAN led to a vessel that had been widely advertised in The Waterways Journal. "The boat fit our needs to a T," he said. "We didn't have to change a thing."
Southern Devall specializes in the transportation of bulk liquid cargos, particularly chemicals and liquid fertilizers. It is one of the industry's leading tank barge operators, according to its website.
The company needed another vessel to go along with its other towboats in the urea trade, many of them Z-drives such as The Colonel, which it bought new in 2019, Conway said. Nichols, it turned out, had a spec boat that, due to COVID-19, the company had decided to build in order to "keep valued staff busy and paid," explained Joe Nichols, president of the shipyard. It was the 26th boat that the shipyard had built.
The boat features a retractable pilothouse and Tier 4 Caterpillar engines. It is a heavy build designed to result in minimal vibration, Nichols previously said.
Conway said Southern Devall is proud to add a Tier 4 engine vessel to its fleet, helping to combat emissions and reduce its carbon footprint while also embracing new technology and giving its crewmembers a chance to learn about it.
Vessel Specs
The 120- by 34- by 11-foot boat was designed by Farrell & Norton Naval Architects.
The towboat builds 3,400 hp. from two 1,700 hp. Caterpillar 3512E Tier 4 engines from Fabick Power Systems Inc. that turn 88- by 65.7-inch Sound propellers through Reintjes WAF 773V gears from Karl Senner LLC at a 6.154:1 ratio. The hydraulic steering system is custom-made from Custom Hydraulic Components Inc. Nichols Boat coordinated with Mississippi Marine Corporation, a neighboring shipyard, to install the tailshafts, rudders and propellers.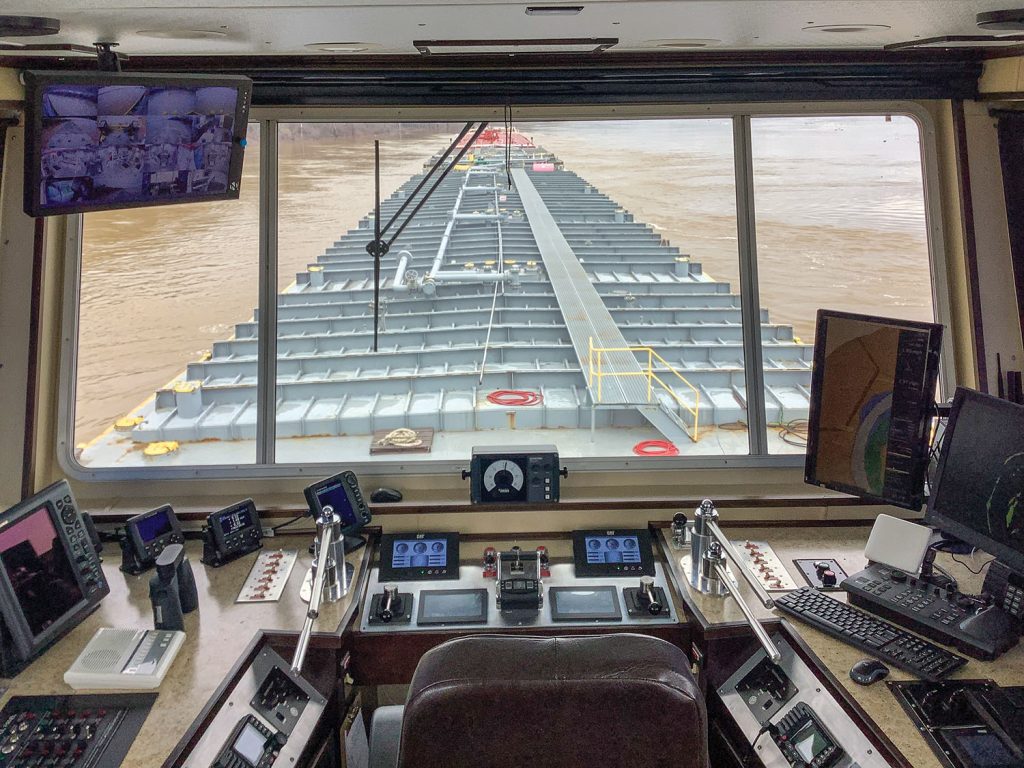 The Subchapter M-compliant boat has an 8-foot, 6-inch design draft and 31-foot eye level from the water line. The air draft is 34 feet, 4 inches with the pilothouse up and 17 feet, 2 inches with it retracted.
Two John Deere 125 kw. generators from Engines Inc. provide power. Keel coolers are by Fernstrum.
Two Quincy QR 325 air compressors from Paducah Rigging provide ship supply air, with one Quincy QR 340 for DEF supply air.
The boat has capacity for 59,100 gallons of fuel, 900 gallons of engine oil and 900 gallons of gear oil. It will hold up to 14,680 gallons of potable water and 24,550 gallons of wash water/ballast water. It also has a 12-man Crapzapper sewage system.
Fendering is by Schuyler Maritime.
On deck are two 65-ton Wintech deck winches.
Electronics are by Wheelhouse Electronics Inc. Exterior doors are from Dale's Welding & Fabricators LLC. Insulation is from Marine & Industrial Insulation Inc. Wartsila shaft seals are by Dale's Welding & Fabricators. The boat has a fully operational galley with all appliances installed.
Caption for top photo: Built by Nichols Boat Company, the mv. Larry Walker was designed by Farrell & Norton Naval Architects. (Photo\ courtesy of Southern Devall Towing)