The river industry has always loomed large in the Furlong family.
"Growing up, the future Hines Furlong Line logo was prominent on the bedroom door of my childhood home," said Kent Furlong, president of Hines Furlong Line. "The river industry has always had an influence on me. I think that is something really special about this industry. It gets in people's blood and stays there."
Fast forward to today, and the Hines Furlong logo, prominent on two vessels moored at the historic location of the former Nashville Bridge Company, looms large against the Nashville skyline.
"We are proud to be a part of Nashville, and it is with these boats that we bring commodities into the community to help the local economy," he said.
"We started with just two tank barges [in 2004] in our leased fleet that now includes 70 tank barges, a dozen towboats and a growing fleet of hopper barges. Now we also operate a fleet of 23 harbor and line-haul boats … and, we couldn't have had any of that growth if it wasn't for everyone here today and the mariners who make these vessels operate."
As a child, Furlong grew up around boats and barges through the close relationship he had with his late grandfather, James G. Hines. He started out in the industry as a deckhand. While attending college at Bellarmine University, Furlong worked for American Commercial Barge Line. Just out of college in his 20s, he made his first purchase of two inland tank barges—launching Hines Furlong Line. This became the first step on a path of significant growth over the next two decades.
In 2018, Hines Furlong purchased Hunter Marine. The two companies shared a strong friendship and culture that comes with a family-owned business. The purchase allowed for HFL to diversify its fleet and deliver a greater number of services—to include barge towing and fleeting, fully found towboat charters and barge leasing.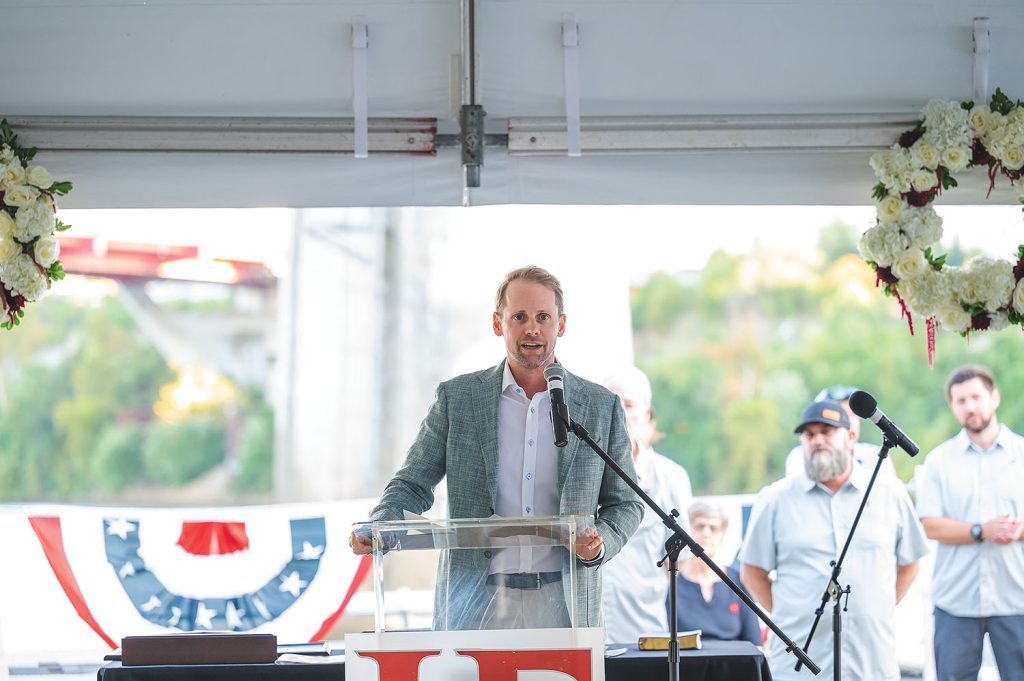 At the time of the acquisition, Furlong said, "This opportunity [allowed] me to continue with Ron's vision and life's work. I am humbled and extremely fortunate to have all of the dedicated and talented Hunter employees [that have joined] me on this endeavor."
The culmination of this growth was on full display on the Nashville riverfront as a plethora of family, friends and vendors gathered to christen the on-site vessels—the mv. Chris Mills and the mv. Scarlett Rose Furlong—and honor 18 other vessels within their fleet. Attendees met the crews and walked both decks, including a test ride of the retractable wheelhouse on the Chris Mills and a walk through the engineroom of the Scarlett Rose.
Furlong provided the opening remarks followed by vessel and honoree introductions from Glenn Hendon, chief operating officer, and Brandon Davidson, director of commercial operations. Danny Whitford, senior vice president of operations, provided crew introductions followed by Coast Guard remarks and a flag presentation by Cmdr. Morgan Kelly and a christening presentation by the Rev. Kempton D. Baldridge.
Mv. Scarlett Rose Furlong
Built in 2020 by C&C Marine & Repair, the 6,000 hp. Scarlett Rose measures 170 by 50 feet with a pilothouse eye level just over 39 feet. It is named after Scarlett Rose Furlong, the 6-year-old daughter of Kent Furlong.
"I couldn't think of a better name for this vessel," Furlong said. "Scarlett is just about the most upbeat and generally happy person I know. … She is always willing to be there and help people."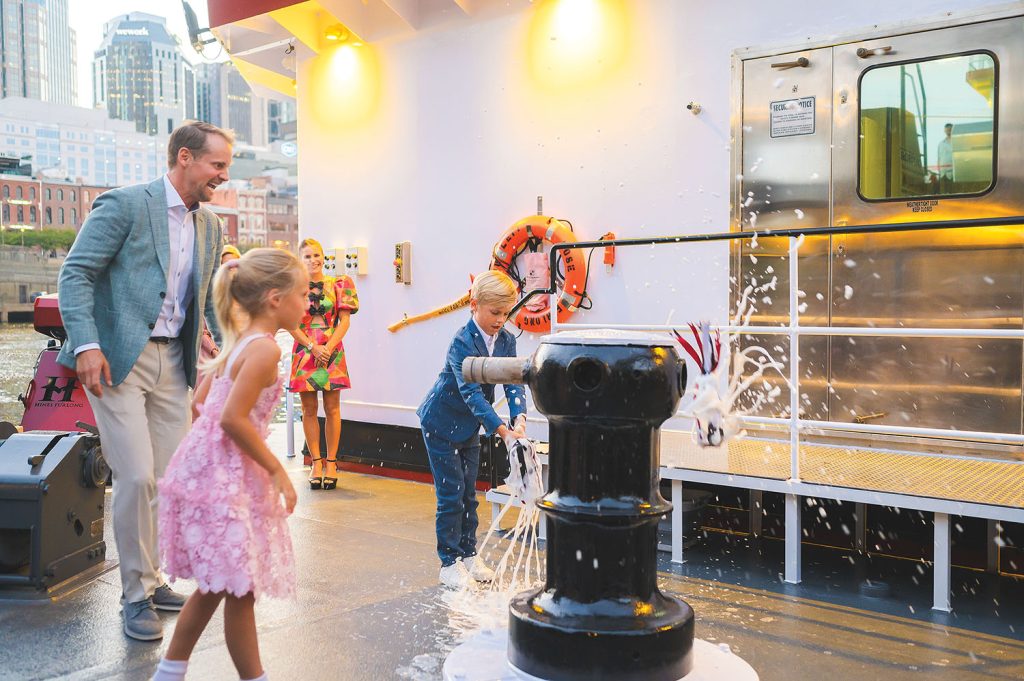 The triple-screw vessel generates propulsion from three Cummins QSK60-M main engines from Cummins Mid-South. Karl Senner LLC supplied three Reintjes WAF 1173 / 7.429:1 reverse reduction gearboxes, with internal hydraulic multidisc shaft brakes and a two-station Emerson control system. Two of the three gearboxes are horizontal offset (outboard drivelines), and one is vertical (center driveline). EMI Marine supplied the vessel's steering system HPU, and the propulsion package turns 100-inch stainless steel fixed-pitch propellers from Sound Propeller Services, all within CT Marine-designed CT28SL kort nozzles, built by Michigan-based Harrington Marine.
Patented with double steering rudders from CT Marine, the pair of rudders on each propeller can be positioned at different angles—which in turn helps to optimize overall thrust and fuel efficiency. The horizontal gearboxes allow for the engines to be mounted lower into the hull, lowering the center of gravity of the vessel, and push the propeller shafts further outboard, accommodating larger propellers with additional clearance for improved water flow. Meanwhile, the outboard engines are mounted further inboard, providing optimum space for servicing the engines.
After being in service for three years, HFL is seeing a fuel savings effect from this twin differential system that historically only applied to vessels in the 2,000 to 3,000 hp. range.
"Compared to conventional 6,000s—1970s and 1980s vintage boats that are of the same trade—the boat (and the two sister vessels) have yielded substantial fuel savings while also making more miles per day," Furlong said. "This boat has been to the shipyard just once in the past three years [to cut a line out of the wheel]. … Anyone who runs boats or shipyards or anything mechanical knows that's a hell of a feat."
"This is one of the coolest projects [to date]. Most of our current vessels are either sister ships or existing designs built to spec. This is probably the first clean slate for us; where it is an entirely new design," he said.
The Scarlett Rose Furlong is captained by Donny Stallings and Tom Jones. Two crews operate the vessel, including pilot Sammy Keymon, chief engineers Wayland Low and Chris Davis, assistant engineers Blane Phippen and Jared Rust, first mates Matt Hall, Demonte Fields and Sheldon White, relief mate Tim Mailhiot, deck crew Ian Watt, John Davis, Ricky Medina and Jonathan Bolte and cooks Kathy Duke and Janie Down.
Mv. Chris Mills
Built in 2023 at Intracoastal Iron Works, the 2,000 hp. Chris Mills is a sister ship to the mv. Keith Doss and measures 78 by 34 feet with a pilot house eye level from 17 feet, 4 inches to 28 feet, 4 inches. It is named after Chris Mills, a longtime friend of Kent Furlong.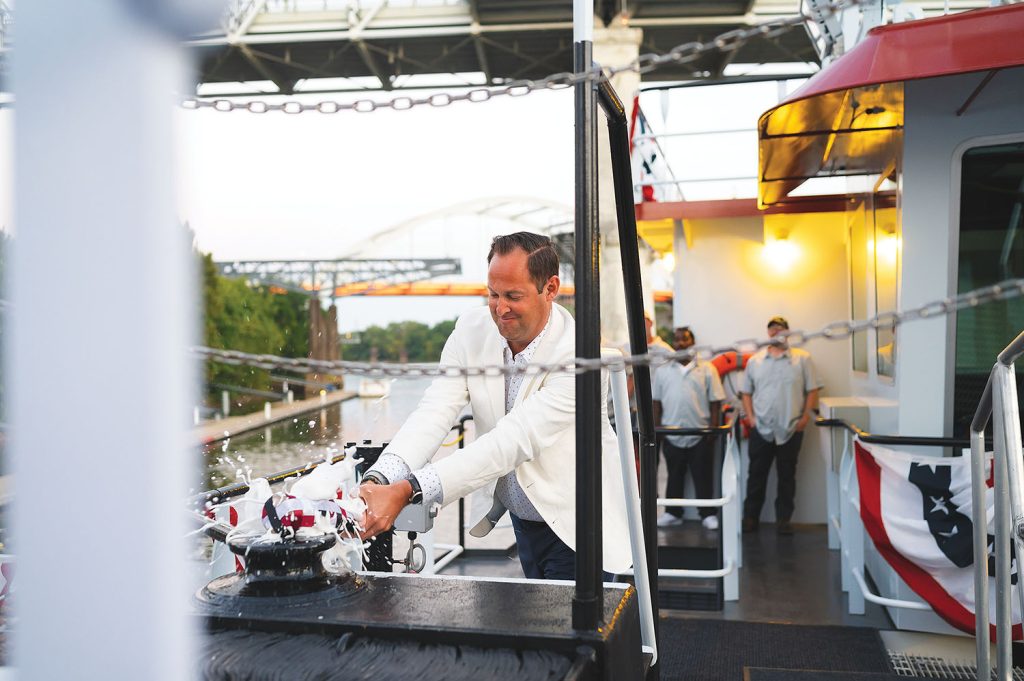 "Chris and I have been friends since high school," Furlong said. "He started a business at a very young age; this inspired me to start HFL when I was 20 and realize that it can be done. … Chris is a wonderful father, a brilliant person and an amazing friend."
Hydra Force provided the pilothouse lifting system and hydraulic steering system. The vessel generates main propulsion from two Cat C32 Tier 3 diesel engines from Louisiana Cat and 74- by 60-inch wheels from Sound Propeller Systems with ABS 2 shafts, Duramax seals and bronze bearings from Dale's Welding. The Reintjes WAF 572L gears from Karl Senner have a 6.41:1 reduction ratio.
Auxiliary power comes from two John Deere 75 kW generators from Allemand Industries. The main engines are cooled via an East Park grid-type cooling system, and engine alarms are from Unlimited Controls.
The Chris Mills currently operates on a 30-mile stretch of the Cumberland River on a 21/21 schedule. One crew is led by Capt. Mike Lemmons and Capt. Richard Rhea, senior deck engineer Trace Pahl, lead man Austin Ricketts and deck crew Hunter McCulloch and Tate Hemp. The other crew is led by Capt. Nick Duncan and Capt. David Turner and consists of senior deck engineer Daniel Poole, lead man Anthony Wheeler and deck crew Tyrus Stubbs and Jacob Council.
In addition to the two christened vessels, the ceremony paid tribute to other namesakes currently in operation within the Hines Furlong fleet. These included the mv. Keith Doss, a sister vessel to the mv. Chris Mills, the mv. Roger Williamson, the mv. Ron Huner, the mv. Carolyn Lampley, the mv. Kent Furlong, the mv. Steven E. Furlong, the mv. Capt. Reggie Tubbs, the mv. HFL Mariner, the mv. Warren W. Hines, the mv. Glenn A. Hendon, the mv. Barry Griffith, the mv. Donna H. Furlong, the mv. Jesse A. Mollineaux, the mv. Ron Nokes, the mv. James G. Hines, the mv. Mae Etta Hines, the mv. Tim P. Studdert and the mv. Porter J. Furlong.
Baldridge presided over the christening ceremony of the two vessels with portions of both crews in attendance. The festivities continued into the night, complete with a live band and local fare—with the Nashville skyline lights on full display.
"Creating these vessels is a long process, from vision to design and implementation; it is a testament to the partnerships that we have created over the years and the mariners who provide the final piece for these vessels to operate," Whitford said.
For more pictures from the christening ceremony, click on the slideshow below: