Charred Towboat Taken North For Drydock Repairs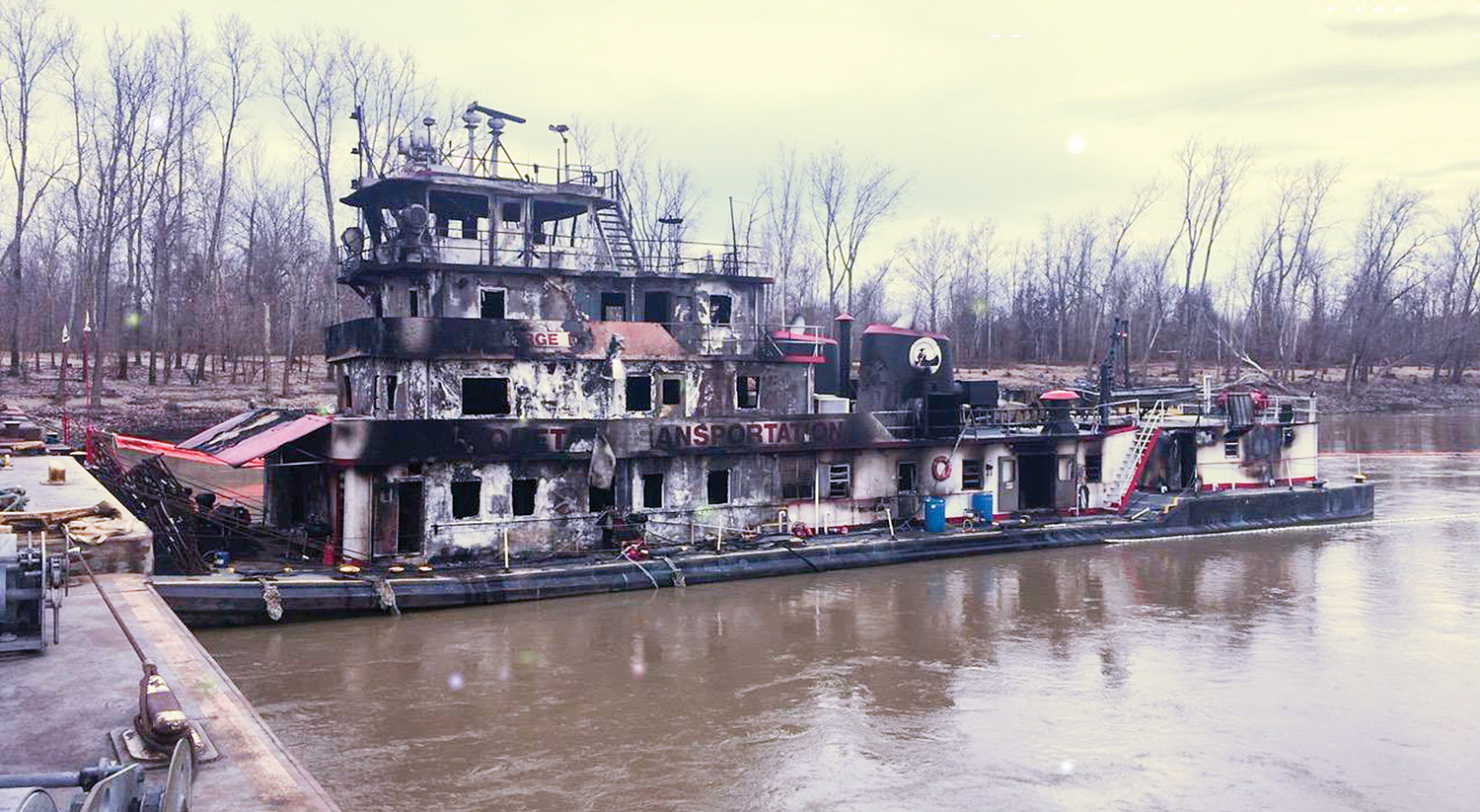 The mv. George King, the Marquette Transportation Company towboat that caught fire the night of January 24 and forced its crew to abandon ship and take shelter in the vessel's dry cargo barges, was being towed to a drydock last week, heading upriver from Mile 390 on the Lower Mississippi River near Vicksburg, Miss., where the fire took place.
The Coast Guard reported January 30 that Marquette's mv. John Paul Eckstein was transporting both the George King and its 30 dry cargo barges northbound, with the George King headed for a drydock in Wickliffe, Ky., near the confluence of the Ohio and Mississippi rivers.
The Coast Guard received a call around 9 p.m. on January 24 that a fire had engulfed the engineroom of the mv. George King. Coast Guard and social media photos from that night showed flames rising from the engineroom and windows along the lower deck, with the fire extending up to the rear deck. That night, the mv. C. Michael Reeves, also part of Marquette's fleet of towboats, came to the aid of the George King, pushing the vessel and its tow onto the left descending bank of the river.
The Coast Guard released a dramatic photo January 26 that revealed the extent of the fire. From bow to stern, the George King had been charred by the fire. By January 28, the waterway restriction imposed between Miles 380 and 395 was lifted.
Sign up for Waterway Journal's weekly newsletter.
Our weekly newsletter delivers the latest inland marine news straight to your inbox including breaking news, our exclusive columns and much more.
The George King was carrying an estimated 65,000 gallons of diesel fuel at the time of the incident. United States Environmental Services deployed boom and absorbent pads around the vessel, although there were no reports of pollution.
Also involved in the response were Coast Guard Marine Safety Detachment Vicksburg, the Mississippi Department of Wildlife and Fisheries, and Budwine & Associates Inc.