Safety Profile: Jo Ann Salyers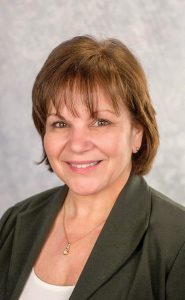 The past few years have been busy ones for Jo Ann Salyers as towing operators readied for the final implementation of Subchapter M.
As the sole proprietor of consulting firm Salyers Solutions LLC, based in London, Ohio, but traveling all over the country, Salyers has spent many years helping towing companies become safer by complying with the American Waterways Operators' (AWO) Responsible Carrier Program (RCP), and now with Subchapter M.
Salyers is a familiar face at many industry events and conferences. She has served two terms on the Towing Safety Advisory Committee and is on the boards of AWO and the Towing Vessel Inspection Bureau, recently becoming secretary of its executive committee. She is also an active member of the Huntington [W.Va.] District Waterways Association and the Women's International Shipping & Trading Association.
Waterways Journal: How did you get involved in audit and compliance work?
JS: My first job in the maritime industry was as a mail clerk for Tidewater Marine in New Orleans 40 years ago.  I've been blessed by working for companies and people that have given me opportunities to grow and learn in the industry in the areas of benefits, risk management, training, safety and crew endurance management.
When I moved from New Orleans to Ohio and started my business, I became a certified RCP auditor under AWO, which led me into being a Subchapter M auditor and surveyor.
WJ: How busy have you been since the "final" implementation of Subchapter M this year?
JS: The two years leading up to Subchapter M have been very busy, with companies getting third-party vessel audits to be able to apply for their certificates of inspection [COIs] as soon as they were able after getting their TSMS certificates.
This year, annual surveys are starting, and I also have clients who have chosen the Coast Guard option but are continuing to be members of AWO so they are still conducting RCP audits of both management and vessel.
WJ: Can you make a general statement about how prepared towing companies were for Sub M, or does it differ from company to company?
JS: The companies I've worked with have been preparing for Sub M for a number of years.  Since the implementation of Sub M, they've been able to get their TSMS certificates and starting to get vessel COIs without major changes to their manuals or vessels.
WJ: Is there any particular issue that comes up during audits more than others, or does that differ too?
JS: Items listed on the deferment letters from D8 and D9 are questioned when deficiencies or non-conformances are written up regarding same.  Companies need to keep in mind that these issues are still regulations, but they can address these in their corrective action plan process of an audit or survey.
WJ: Are you experiencing or hearing about differing interpretations of Sub M requirements among differing Coast Guard districts (for instance, keel coolers)?
JS: One of the biggest challenges to auditing and surveying are some of these different interpretations.  These differ not only among Coast Guard districts but also between TPOs, auditors and surveyors.  I've experienced some of these differences.  I always encourage individuals to contact their TPOs, review the FAQs of the Coast Guard's Towing Vessel Center of Excellence, submit questions and actually contact their respective Coast Guard district(s) where their vessels operate.
WJ: Is the Coast Guard sticking to its oft-stated commitment to delegate some Sub M authority to the third-party organizations (TPOs)?
JS: My interaction with TPOs has led me to believe that the Coast Guard is sticking to its commitment defined in Subchapter M: "Third-party organization or TPO means an organization approved by the Coast Guard to conduct independent verifications to assess whether towing vessels or their TSMSs comply with applicable requirements contained in this subchapter."
WJ: What are the three most important things a company should do to prepare for an audit?
JS: First, be familiar with the (Subchapter M) regulations as they relate to your company's operation and equipment.
Second, spend time with vessel crews (if you haven't already) especially wheelhouse personnel, to familiarize them with the regulations.  The easiest way to educate is to review the checklists to be used by your TPO with your crews so they'll be familiar with questions being asked during the internal or external audits or surveys.
Finally, after an audit or survey is performed, share lessons learned throughout your organization and fleet to reduce deficiencies and/or non-conformances during future audits or surveys.
WJ: Besides the audit and compliance aspects, what other services does your company provide?
JS: I also do safety/compliance consulting and, one of my passions, Crew Endurance Management System (CEMS) services.  As a Coast Guard-certified CEMS Expert, I train CEMS coaches to certify coaches around the country.
Fatigue is a big issue in the maritime industry and plays a role in incidents and in crewmembers' health and general well-being. One of the more controversial parts of the Coast Guard's CEMS program was the "square 6" [watch] schedule and attaining sleep. Although more quality sleep is better, the other aspects of CEMS—nutrition, exercise, hydration and time management—utilized with the current square 6 schedule will make a positive difference toward reducing fatigue.
AWO has recently published guidance for companies with the title Developing a Fatigue Risk Management Plan: A Guide for Towing Vessel Operators. I encourage companies to continue using these and other Coast Guard CEMS resources to address this important aspect of the industry.