Close to 250 maritime leaders gathered in Baton Rouge, La., April 23–25 for the annual conference of Inland Rivers, Ports & Terminals Inc. (IRPT). The conference featured a wide range of reports covering the maritime industry, while also recognizing four longtime port and industry leaders for their impacts on the organization and the maritime community.
Also as part of the conference, Aimee Andres, executive director of IRPT, and Bill Miller with the Paducah-McCracken County Riverport Authority presented their vision for the creation of a federal grant program focused on supporting infrastructure improvements at inland ports and terminals.
The IRPT conference got underway with greetings from both Port of Greater Baton Rouge Executive Director Jay Hardman and Sharon Weston Broome, mayor-president of the city of Baton Rouge and East Baton Rouge Parish. Matthew Block, executive counsel to Louisiana Gov. John Bel Edwards, reiterated the governor's commitment to investing in the state's ports, terminals and waterways. One of Edwards' first actions after his election in 2016 was to double funding for the state's Port Construction and Development Priority Program. There are currently 15 projects under construction that are funded in part by the program, Block said.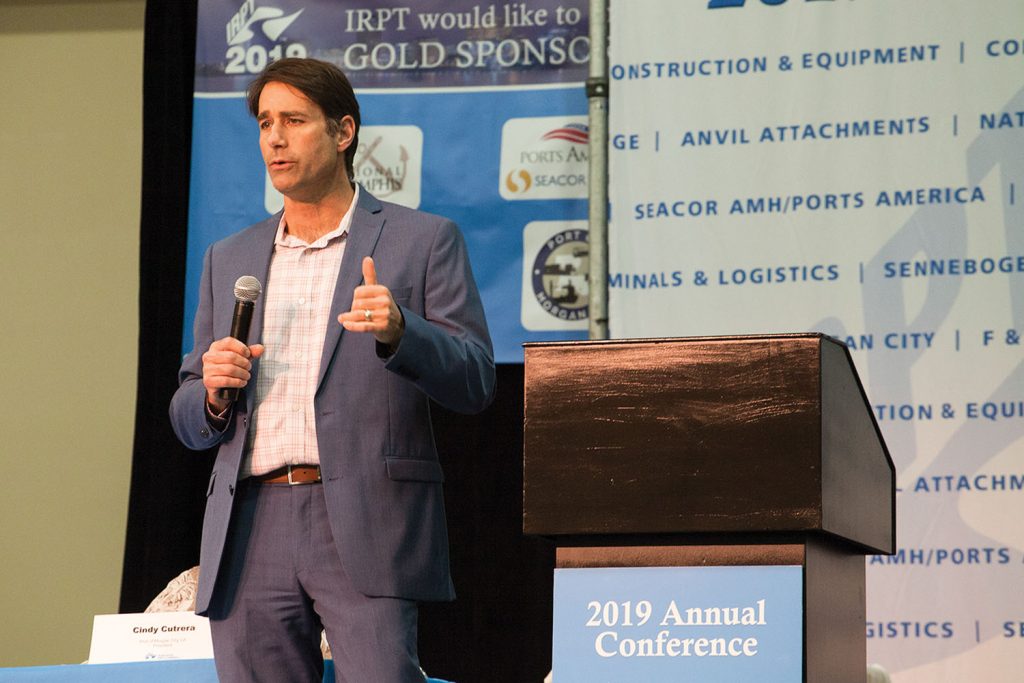 Infrastructure Needs
Following Block, Rep. Garret Graves (R-La.), who represents the Baton Rouge area, focused on the nation's infrastructure needs, highlighting particularly his efforts to change how waterway infrastructure projects are funded and constructed. Graves, who often takes aim at the pace of Corps of Engineers projects, pulled no punches during his remarks to IRPT members.
Sign up for Waterway Journal's weekly newsletter.
Our weekly newsletter delivers the latest inland marine news straight to your inbox including breaking news, our exclusive columns and much more.
"Sometimes the truth is a little painful," Graves said, regarding his criticism of the Corps of Engineers. "We've got to fundamentally change the way we fund these projects."
Graves also criticized the Congress for oftentimes redirecting tax dollars that flow into the Harbor Maintenance Trust Fund and the Inland Waterways Trust Fund to projects not tied to the waterways.
"If you do that in your business, it's called embezzling," Graves said. "If Congress does it, it's apparently called budgeting."
Grant Program Sought
After the opening luncheon and welcome from Harman, Broome, Block and Graves, Andres and Miller announced IRPT's efforts calling on Congress to establish a new Inland Port/Terminal Grant Program. The need is clear, said Miller, who was blunt in pointing out why it's hard for inland ports and terminals to compete with other national infrastructure projects for funding.
"People see the road," Miller said. "They don't see the inland ports."
Inland ports and terminals also have a tough time competing with deep-water and blue-water ports, Miller said. And yet inland ports and terminals need significant investment in order to meet current and future transportation needs.
"A lot of our ports have to do major modifications to carry the freight that's being moved today," Miller said.
The challenge comes in that, oftentimes, federal infrastructure grant programs—including INFRA, BUILD, FAST Act grants and the Marine Highways Program—favor projects supporting roadways or deep-water ports. Even when inland ports and terminals can apply for a federal grant, the minimum dollar amount far exceeds the cost of a piece of equipment or infrastructure improvement at an inland port or terminal.
"Simply put, our inland facilities that carry the nation's freight cannot compete effectively against those large highway projects," Andres said. "And even further, most of those projects have such a high dollar minimum that most of our facilities cannot reach that high dollar ask."
Andres gave the example of grant application last year for a proposed container-on-barge service.
"This was a shipper-driven container-on-barge service," Andres said. "The shipper was manufacturing its own commodity and wanted to ship container-on-barge to two different destination cities."
In that scenario, there was an origination port and two destination ports. Handling equipment was needed at all three facilities, Andres said, and yet the total cost of all the equipment needed didn't reach the $5 million threshold.
"I couldn't apply for an INFRA grant, because I couldn't reach a big enough ask," Andres said. "Even though that one shipper-driven project would've eliminated 5,000 semi trucks in six different U.S. Census-based areas, we couldn't ask for the funds to help us."
With an Inland Port/Terminal Grant Program, Andres hopes that will change. Andres asked for IRPT members to reach out to their representatives and senators in Washington in support of a newly created grant program to be administered by the U.S. Department of Transportation's Maritime Administration that would be designated for inland ports and terminals. Andres said the grant program would not require a new appropriation. Instead, a small percentage of a grant program already in existence could be set aside for inland ports and terminals.
Andres pointed out that just a 2 percent designation from FAST Act funds would amount to $18 million.
Andres said that ports and terminals leaders can contact her for a sample letter of support or to coordinate contacts with congressional leaders.
IRPT conference attendees also heard from Marty Hettel, vice president of government affairs for American Commercial Barge Line and chairman of the Inland Waterways Users Board, who outlined the funding timeline for major infrastructure projects. Hettel said he'd like to see the cost share between the federal treasury and the Inland Waterways Trust Fund changed to 75 percent from the treasury and 25 percent from the trust fund. The impact of such a cost share change would be huge for projects and the nation, he said.
"Not only could we get them finished sooner, but we'd see the benefits sooner," he said.
Hettel likened the cost share change to what Congress approved for the Olmsted Locks and Dam project in 2014.
Leaders Recognized
Besides featuring discussion on weighty matters facing the maritime industry, the IRPT conference also shined a light on the camaraderie in IRPT and the leadership exhibited by several recently-retired or soon-to-be-retired members.
Andres recognized Steve Taylor from Oakley's Port 33; Rich Cooper, formerly of Ports of Indiana; Roger Lindner, formerly of Burlington River Terminal; and Rich Goldstein, formerly of Alter Logistics Company, for their far-reaching contributions to the maritime community. Taylor received IRPT's most influential person award. Cooper was given the organization's lifetime achievement award. Both Lindner and Goldstein received IRPT impact awards.
Caption for top photo: Bill Miller with the Paducah-McCracken Country Riverport Authority and IRPT's Aimee Andres discuss the proposed Inland Port/Terminal Grant Program. (Photo by Frank McCormack)