Friends, family members and colleagues of Jared Phillips, director of business operations at Parker Towing Company, gathered at the company's dock on the right descending bank of the Black Warrior River in Tuscaloosa, Ala., July 23 to celebrate the christening of the towing vessel that bears his name.
The mv. Jared Phillips is one of the newest boats in Parker Towing's fleet, and though the vessel has been on the job since February, it was spotless and ready to host visitors gathered for the christening.
Tim Parker Jr., chairman of the company, introduced Phillips and the important roles he's held for the company over the years.
"He joined Parker Towing in 2011, and during this time he has contributed in multiple roles, including manager of technology and operations, project manager for our new freight and contract operations software system and barge freight contract pricing," Parker said. "He currently leads the Tuscaloosa office dispatch department and information technology initiatives."
A native of Huntsville, Ala., Phillips moved to Tuscaloosa in 2002 to attend the University of Alabama. Phillips went on to earn a degree in business administration with an emphasis in operations management, and while there, he met the former Alison Parker Haun, daughter of Parker Towing Vice Chairman and CEO Charlie Haun and company treasurer Alice Haun, and granddaughter of the company's founder. The two married in August 2010 and now have two sons.
Rev. Clinton Hubbard, pastor of First United Methodist Church in Tuscaloosa, offered a prayer of blessing for the mv. Jared Phillips and the crew, and Phillips presented the ship's Bible to Capt. Larry Norris, a near-25-year veteran of Parker Towing. Other crew members aboard the mv. Jared Phillips include relief captain Brandon Beatty; pilot Randal Handley; chief engineer Garret Cresswell; mate Matthew Henry; relief mate Lamarcus Seawood; and deckhands Wynne Thompson, Joshua Campbell and Charles Atterberry.
Chas Haun, executive vice president and brother of Alison Phillips, then provided an operational overview of the boat, which primarily works on the Warrior-Tombigbee Waterway but can also work on the Tennessee-Tombigbee Waterway; the Gulf Intracoastal Waterway; and the Tennessee, Ohio and Mississippi rivers.
With Jared Phillips and their boys looking on, Alison Phillips smashed a bottle of champagne, which was donated by Kelly Teichman of T&T Marine Salvage, over the rail of the towboat, officially christening it into the fleet.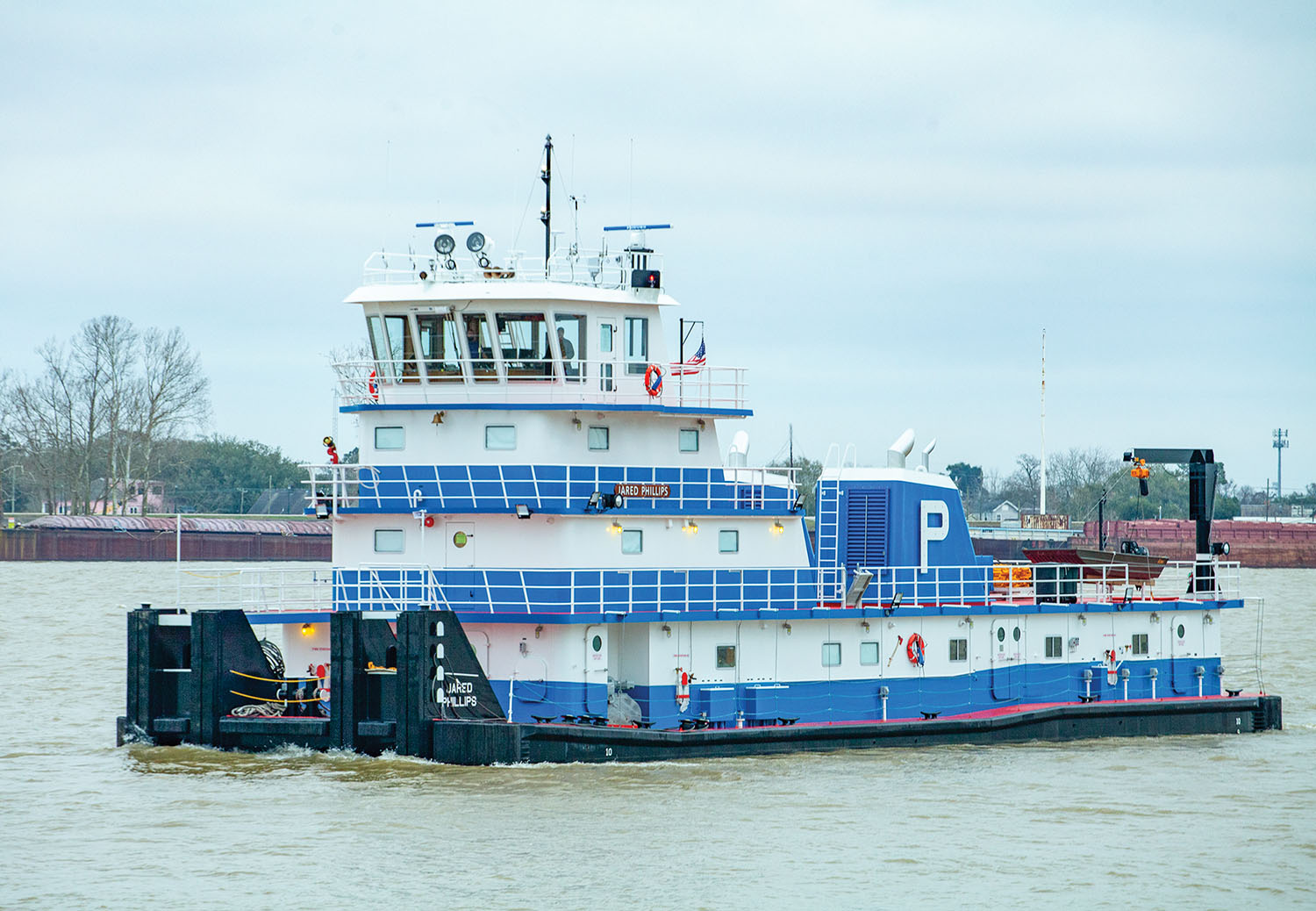 The mv. Jared Phillips, built at FMT Shipyard in New Orleans and designed by Gilbert Associates Inc., measures 128 by 34 feet, with a depth of 12 feet and a draft of 9 feet, 3 inches. The vessel's 4,400 hp. comes from a pair of Caterpillar 3516 main engines from Louisiana CAT. Karl Senner supplied the vessel's Reintjes 873 reduction gears, which have a 7.08:1 ratio. That combination drives a pair of open-wheel 100- by 83-inch Sound propellers. The engineroom is also equipped with John Deere 6090 auxiliary engines and Marathon 280 kW. generators from Kennedy Engine. The vessel features Duraweld keel coolers and a steering system from Eagle Hydraulics.
The mv. Jared Phillips offers a pilothouse eye level of 32 feet and has tankage for 58,000 gallons of fuel, 11,400 gallons of potable water, 1,500 gallons of lube oil, 4,000 gallons of waste oil and 550 gallons of hydraulic oil.
On deck, the Jared Phillips features Patterson 65-ton deck winches and fendering by Schuyler. Hiller supplied the fire safety equipment aboard the vessel, and Wheelhouse Electronics supplied the Jared Phillips' Furuno radars, radios and other communications equipment. 
The mv. Jared Phillips has accommodations for nine crew members arranged across six staterooms.
Following the christening ceremony, christening attendees traveled across the river for a reception. While there, they had the chance to see the mv. Jared Phillips underway on the glassy waters of the Black Warrior River.
Caption for top photo: Alison Phillips smashes a bottle of champagne to christen the mv. Jared Phillips. (Frank McCormack photo)
For more pictures from the mv. Jared Phillips christening, please click on the slideshow below.
Jared and Alison Phillips (center), along with their boys, Parker Ray and Theodore "Theo" Charles; Allison's parents, Charlie and Alice Haun; and her brother, Chas Haun. (Photo by Frank McCormack)