In this age of mandates, the one mandate that meant the most when Campbell Transportation Company held a christening ceremony in Pittsburgh recently was seemingly "to have a little fun," in accordance with what Peter Stephaich, the company's CEO and chairman, said via his invitation to the gala event. And so it was, on August 4, that Campbell christened the mv. Marci Gale and recognized seven other vessels that were acquired or renamed during the pandemic; Stephaich jokingly referred to the eight boats as the company's "Pandemic Fleet."
The diversified, Ohio River-based barge transportation and services business also seized the opportunity to heartily thank its customers, vendors, and dedicated employees "for all the hard work they put into growing and modernizing our fleet over the past 18 months," said Kyle Buese, president. "We had over 20 vendors put more than 100,000 hours into these eight projects." Stephaich was quick to add a shout out to the crew of the Marci Gale and to all the Campbell crews who "work tremendously hard day in and day out" manning the vessels.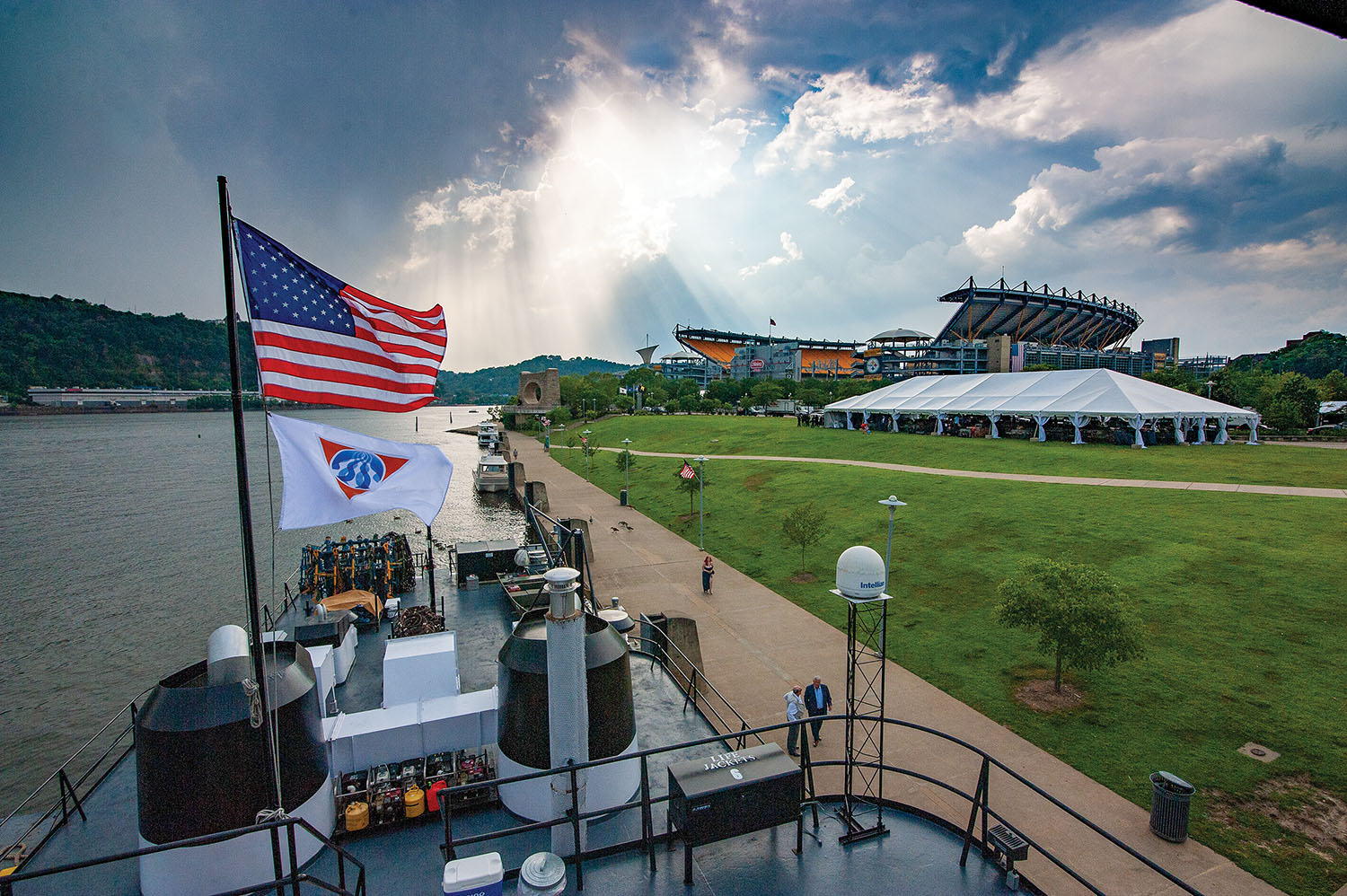 The ceremony that followed the bottle-breaking—a lavish soiree that included cocktails, a buffet dinner with various food stations, and an eight-piece rock band reminiscent of the way christenings were before COVID-19—was "a huge hit," Buese said.
"The pandemic was certainly a very somber period," Stephaich said. "Now, we all need a little fun in our lives." 
Guests from over seven states and two countries, estimated to number more than 220, including customers, vendor partners, industry associates, management, family members and friends, gathered at The Point riverfront park as Marci Gale Casselhoff, Stephaich's long-time partner, smashed a bottle of champagne over the mv. Marci Gale's towing bitt. 
Her namesake vessel is a 140-foot, 4,300 hp. twin screw towboat that Campbell bought earlier this year from Canal Barge Company. Built in 1974 and formerly known as the Elizabeth Lane, it was extensively refurbished and overhauled by Main Iron Works before entering Campbell's third-party towing service, pushing dry and liquid cargoes on the Ohio River. 
While at Main Iron Works, shipyard crews completely re-engineered the boat's EMD 12-645-E7B main engines and modernized the interior of the vessel. Numerous other upgrades were made throughout the boat to increase its life and performance.
Three of the seven other towboats that were recognized August 4 were purchased from ACBL: the Darrell L (named for the wife of retired Campbell board member Oivind Lorentzen), formerly James R. Morehead; Connie K (named for the late wife of board member Bill Karis), formerly Roger W. Keeney; and M.J. Monahan (named for Michael Monahan, a current board member and past president), formerly Jeffrey Raike. All 126 feet in length, each of the boats underwent a complete re-engineering of its propulsion system (see WJ September 21, 2020), at a cost of $2.2 million per boat.
The project featured the installation of new Caterpillar 3512 Tier 3 engines, which resulted in an increase in horsepower from 2,800 to 3,200. Campbell also reported an increase in handling and maneuverability and a decrease in fuel consumption. Reduced emissions and enhanced crew comfort were also noted.
Two of the other four boats, both 128-foot, 5,600 hp. towboats, are named for Stephaich's daughters, and were acquired from AEP. They are the Andrea S, formerly the Capt. James Anderson, and the Laura S, formerly the Capt. Gerald Boggs. 
The last two to be recognized were the fleet boats Lion, a 1,000 hp. boat that Campbell bought from Buffalo Marine and renamed after the many Penn State alumni who work at Campbell, and the 60-foot, 1,320 hp. S.W. Hughes, which is named for Scott Hughes, an employee of 43 years who started his career with Campbell as a welder and worked his way up to manager of barge maintenance.
Seated under a tent on a barge faced up to the mv. Marci Gale and surrounded by easels bearing portraits of the other boats, the attendees listened while Stephaich and Buese described the vessels in detail and recognized the boats' namesakes … chief among which, of course, was Marci Gale. "I'm very happy to name this boat for Marci," Stephaich told the crowd. "She's been in my life for a little more than 12 years now and has given me a lot of fun and support." Turning to her, he said, "This boat will travel up and down the entire length of the Ohio River with your name on it," adding with a laugh, "like it or not!"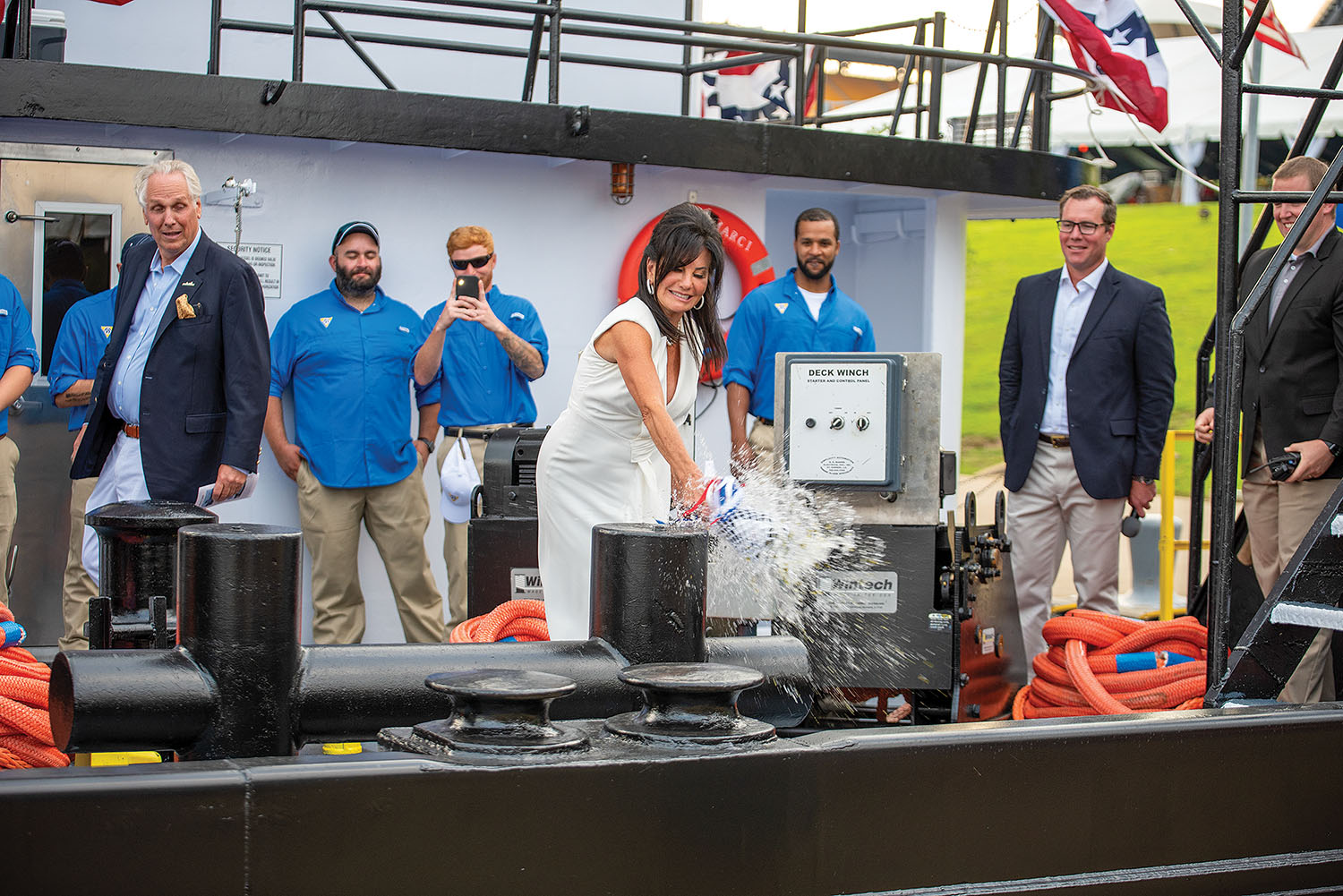 Casselhoff, in turn, thanked Campbell for the honor, and her "family and friends from Texas, Louisiana, Ohio, Tennessee, Kentucky, New York, Montana, Pennsylvania and my alma mater, West Virginia University" for attending. "Who would have thought this little Pittsburgh girl, as Peter jokingly calls me, would have a boat named after her. My father, a World War II Navy vet, is looking down with a big smile on his face," she said.
The Rev. Kempton Baldridge of The Seamen's Church Institute gave blessings to mv. Marci Gale and the other vessels and presented a ship's Bible to Capt. Mike Sharp and deckhand Roman Ward. "How do you run a boat?" he asked as he handed each of them a copy of the Bible. He answered with a grin, "by the Book." 
He also reminded everyone that August 4 was the 231st birthday of the U.S. Coast Guard, before presenting members of the crew with a Merchant Marine flag.
The other crew members on board were lead deckhands Gavin Erwin, Bradley Perry and Lane Rhoads; stern deckhands Roman Ward and Jacob Hughes; and engineer Ethan Schultz.
Casselhoff then did the christening honors with one brisk blow of a well-shaken bottle of champagne against the forward towing bitt, to the delight of all. And the festivities began.
Caption for top photo: The mv. Marci Gale leaves the christening ceremony to go to work. The 4,300 hp. towboat is the former Elizabeth Lane, which Campbell bought from Canal Barge Company and had extensively refurbished at Main Iron Works. (Photo by Fisher Fotos)
For more pictures from the Campbell Transportation event, click on the slideshow below (all photos by Fisher Fotos):