In the column of September 5, we looked at the Str. Mark Twain and the Missouri River Navigation celebration trip. While the Mark Twain was the lead towboat and carried dignitaries such as Secretary of War Patrick J. Hurley and Maj. Gen. T.Q. Ashburn, the second towboat was the Str. General Ashburn.
The Ashburn was one of four identical boats built by Dubuque Boat & Boiler Company in 1927–28. The boats were built by a group of Upper Mississippi River investors who in turn chartered them to the Inland Waterways Corporation (IWC), the government-owned barge line that rivermen commonly referred to as the Federal Barge Line, and the IWC eventually assumed ownership. The first of the boats to come out was the S.S. Thorpe, followed by the C.C. Webber, General Ashburn and John W. Weeks. 
These boats were designed by noted marine architect T.R. Tarn specifically for Upper Mississippi River service and had steel hulls 130 by 35 by 5 feet. They were fitted with condensing engines 15's, 30's – 6.5-foot stroke, and were oil burners.
The General Ashburn was named in honor of Maj. Gen. Thomas Quinn Ashburn, who was the head of the IWC. Ashburn, an Ohio native, was an 1897 graduate of West Point and a decorated World War I veteran who had been commended publicly and personally by Gen. John J. Pershing and had been awarded the Legion of Honor from France. In 1920, he was appointed assistant and acting chief of the Inland Waterways Corporation, subsequently becoming president and chairman of the board of the organization. Throughout this time he remained an active army officer, retiring from that service in 1938 while continuing his position with the IWC.
Sign up for Waterway Journal's weekly newsletter.
Our weekly newsletter delivers the latest inland marine news straight to your inbox including breaking news, our exclusive columns and much more.
A book could, and probably should, be written about all that Ashburn did to bolster inland river transportation in the United States. He took his task very seriously and passionately—so much so that the railroads came to despise both him and the IWC, waging political battles seeking to have him removed from his position and/or the barge line abolished. The general never shied from these battles and faced his detractors head-on. After a particularly harsh attack against him delivered by a banker during a House committee meeting in 1932, Ashburn denounced the witness as an "unqualified liar" and a "paid railroad lobbyist." He made a full-length reply a short time later while addressing the Mississippi Valley Association in St. Louis:
"The railroads have descended to individual vilification and perversion of my ideas. … They may kill me but they can't kill the idea of water transportation. … The real trouble with the railroads is the aftermath of frenzied financing and excessive overcapitalization and not bus, truck, airplane, pipeline or waterway competition. Our corporation, unlike the railroads, has passed through no receivership, floated no bond issues, paid no princely salaries. … I'll stake my honor, reputation and life that the American people were never misled by any report I ever made. … Within 10 years, we can pull out of this business and put our equipment in private hands with the assurance that railroads shall not again strangle waterways transportation to death. … The fight against me seems to be made by men who don't know West Point teaches honor, duty, country."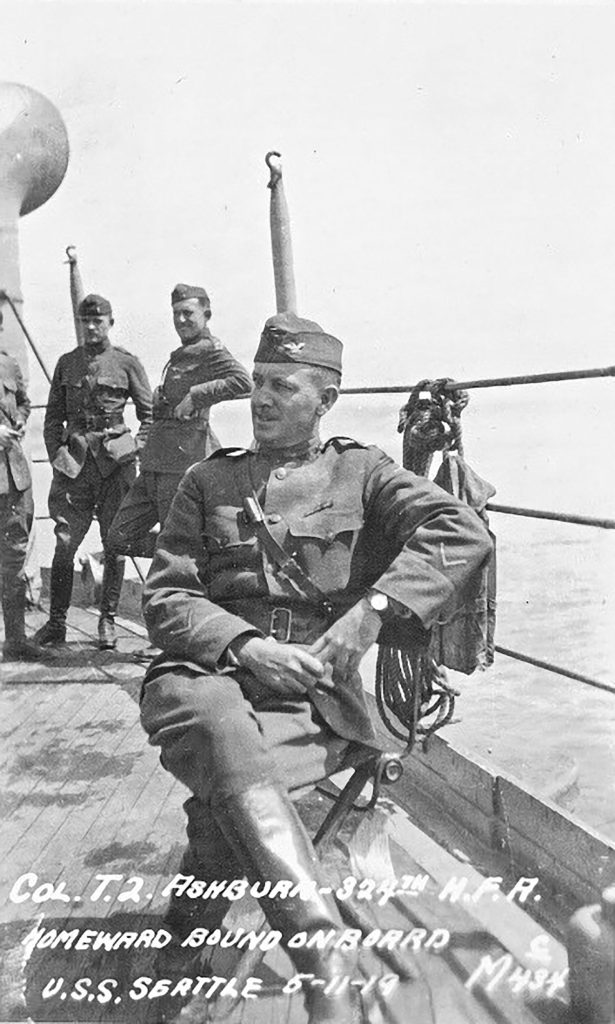 Ashburn would remain the head of the IWC, implementing innovative ideas in both vessel and navigation technology, until his foes were finally successful in having him removed from his post in 1939. Newspaper headlines detailing that event even had to say that he had taken an unprofitable barge line and turned it into a profitable concern.
The advent of World War II delayed Ashburn's prediction of the government getting out of the business within 10 years, but the IWC was finally sold in 1953 to Herman Pott/St. Louis Ship and officially named Federal Barge Line.
The industry owes much to Ashburn and his efforts to improve the rivers and navigation in his 19 years as head of the IWC. River systems such as the Missouri, Illinois and Upper Mississippi may have not been opened without his personal zeal and support. He passed away in 1941 at the age of 66 and is buried in Arlington National Cemetery.
Str. General Ashburn
The Str. General Ashburn, in addition to taking part in the Missouri River navigation opening trip, had also participated in the opening of the Peoria, Ill., terminal of the IWC in June 1931. According to Way's Steam Towboat Directory, Capt. W.M. "Billy" Clark was master, with Capt. Edward F. Shermeyer, pilot. Ashburn and his wife were also aboard for this trip from St. Louis to Peoria. At some point prior to 1932, a texas cabin was added to the Ashburn, and ultimately to all four of the boats.
 The General Ashburn was sold in 1941 to the Hatfield-Campbells Creek Coal Company, headquartered in Cincinnati and with extensive operations on the Kanawha River. We will look at that portion of its career next week.
Caption for top photo: The Str. General Ashburn. (David Smith collection)