Campbell Transportation Company Inc. recently put into service the new towboat mv. Bronco, one of six identical 2,000 hp. towboats being built by Steiner Shipyard. The Pennsylvania-based bargeline, a fully integrated marine service company involved in marine transportation, harbor services, shipyard repair services, tank barge services and tankerman services, took delivery of the vessel November 21. 
The 76-foot boat, which Campbell is leasing from Hines Furlong Line, will be working out of the company's Gulf division, under the management of Nate Hough, CTC's vice president of Gulf operations. "We're excited to welcome the mv. Bronco into our growing fleet of vessels," Hough said. "The Bronco will serve our tank barge customers on trade routes along the Gulf Coast and throughout the inland river system."
The addition of the Bronco will bring Campbell's vessel count to 60, with 17 vessels operating in its tank barge trade. With an average age of just under six years, CTC's Gulf fleet is "one of the youngest in the industry," he said.
Campbell named Justin Surdukan as master of the new vessel. "With 15-plus years of industry experience, he'll be tasked with leading the crew of the Bronco in safely executing and delivering top-tier customer service," Hough said. 
The other 2,000 hp. vessels in this series so far are the towboats Eric Brumfield, Steven Sikes and Falcon, all operated by Florida Marine Transportation. The next vessel, yet to be named, is due to be completed late in the first quarter of 2023.
Designed by Sterling Marine and built by Steiner at its facility in Bayou La Batre, Ala., the Bronco is a conventional twin-screw towboat that measures 76 by 35 by 11 feet. The main engines are Caterpillar C32 Tier 3 units provided by Louisiana Cat. Coupled to Twin Disc 540 reduction gears with a 7:1 ratio from Sewart Supply, the engines turn Sound 76- by 68-inch propellers on 7-inch shafts with Simplan tailshaft seals and Duramax Cutlass bearings. 
The engines are cooled by Fernstrum Gridcooler keel coolers and monitored by an alarm system from EMI, which also provided the electric-over-hydraulic steering system.
When fully loaded with fuel and water (30,000 gallons and 10,000 gallons, respectively), the Bronco draws 8 feet. The pilothouse eye level is 34 feet, 6 inches. 
Auxiliary power for the new boat is produced by a pair of John Deere 99 kw. generators furnished by Kennedy Engine Company. Quarters for seven are composed of three double and one single bunkroom, plus two full and two half bathrooms. An exercise room, fully furnished lounge and all stainless-steel galley provide additional comfort for the crew.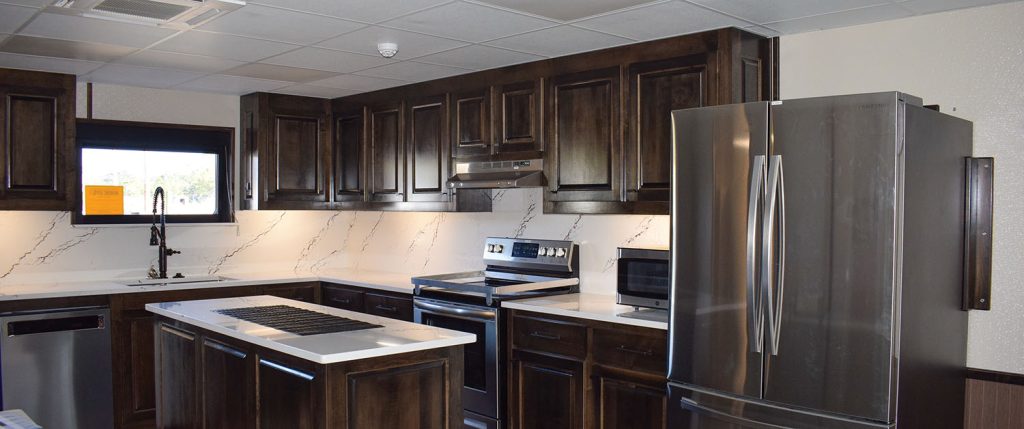 Steiner upgraded the Bronco's deckhouse interior, which was manufactured and installed by Kern Martin. It consists of marlite paneling and FRP wall coverings, epoxy floors in earth tones and Cambria quartz counter tops with full-height backsplash in the galley.
The showers, provided by Omega, are stainless, the heads have Cambria quartz tops as does the console, and the wheelhouse features a darker marlite paneling, black ceiling tiles and a darker epoxy floor to reduce glare. 
The Bronco is insulated throughout with mineral wool and Mascoat sound damping material in strategic locations. Air conditioning and heating is provided by a Mitsubishi split ductless system, fire safety is achieved through a Novec system from Hiller Systems, and fendering is Schuyler. 
The new vessel has two Patterson 40-ton electric winches. Its electronics suite was supplied and installed by FMT's in-house IT/electronics department.
Caption for top photo: The 2,000 hp. mv. Bronco was built by Steiner Shipyard and is powered by Caterpillar C32 Tier 3 engines.