For the first time in 61 years, the excursion steamboat Belle of Louisville traveled up the Ohio River as far as Gallipolis, Ohio, for its every-five-year Coast Guard inspection and other work before it shuts down for the winter.
The 106-year-old boat left Louisville the last week of October and arrived at the Amherst Madison repair facility at Gallipolis a little before nightfall on Friday, October 30.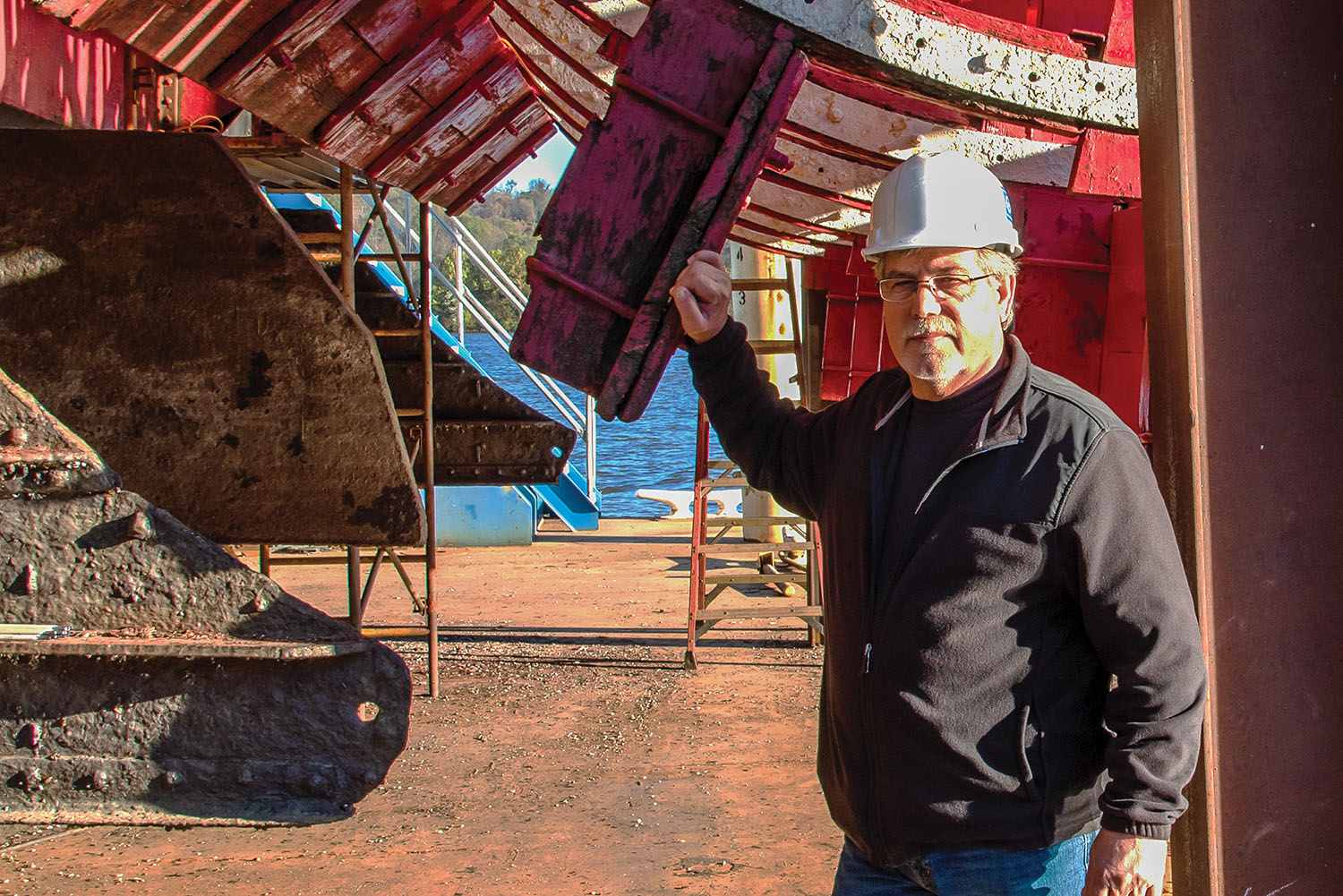 In past years, the boat would have gone to the Jeffboat yard across the river at Jeffersonville, Ind., but Jeffboat closed in 2018, so the city of Louisville, which owns the boat, had to find another place with a drydock large enough to do the work, said Capt. Mark A. Doty, the boat's master.
"With their reputation here and the Joneses, we thought it would be best to come up here. We chose them because of their reputation," Doty said as the boat lay in drydock, referring to the Jones family, founders and longtime owners of the 127-year-old company.
The Belle of Louisville drew attention as it made the trip of more than 300 miles from Louisville to Gallipolis. People in most of the communities along that stretch of river haven't seen an old steamboat since the Delta Queen ceased its overnight trips in 2008.
"Every town, there were people waving at us trying to get us to blow the whistle, and we did," Doty said. "I kept getting calls from Troy Krebs, who runs the shipyard here in Gallipolis. He said, 'The people are so excited. We're going to have to sell tickets and let people into our yard.' "
The trip took a little longer than expected because of weather, but the boat managed to get to Gallipolis only a few hours behind schedule, Doty said.
"We do an annual trip to Madison (Ind.) and back. This year because of the COVID situation, we left Louisville with about 80 people on board. Not having people to return home, that's why we made the decision to keep going once we dropped them off in Madison. We were supposed to take people back to Louisville and leave about three days later, but this gave us a head start while the weather was still warm," he said.
"We made good time. The first night we got into a little misty rain and didn't quite make our destination after we dropped the people off in Madison. We were trying to shoot to Vevay, Ind. We only made it to Carrollton (Ky.), so we were a couple of hours behind that day. The next morning we got out on time, made Cincinnati, but we were hoping to be two hours above Cincinnati, so we were still two hours behind.
"The next morning we got fogged in for four hours, so now we were a half day behind. We kept that schedule all the way up here and got here about a half day later than we were supposed to."
The Belle of Louisville was supposed to travel in daylight hours only, but once it passed Portsmouth, Ohio, it needed to find a place to tie up for the night. The boat arrived at the Greenup Locks and Dam as night was falling, and nightfall was complete when it left the lock.
"We had no idea where we were going to dock when we came out of Greenup Locks," Doty said. "We had a van chasing us with one of my deckhands driving it with supplies and all. He had done some research and looked at a marina just above Greenup (locks). We couldn't really find a good spot with trees to tie up to, but he talked to someone at the marina who said, 'Follow me. My house is right down the street.' So he went down there and showed him the yard. Two or three big beautiful trees we could put a line on. We pulled up there. They knew we were coming so they had a bonfire going for us. They had a cooler full of beverages—some adult beverages—they had pizza and stuff like that waiting for our crew. We just lucked out because it was pitch black that night."
The Coast Guard inspection found no serious problems, so work began on other items to prepare the boat for hull painting and winterizing. Among other things, the cooler box on the side of the boat was repaired.
"It wasn't leaking, but it was on the verge of leaking," Doty said.
Amherst workers will also do some work to the transom bulkhead,  the back wall just forward of the wheel.
"When we come to the shipyard, we want to do as much stuff as we can that has to be done while the boat's out of the water," he said.
Unlike the trip up the river to Gallipolis, the Belle of Louisville will return home being pushed by a towboat. The towing company and the boat doing the job had not been decided as of last week, Krebs said. The boat doing the work will include barges in its tow as a way of protecting the Belle, he said.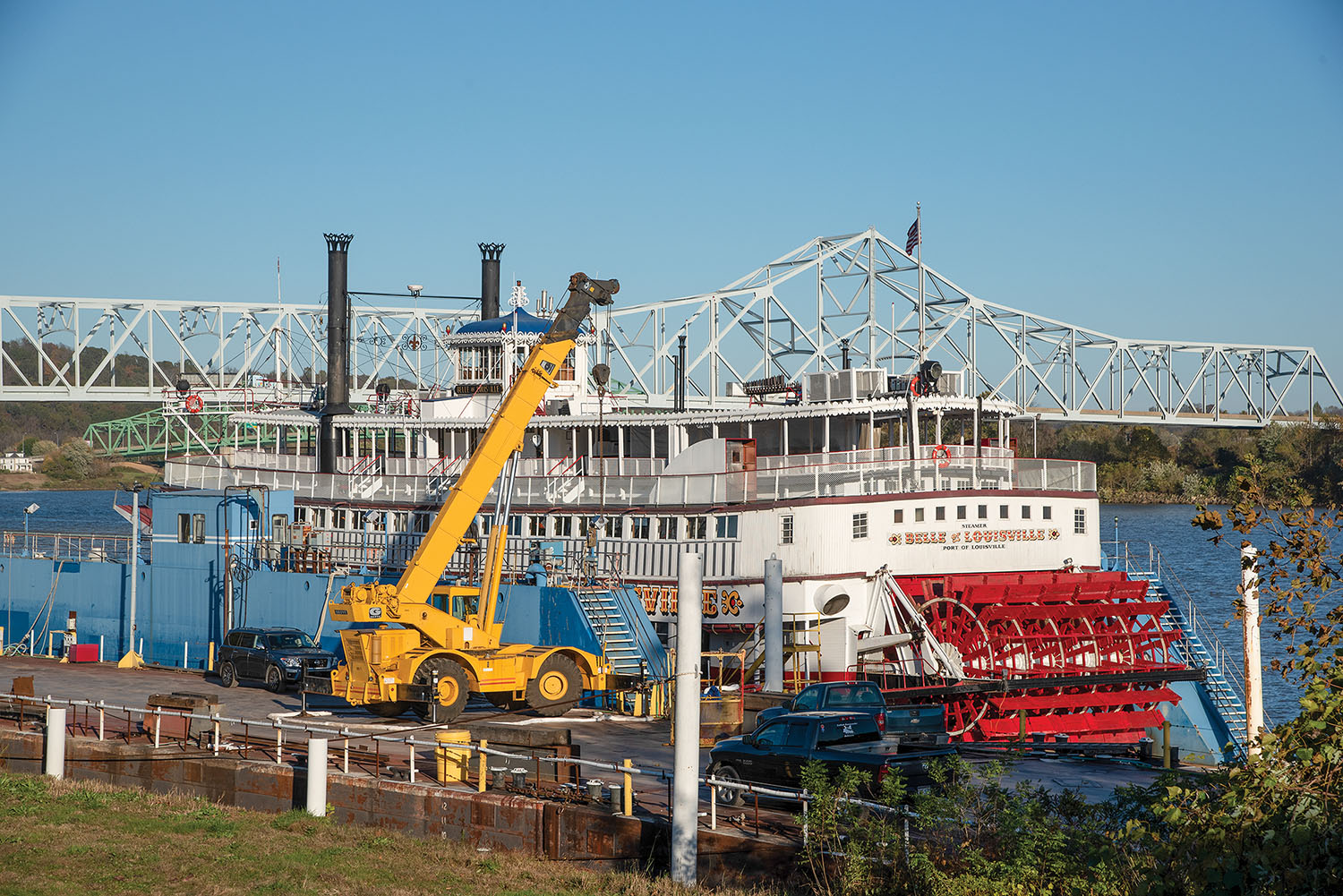 Doty said he expects the Belle of Louisville to leave Gallipolis sometime between Thanksgiving and December 5. The boat will be towed to protect it from possible bad weather and river conditions, he said.
"We brought her up on her own power because it was early in the season. We'd love to go back on our own power, but being here four and a half, maybe five weeks, we don't know what the weather's going to be," he said.
Krebs said work has gone well so far. One thing that's missing from having the Belle of Louisville at the Amherst dock is the presence of the late Charles Jones, who was CEO of Amherst Madison until his death two years ago at the age of 101.
Krebs said, "If Mr. Jones would have been living, he would have been here every day."
Caption for top photo: The str. Belle of Louisville sits in drydock at the Amherst Madison repair facility at Gallipolis, Ohio. (Photo by Jim Ross)