Marquette Founder Ray Eckstein Dies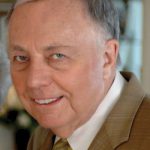 Ray Eckstein, founder of Paducah, Ky.-based Marquette Transportation Company, one of the largest barge lines on the river, died April 20 at his home in Paducah. He was 93. His fascination with river commerce stemmed from growing up in Cassville, Wis., on the Mississippi River. After attending Marquette University on a basketball scholarship, trying medical school and then law school, he ventured into the towing business with a small company named Bernhardt Brothers that operated one switch boat for a power company in Cassville.
He then founded Wisconsin Barge Line in 1961 and grew it from the ground up into a 12-boat, 300-barge company. Under his leadership, WBL was one of the first companies to build 8,400 and 10,500 hp. towboats, and to use jumbo grain barges with fiberglass covers. In 1970, he sold the company to CLC of America, staying on until 1977.
Speaking for his father after he was named a River Legend by the Seamen's Church Institute, John Eckstein said: "At that point, he was in a financial position to live comfortably for the rest of his life, and any prudent individual that age would have done so. Instead of taking that route, however, he risked everything one more time to back his 27-year-old son in starting up a barge and towing company." He founded Marquette Transportation Company in 1978, transitioning leadership to John, one of his eight children, in the early 1990s. John Eckstein is now CEO of the firm.
Ray Eckstein's legendary generosity extended well beyond his family to many beneficiaries of a charitable trust he and his wife set up. He gave Marquette University money to build a new law school building, which, at the time, was believed to be the largest single gift by an individual to a Wisconsin university and one of the largest gifts on record to a law school in the United States. The couple also donated money to build the Ray and Kay Eckstein Cardiovascular Institute at Lourdes' Hospital, the Ray and Kay Eckstein Hospice Care Center, and the Ray and Kay Eckstein Regional Cancer Care Center to name a few beneficiaries, all in Paducah.
Besides his namesake vessel and those of his wife and John, other boats bearing the Eckstein name include Alix Anne Eckstein, J. Andrew Eckstein, Jacob Michael Eckstein, Jonathan Eckstein, Joseph Patrick Eckstein, Justin Paul Eckstein, Loree Eckstein, Mary Kay Eckstein, Penny Eckstein, Randy Eckstein, and Raymond Grant Eckstein, among others.