What started as a photo of Joanne Bartosik staying home and knitting during the coronavirus outbreak has now grown into an expanded ministry for the Seamen's Church Institute (SCI).
Bartosik is the manager of SCI's Christmas At Sea/Christmas on the River program, which last year collected more than 20,000 knitted scarves, hats, vests and sewn ditty bags to be distributed in boxes to inland mariners and in ditty bags to seafarers in Port Newark in New Jersey. More than 1,000 individual volunteers and 162 groups make the Christmas gifts throughout the year, using specially designed patterns that fit under hard hats and work vests.
"A good number of our knitters are older adults," Bartosik said. "I got to worrying about loneliness and being frightened (during the pandemic)."
Bartosik posted a picture on Facebook that her son had taken of her sitting on the couch and knitting and asked other knitters to share photos of their projects as a way to stay socially connected while physically separated. As others began to post their own projects, #stayhomeandknit was born.
Sign up for Waterway Journal's weekly newsletter.
Our weekly newsletter delivers the latest inland marine news straight to your inbox including breaking news, our exclusive columns and much more.
"We launched this #stayhomeandknit campaign to encourage this caring community to hunker down and craft in place," Bartosik said.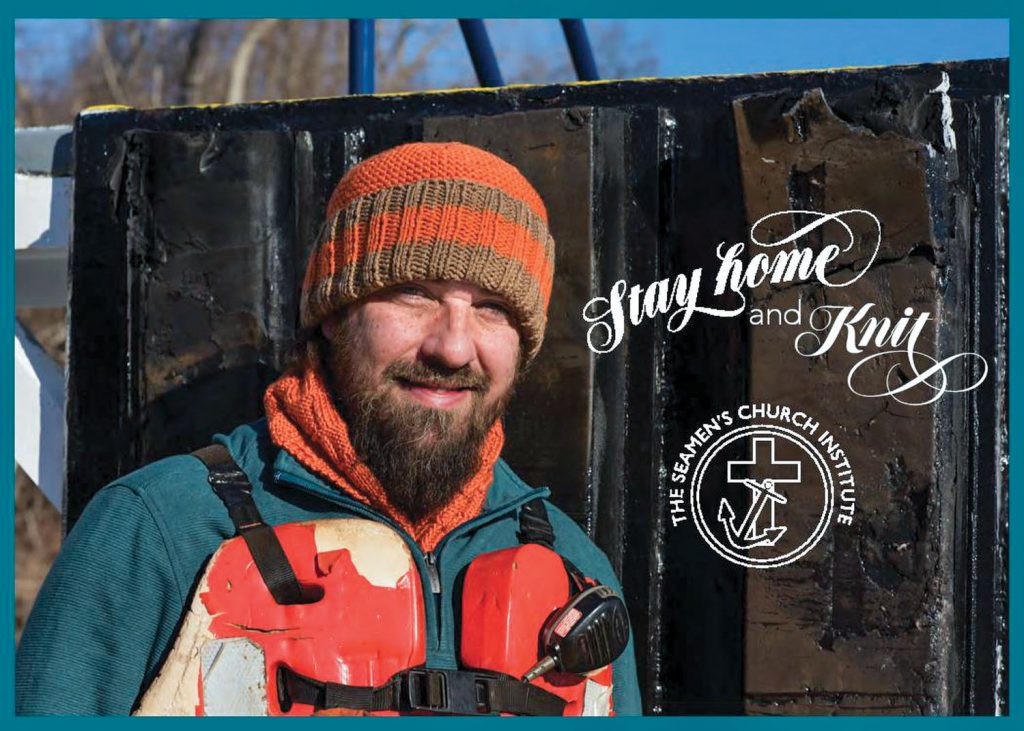 Using the hashtag, participants share the progress of their projects on social media platforms such as Facebook, Instagram and LinkedIn as well as specialized online communities for knitting and crocheting, such as Ravelry.
"Think of it like a show and tell," Bartosik said. "It's really caught on. People are enthusiastic. They feel like they are a part of this movement."
As they posted about the effort, others asked what they were doing. That led to some knitters who are also using social media to teach the craft and share patterns with many other people who are stuck at home and want to learn a new skill. The group also has identified experienced knitters they have deemed "Christmas At Sea Angels" willing to mentor new recruits, forging new connections that help newer knitters make the time go by faster and experienced knitters stay upbeat and focused on something besides the pandemic.
"Many people tell me, oh, I would knit if I had more time," Bartosik said. "Well, we're not thrilled about the reason, but now we have more time."
Some knitters have also been teaching knitting to those with whom they are quarantined.
"This is the ideal time to teach your daughter, teach your niece, teach your son how to knit," Bartosik said. "It's not just for our grandmothers anymore, and we are actively nurturing the next generation of knitters in a variety of ways."
Bartosik has also developed a set of postcards to send to knitters, making sure they don't feel alone even if they have to stay at home. In some cases, she has picked up the phone to personally check on volunteers and to tell them about #stayhomeandknit, since they might not have an internet connection at home, and nearby libraries where they may get online from time to time are closed.
"I just think the telephone reassurance has been a really big part of what we're doing now," Bartosik said. "People just love that we're all connected, and we're all working on this project together."
Later this year, those who knit and crochet will also have a new resource, said Nancy Van Epps, SCI's director of communications. Seamen's Church Institute plans to publish a how-to manual for Christmas At Sea that will include patterns, resources, tips and illustrations. The booklet will be available in a printed edition as well as an electronic version that may be downloaded.
The knitted items are always among those most valued by mariners receiving the boxes and ditty bags, with mariners sometimes reporting they have used the same ones for years, Van Epps said. SCI hopes #stayhomeandknit will encourage novice knitters as well as help them feel they are contributing to helping others, much like those in the sewing community who are making face masks for those in need.
"Now is the time to do it when you're stuck at home anyway," Van Epps said. "It's a great time to try something new."
Bartosik is already looking forward to seeing the projects in person later this year instead of just online. She said, "I am anticipating an avalanche of knits this fall."
Caption for top photo: Joanne Bartosik, manager of Seamen's Church Institute's Christmas at Sea/Christmas on the River program, shows off some of the many knitted items SCI collects to give out as Christmas gifts to mariners. (Photo courtesy of Seamen's Church Institute)
More Coronavirus-related stories in the WJ:
April 20 issue:
Blessey Marine Video Encourages Team During COVID-19
AWO Webinar On COVID-19 Cleaning Practices Draws Intense Interest
COVID-19 Response: How Ergon Marine Is Protecting Its Team And Customers
Port Nola Launches Digital Learning Resources For Out-Of-School Students
Remembering Longtime New Orleans Maritime Industry Leader Jimmy Amoss
Trump-Mediated Oil Deal Splits Large, Small Producers
Seamen's Church Institute Launches #stayhomeandknit
Trump Floats Guidelines For States To End Lockdowns
WJ Editorial: Inland Ports Shouldering Through Virus Crisis 
April 13 issue:
Seamen's Church Institute Adapts To Continue Ministries
Best Practices And Liability In Time Of COVID-19
Trump Promises 'Big Package On Infrastructure' Soon
WJ Editorial: Barge Industry Is Used To Rising To Challenges
April 6 issue:
Corps Leads Effort To Construct Alternate Care Facilities In COVID-19 Response
WJ Editorial: Lock and Dam Construction Would Help Revive Economy
Crew Change Protocols On MKARNS Updated
March 30 issue (online only):
ACBL Hunkers Down, Keeps Cargoes Moving
WJ Editorial: Amid Virus  Crisis, Let's Not Forget High Water
$2 Trillion Coronavirus Relief Bill Goes To House
March 23 issue:
As COVID-19 Grips Country, Maritime Industry Keeps Moving With Precautions
Publishers Note: This Too Shall Pass, Right?
WJ Editorial: Towboats Will Help Keep Economy Moving
Washington Waves: Battling Coronavirus On Multiple Fronts
AWO Requests Subchapter M Inspection Suspension During Coronavirus Emergency
NMC Extends Document Deadlines, Closes Regional Exam Centers
Agency Guidance: Maritime Workers Are Critical
Coping With Coronavirus In The Marine Industry
PVA Seeks Administration Help As Two Cruise Lines Suspend Operations
Coronavirus Delays Chinese Investors' Visit To Kentucky Fisheries Park
March 16 Issue:
Coronavirus Cancels Events, Cruise Vessels Ponder Ban
Virus Panic, Saudi Move Affect Oil Markets
Trump Imposes Travel Ban From Europe
March 9 issue:
Infrastructure Spending Eyed As Economic Stimulus
March 2 issue:
WJ Editorial: Coronavirus Hits Global Shipping
Pence To Lead Coronavirus Task Force
February 17 issue:
February 10 issue:
Ports, Maritime Industry Keep Careful Watch For Coronavirus
China Lifts Tariffs On $75 Billion Of U.S. Goods